Russian President Vladimir Putin told Austrian Chancellor Karl Nehammer during their meeting on Monday in Moscow that he doesn't trust the West, even though he agreed to take part in an investigation looking into alleged crimes by the Russian military.
"He [Putin] told me that he will cooperate with an international investigation, on one hand, and on the other hand, he told me that he doesn't trust the Western world," Nehammer said during an interview Sunday on NBC News' Meet the Press.
His remarks come after the international community condemned the Russian military for allegedly killing hundreds of civilians in the Ukrainian town of Bucha.
An international investigation is "necessary," according to Nehammer, who said he tried to convince Putin that international investigations were useful in former Yugoslavian wars to prosecute "war criminals."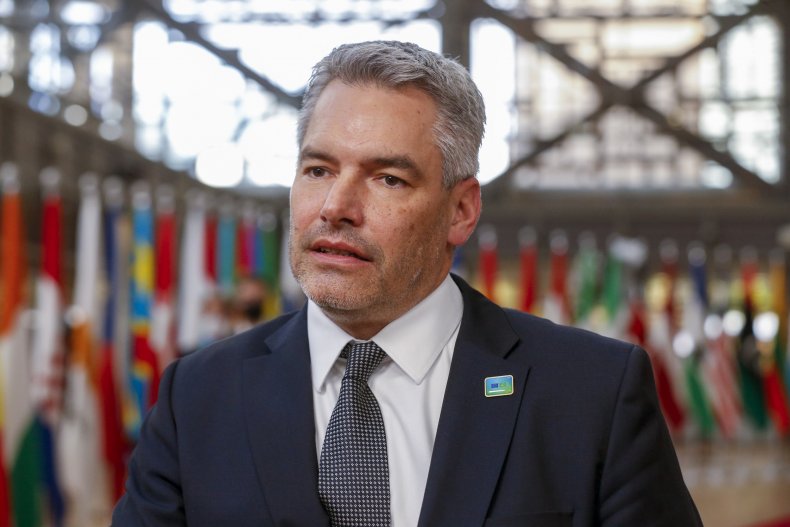 The Austrian head of government said that his discussion with the Russian president was "frank and tough," adding that "it was not a friendly conversation."
Nehammer is the first Western leader to meet with him since Russia invaded Ukraine on February 24. His discussion with Putin came after his meeting with Ukrainian President Volodymyr Zelensky and Ukrainian Prime Minister Denys Shmyhal.
"I think he is now in his own war logic. He thinks the war is necessary for security guarantees for the Russian Federation. He doesn't trust the international community. He blames Ukrainians for genocide in the Donbas region," the chancellor said.
Nehammer also said that Putin told him that "it's better the war ends earlier than later" and noted that Western officials need to continue confronting Putin directly, adding that the Russian president "knows exactly what's going on."
"We need to look in his eyes and confront him with what we see in Ukraine," Nehammer said.
Austria, along with other Western countries, imposed sanctions on Russia that affected Moscow's elite and the Russian economy. However, Austria, which is a member of the European Union, continued to adopt its militarily neutral status throughout the war in Ukraine.
Nehammer clarified on Sunday that even though Austria is neutral in terms of its military status, "it is not neutral if we see that we have to help" and show solidarity.
Nehammer said that he is "pessimistic" about where the war is headed as Russia and Ukraine prepare for a "massive" new battle in the Donbas region, which could "see many losses of human lives there."
However, he added that Putin and Zelensky mentioned the ongoing peace talks taking place in Istanbul, which leaves "a little chance there for peace," according to The Hill.
Newsweek reached out to the Russian foreign ministry for comments.