Putin Warns New U.S. Ambassador to Stay out of Russia's Business but Ignores Election Interference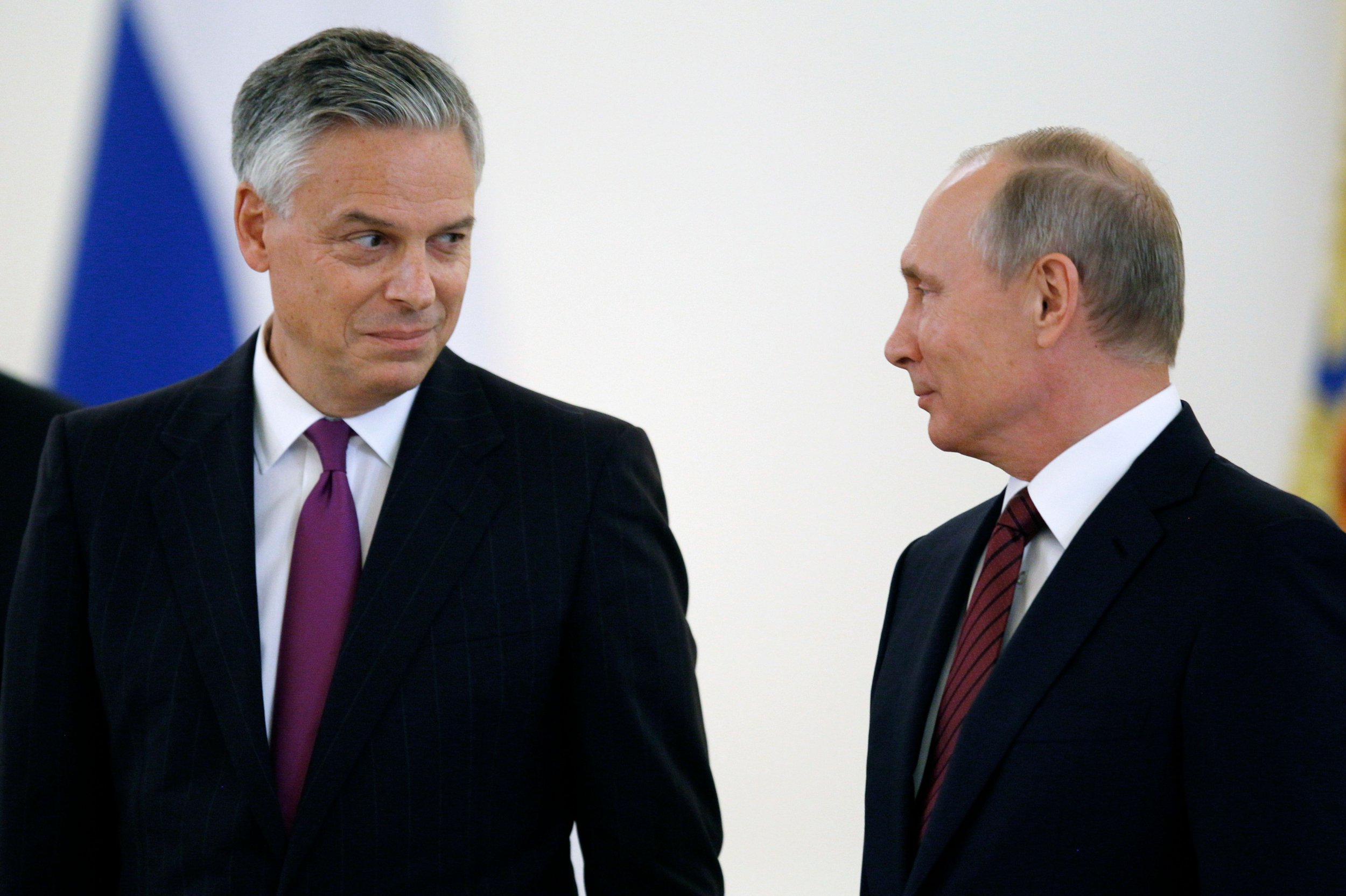 Did Russian President Vladimir Putin just taunt the U.S.?
Putin met with America's new ambassador to Russia on Tuesday and audaciously ordered the U.S. to stay out of Russia's domestic politics, making no mention of the controversy regarding his country's interference in the U.S. presidential election.
Putin told Ambassador Jon Huntsman that the current state of affairs between the U.S. and Russia was "below-satisfactory," adding he hoped the two countries could rekindle relations on the basis of "equality, respect for national interests and noninterference with each other's internal affairs," The Moscow Times reports.
The U.S. intelligence community definitively concluded Russia interfered in the presidential election—and found Putin was directly involved. So it is unclear how Huntsman was able to keep a straight face. But a video of the meeting showed Huntsman appearing cordial as he offered his credentials to Putin.
The newly accredited ambassador takes his post when relations between the former foes are arguably at their lowest point since the Cold War. In the past several months, both countries have moved to expel diplomats and close diplomatic missions.
"I look forward to working to rebuild trust between our two countries and to strengthening the bilateral relationship based on cooperation on common interests," Huntsman said in a statement released after his meeting with Putin.
Huntsman has taken up what is perhaps the most awkward post in Trump's administration in the sense he must find a balance between dealing with the president's unusual, ambivalent stance toward Putin while also avoiding the appearance of being weak on the Kremlin.
President Donald Trump was quite soft on Putin throughout his campaign and has barely touched on issues like Russia's annexation of Crimea or its domestic human rights—internal Russian issues that Putin would likely prefer to stay that way.
Since taking office, Trump has expressed doubts over Russian election interference, and he begrudgingly signed a bill imposing sanctions on the Kremlin in August. But members of Trump's administration have accepted the findings of the intelligence community.
"I am confident that the Russians meddled in this election, as is the entire intelligence community," CIA Director Mike Pompeo said in July. "This threat is real. The U.S. government, including the Central Intelligence Agency, has to figure out a way to fight back against it and defeat it. And we're intent upon doing that."
Huntsman echoed these sentiments while appearing before Congress for his confirmation hearing on September 19. "There is no question that the Russian government interfered in the U.S. election last year," he said, "and Moscow continues to meddle in the democratic processes of our friends and allies."
During his confirmation hearing, Huntsman vowed to hold Russian officials accountable for their actions. But also expressed a desire to work with the Kremlin when appropriate, such as on the issue of North Korea's nuclear program.
Huntsman, a former governor of Utah, has twice served as an ambassador for the U.S.: in Singapore and then China. He was also reportedly under consideration to be Trump's Secretary of State.
"Honored and humbled to serve our great country as U.S. Ambassador to Russia. Looking forward to joining America's Embassy team in Moscow," Huntsman tweeted on September 28.
That said, if Huntsman wants to set his calendar, Putin is up for re-election in March.