Putin Thinks U.S. 'Attention Deficit Disorder' Will Help Him Win War: CIA
The director of the Central Intelligence Agency (CIA) said that Russian President Vladimir Putin believes the U.S. has an "attention deficit" problem and will eventually lose interest in supporting Ukraine.
Putin launched Russia's full-scale invasion of Ukraine almost five months ago on February 24, drawing widespread international condemnation. The U.S., along with NATO allies, has strongly supported Ukraine, providing billions of dollars in military and humanitarian assistance to the country amid the unprovoked aggression.
As the war drags on, however, and both sides dig in for what many analysts believe will become a long and protracted conflict, Ukrainians are reportedly concerned that support from the West could wane. CIA Director William Burns said Wednesday that Putin is factoring such a scenario into his strategy.
"Putin's view of Americans is we always suffer from attention deficit disorder and get distracted by something else," Burns said during a question-and-answer session at the Aspen Security Conference taking place in Colorado.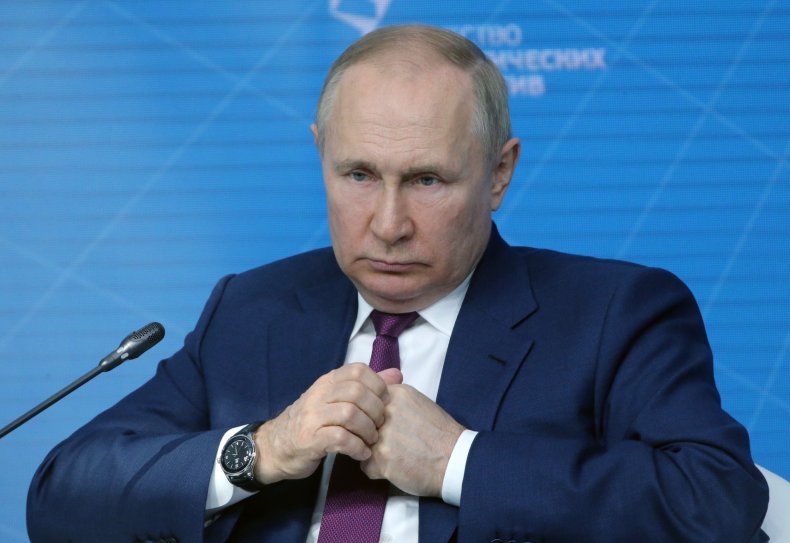 The CIA director asserted: "And I think he's wrong now." He pointed out that Moscow has consistently misjudged the situation regarding Ukraine.
At the outset of the invasion, Putin and others in the Kremlin reportedly believed that they would quickly be able to conquer much of Ukraine and topple the government in Kyiv. After the initial assault largely failed, Moscow refocused its efforts on eastern Ukraine where it had more success—but continued to face fierce opposition from the Ukrainian military as well as ordinary citizens.
Prior to becoming director of the CIA, Burns served as the U.S. ambassador to Russia from 2005 to 2008 and the deputy secretary of state from 2011 to 2014, as well as in other high-level diplomatic roles.
"I've watched and dealt with Vladimir Putin for more than two decades now," Burns said at the summit.
"I've watched him stew in what is a very combustible mix of grievance and ambition and insecurity. He's professionally trained to be a cynic about human nature. He is relentlessly suspicious."
Burns described Putin as "an apostle of payback" who operates with the goal of being in "control."
Newsweek reached out to the Russian foreign ministry for comment.
Kremlin spokesperson Dmitry Peskov told reporters on Thursday that "hardly anything else can be done to further spoil relations between Russia and the United States," according to Russia's Tass news agency. The Russian official described ties between the two nations as "already in a tough spot."
Putin and other Moscow leaders have bizarrely claimed that Kyiv is led by Nazis in a bid to justify their invasion of Ukraine. In reality, the Eastern European nation's president, Volodymyr Zelensky, is Jewish and whose family members were killed in the Holocaust genocide perpetrated by the German Nazis in World War II.
When Zelensky was first elected in 2019—with nearly three-quarters of the vote—Ukraine's prime minister was also Jewish.
Russian leaders have also complained about NATO expansion and Ukraine's desire to draw closer to Europe. Putin has argued that Ukraine should not be an independent nation, referencing historical ties under the Soviet Union and the Russian Empire. Ukraine has been independent since 1991 and has steadily drawn closer to the European Union and NATO despite threats from Moscow.
Polling suggests that Americans largely support the U.S. effort to back Ukraine against Russia, although it has declined since the outset of the war. A Critical Issues Poll by Brookings carried out by Nielsen-Scarborough from June 22 to 28 showed that significant majorities of Americans say they are willing to suffer costs in an effort to support Ukrainians.
Sixty-two percent of respondents said they were prepared to endure higher energy costs and 58 percent said they are prepared for increased inflation due to the war. However, those numbers were lower than the 73 percent and 65 percent, respectively, recorded in March. The poll included 2,208 respondents and had a margin of error of plus or minus 2.09 percent.