Putin Thinks He's Winning Ukraine War—Russian Political Analyst
A Russian political analyst has argued that Russian President Vladimir Putin is likely to believe that his country is winning the war in Ukraine because he's achieving his geopolitical goals.
Tatiana Stanovaya, founder and CEO of political analysis firm R.Politik, wrote an op-ed for Foreign Policy magazine published on Wednesday where she suggested people in the West were wrong to assume Putin thinks he's losing the conflict.
Russian forces have suffered major setbacks, including the failure to take the Ukrainian capital of Kyiv in the early stages of the war, that have led many in the West to suggest the Russian government is aware they are losing.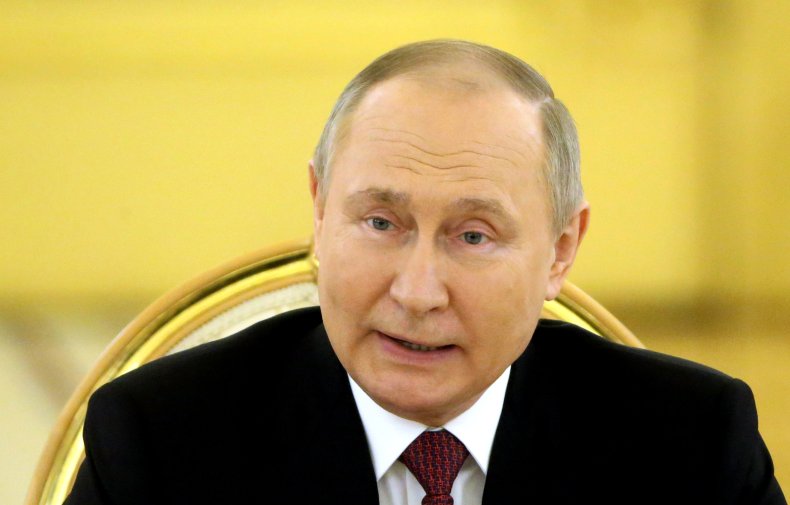 However, Stanovaya, who is also a nonresident scholar at the Carnegie Endowment for International Peace, argued that this assumption was incorrect and aimed to "debunk" it.
She wrote that the assumption Putin knows he's losing "stems from the mistaken idea that Russia's main goal is to seize control of large parts of Ukraine—and therefore, when the Russian military performs badly, fails to advance, or even retreats, that this amounts to failure."
However, Stanovaya said that Russia's main goal in Ukraine isn't about seizing territory but is aimed at preventing Ukraine from co-operating with the NATO military alliance and making the country accept Russian influence in the form of "Russification."
"To follow through on these goals, Russia needs to sustain its military presence on Ukrainian territory and keep attacking Ukrainian infrastructure. There is no need for major territorial gains nor taking Kyiv," Stanovaya wrote.
She also argued that annexing the eastern regions of Luhansk and Donetsk was not Russia's main goal but rather an "auxiliary, local goal" designed to punish Ukraine for its geopolitical decisions in moving closer to the West.
"In Putin's eyes, he is not losing this war. In fact, he likely believes he is winning—and he is happy to wait until Ukraine concedes that Russia is here forever," Stanovaya said.
Her article comes amid intense fighting in the Donbas region in the east of the country where Russian forces are reportedly close to seizing full control of the city of Severodonetsk, which is the last city Ukrainian forces hold in Luhansk.
Oleksandr Stryuk, head of the Ukrainian administration in the city, said on Wednesday that Russian forces control 60 percent of the city, Ukrainian forces control 20 percent and the remainder is "no-man's land."
"The 20 percent is being fiercely defended by our armed forces," Stryuk told Reuters. "Our troops are holding defensive lines. Attempts are being made to drive out the Russian troops."
The city has been subject to heavy Russian artillery bombardment in recent days. Local Governor Serhiy Haidai said on Tuesday that "90 percent" of the city had been destroyed.