Putin's Top Priest Collapses During Russian Church Ceremony
The head of the Russian Orthodox Church who has been sanctioned for his support of Vladimir Putin's war in Ukraine, has been captured on video falling during a religious service.
Patriarch Kirill was consecrating a church in the city of Novorossiysk in the southern Krasnodar region by the Black Sea when he slipped on the marble floor.
A church spokesman said that the patriarch hurt his back on the edge of the pulpit after nearby security guards and other bishops were unable to react in time to stop his tumble, the newspaper Moskovsky Komsomolets reported. The service continued.
The patriarch tried to laugh off the fall which he put down to being the victim of a slippery surface. "The fact I fell today doesn't mean anything," he told the faithful in a clip shared by BBC Monitoring.
"It's just the floor is wonderful, you can look at yourself in it, it's so shiny and smooth," he said, "When water is spilt on it, even if it is holy then the laws of physics come into play."
The patriarch has faced international condemnation for providing a religious justification for the war in Ukraine. This month, the U.K. sanctioned the cleric after the EU dropped him from their own sanctions list after opposition from Hungary. The church dismissed the measures as "senseless" and "absurd."
The British Foreign Office said that the primate was sanctioned "for his support and endorsement of Putin's war."
A close ally of Vladimir Putin, the patriarch said in a sermon on February 27, three days after the invasion started, that Ukraine and Belarus are part of the "Russian lands" and called the Ukrainians defending their country as "forces of evil."
Among his vehement critics is the group Human Rights Without Frontiers (HRWF) which has submitted to the International Criminal Court (ICC) a report it says shows that the patriarch is complicit in "Russia's war crimes and crimes against humanity in Ukraine."
HRWF head Willy Fautré told Newsweek last month that the patriarch was a "de facto accomplice" of Putin's military aggression.
The patriarch's stance has caused a split in the Orthodox faith worldwide, with his leadership condemned by the U.S. based Orthodox Public Affairs Committee (OPAC) which in April described his support for the war as "cruel and unjustified."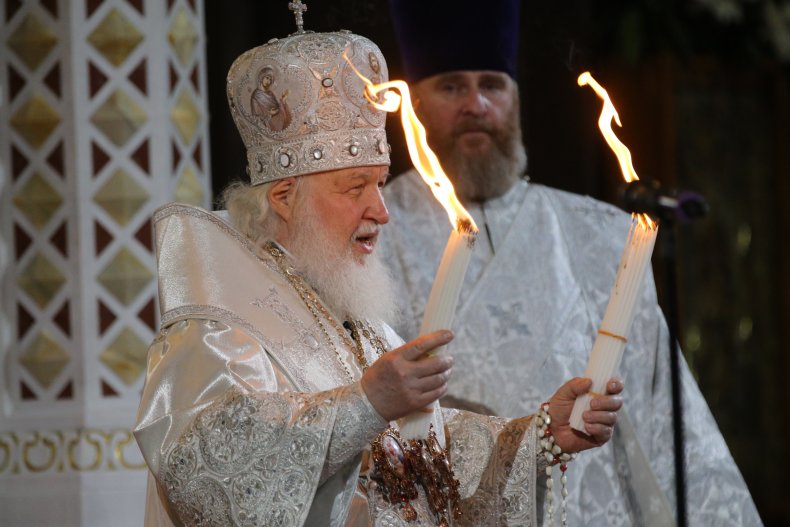 Update 06/25/22, 9 a.m. ET: This article has been updated with further information.