Putin Got Trump Elected, Russian President 'Believes,' Former Adviser Says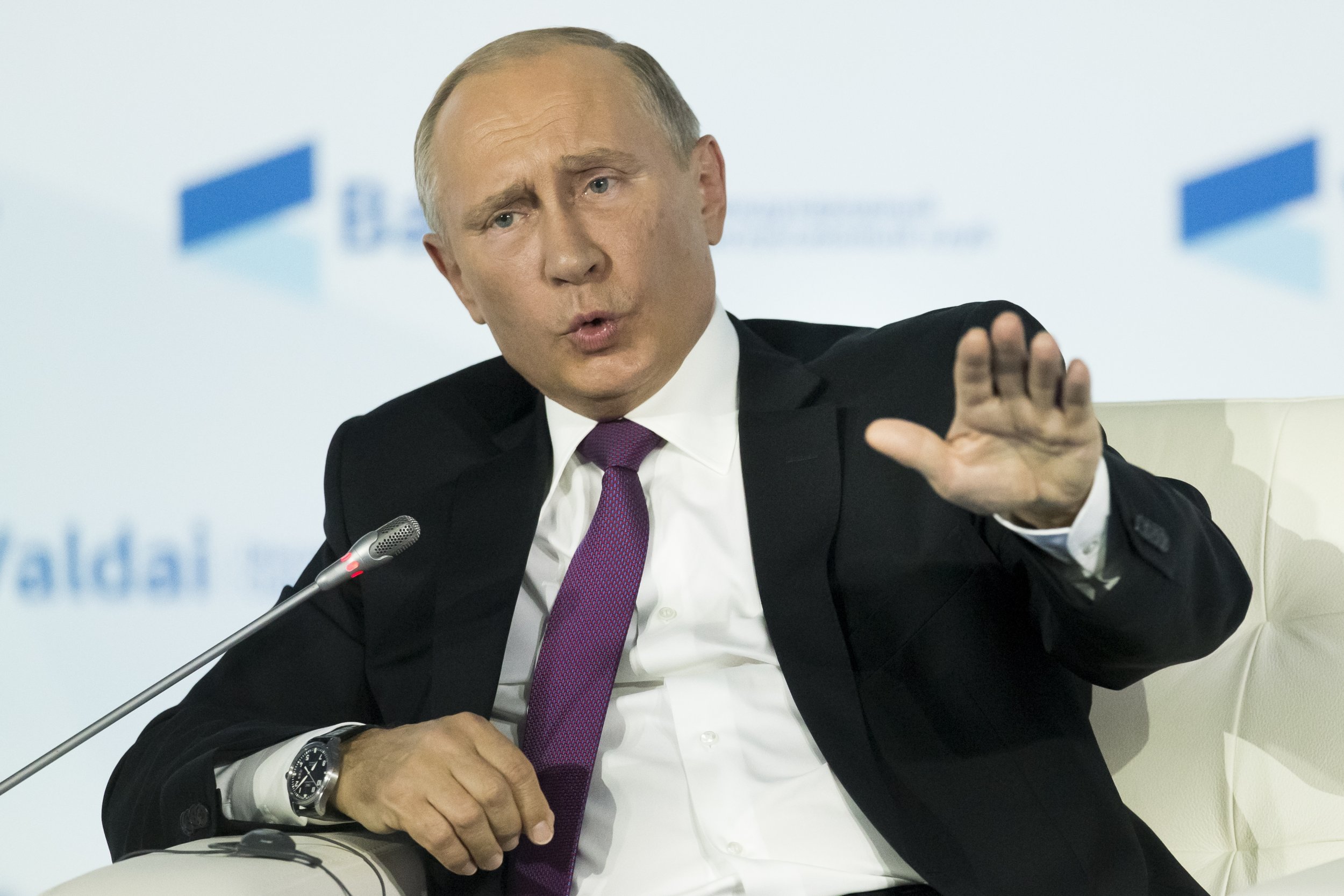 Russian President Vladimir Putin thoroughly believes he's the reason U.S. President Donald Trump reached the White House, according to a former adviser.
Gleb Pavlovsky, who served as a "political technologist" in the Kremlin between 1996 and 2011 and met Putin in 1998, just before the current president became head of Russia's top intelligence service, said Putin understood some of the impact Russian trolls played in propping up Trump over Democrat Hillary Clinton.
Pavlovsky did admit, though, he was not sure how much of a role Putin played in the social media and espionage tactics used to interfere in the U.S. election last year.
"It's really difficult to understand what was the level of Putin's involvement or blessing in that," Pavlovsky told PBS's Frontlineduring an interview in July. "After November, after Trump was elected, the situation changed. Now Putin understands, or he believed at least, that he was strong. I don't know who believed in America that Putin elected Trump, but Putin believed that. Putin believed that, and that has become a political factor."
Pavlovsky said it was unlikely Putin would pour vast resources into such a propaganda campaign because, at first at least, he may not have seen "an opportunity of winning." But he said Putin did not necessarily tell Russian hackers and trolls to stop what they were doing.
"I think it's more likely that hackers kept talking and showing that this was not a wall, that there are no more walls in the world; there are no more borders in the world," Pavlovsky said. "Putin did not believe in that for a long time. For sure, he has allowed something to be done. He most probably thought that Clinton would be the winning candidate, and he tried to build his propaganda accordingly. Why not help her adversaries? They will be helpful, most probably if he gives them a helping hand."
Based on Pavlovsky's assertions, it appears Putin tried to take credit for having a grand plan regarding the election. However, Putin himself has repeatedly denied Russia meddled in the U.S. election. Trump claimed that when he met Putin in July for the Group of 20 summit in Germany, he twice asked Putin if Russia interfered. Putin shot down the idea both times, according to Trump.
Notably, Pavlovsky did not say whether Russia and the Trump campaign worked together to win the election, an allegation that has shadowed the Trump administration throughout its first year.
The Trump administration is now dealing with the fallout from indictments filed earlier this week in the probe into alleged collusion by the Trump campaign with Russia. A former campaign manager and another former campaign official were indicted, and a former foreign policy adviser pleaded guilty to lying to the FBI.
Trump has long said there was no collusion with Russia. But the former foreign policy adviser, George Papadopoulos, told special counsel Robert Mueller's team that he had been in contact with a Russian professor with deep ties to the Kremlin about possibly attaining "thousands" of Clinton's emails.
The former campaign manager, Paul Manafort, was charged with laundering $75 million through offshore accounts, much of which came for his work for the pro-Russian Ukrainian president in 2014.