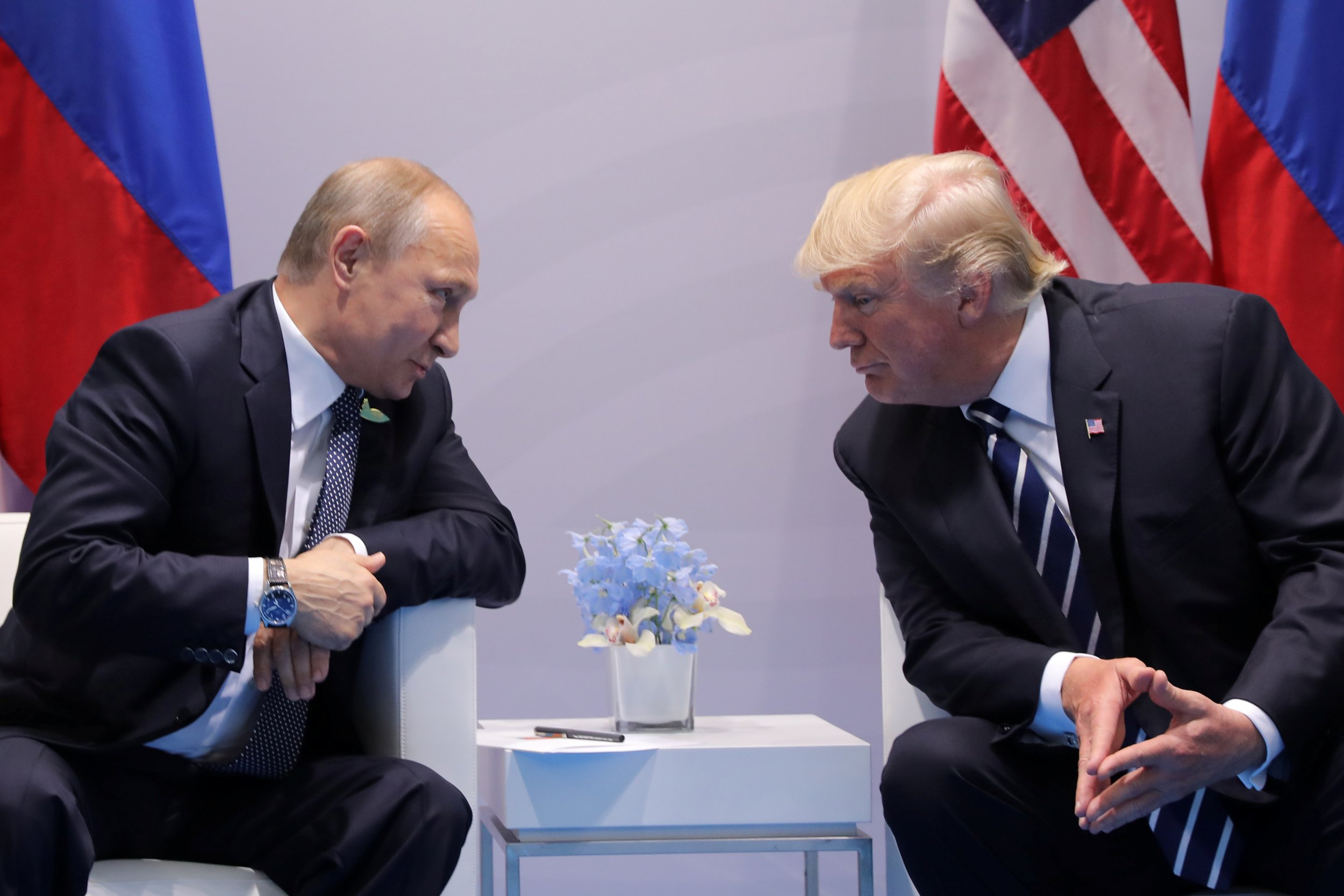 U.S. President Donald Trump reportedly told Russia's Vladimir Putin when the two world leaders met for more than two hours Friday during the Group of 20 summit in Hamburg, Germany, that allegations Russia had interfered in the 2016 election were being "exaggerated."
The comment, relayed by Russian foreign minister Sergey Lavrov, according to The Guardian, came a day after Trump told reporters that while he believed Russia did try to meddle in the election that "no one really knows for sure," once again bucking the U.S. intelligence community's assertion that Russia attempted to tip the election in the billionaire real estate mogul's favor over Democrat Hillary Clinton.
"I think it was Russia, and it could have been other people in other countries," Trump said Thursday. "Nobody really knows for sure."
However, a Trump administration official told NBC News that Lavrov's comment was "not accurate."
The meeting between the American and Russian leaders was one of the most anticipated at the global summit ever since Trump claimed the Oval Office in November, and as the president faces heavy criticism and congressional investigations into his campaign.
According to media reports, Trump and Putin also discussed topics ranging from cybersecurity, a ceasefire in southwest Syria and the sending of an envoy from the Ukraine to Moscow.
U.S. Secretary of State Rex Tillerson said the meeting began with Trump raising concerns about Russian meddling, but that Putin denied it, according to the Associated Press.
Tillerson also said that Trump had pressed Putin several times on the issue, that First Lady Melania Trump was asked to break up the meeting one hour in but the president and Putin kept speaking and that finding a way forward was too important.
Putin and Russia have long denied the meddling allegations, but Putin did claim earlier this year that perhaps some "patriotic" Russians could have committed the widespread hacking targeted at the Democratic National Committee and generated "fake news" stories.
Up until Thursday, Trump had repeatedly refused to accept the intelligence community's findings and accused the country's media of unfair coverage surrounding Russia's interference. The alleged collusion between the president's former campaign and Russia has plagued Trump's presidency, sparking multiple investigations.
In June, a Department of Homeland Security official told the Senate intelligence committee, which is investigating Russia's role in the election last year, that Russia had targeted the voting systems of 21 states and that a small number had been breached, Reuters reported. However, the altering of votes has not been discovered.