Putin, Trump and Kim to Be Paraded As Creepy Clown Caricatures At French Carnival In Nice
An effigy of President Donald Trump as a creepy clown caricature will be paraded through the streets of Nice as the French Riviera city hosts its annual carnival this month.
The large Trump statue will join those of international leaders he admires, such as Russia's Vladimir Putin and North Korea's Kim Jong Un, as well as others with whom he's had a more tense relationship, including Germany's Angela Merkel and France's Emmanuel Macron, Reuters reported on Tuesday. Similar caricatures of silent film legend Charlie Chaplin and disgraced Hollywood producer and alleged sexual predator Harvey Weinstein will be part of the parade as well.
This year's festivities will run from February 16 through March 2, with the city marking the carnival as it has done on an annual basis since 1873. The event this year will also celebrate the 100th anniversary of Victorine Studios, an important landmark of France's acclaimed film industry.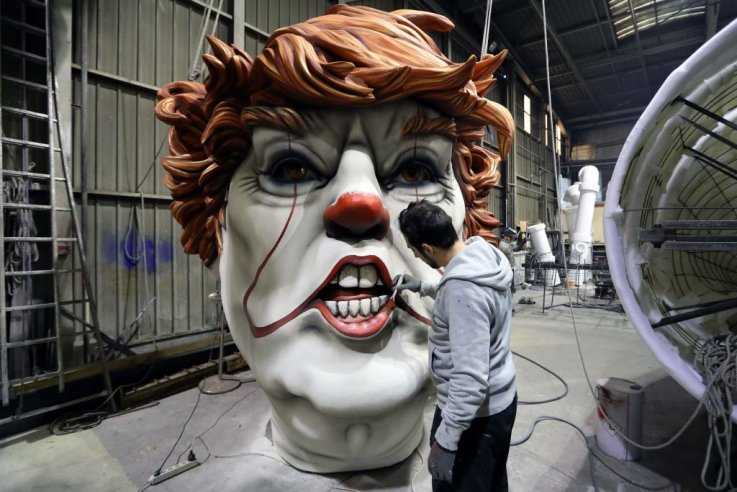 "Politics is a little bit of cinema. So it's good to mix them together," 65-year-old local resident Fabienne Neuville told Reuters, in regards to the caricatures of Trump and others.
During the three weeks of parades and parties, the effigies will be viewed by thousands of revelers. The political caricatures are designed to show emotion and invoke a feeling from those who see them, as they are decorated as painted clowns one would expect to see in a horror film.
"One imagines that's how these characters are perceived, they create fear all around the world, and that's sort of the point of carnival, and to bring that out through colors and costume," float creator Cedric Pignataro told the news agency.
Of course, statues, artwork and other representations of Trump have become a commonplace way to mock and protest the American president.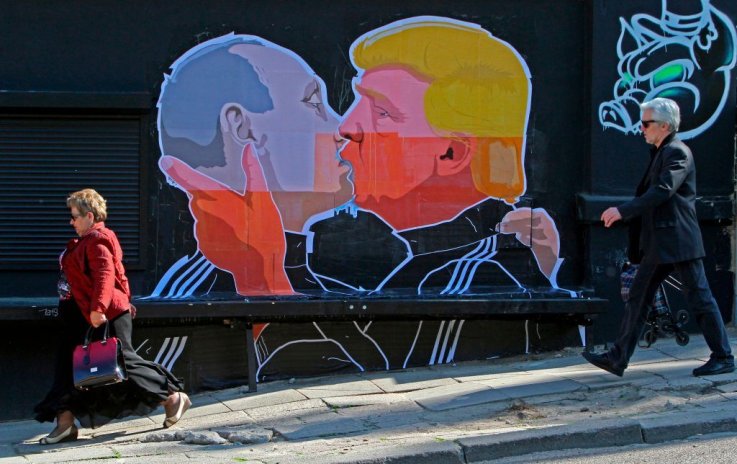 The giant Trump baby balloon has become an infamous protest symbol against the president ever since it floated through the streets of London during his official state visit to the United Kingdom. The now iconic blimp was first thought up by London activist Leo Murray, who set up an online fundraiser aiming to generate £5,000 ($6,477) to help it fly. He quickly garnered more than £28,500 ($37,919) in donations.
Ahead of Trump's election back in 2016, a bright and colorful mural of the then-presidential candidate kissing Putin went viral. The artwork was painted outside a restaurant in Lithuania called Keule Ruke, or Smoking Pig in English.
During last year's Nice Carnival, a float also featured a massive Trump effigy shooting Kim from a red, white and blue cannon, while the North Korean leader wore a helmet featuring the nickname given to him by Trump, "Rocket man."
Putin, Trump and Kim to Be Paraded As Creepy Clown Caricatures At French Carnival In Nice | World