Putin 'Had Something' on Trump and Moscow Project 'Smacks of Illicit Negotiations,' Senator Alleges
Democratic Senator Richard Blumenthal has alleged that Russian President Vladimir Putin "had something" on Donald Trump, saying that negotiations surrounding the Trump Tower Moscow project appear to be "illicit."
Appearing on CNN's New Day on Tuesday, Blumenthal discussed the ongoing investigation by special counsel Robert Mueller into allegations that Trump's 2016 presidential campaign team colluded with Russia. Host John Berman pointed to a string of confusing statements made by the president's personal lawyer and former New York City Mayor Rudy Giuliani in recent days, asking whether Blumenthal believed the president had broken the law by working toward a Trump Tower Moscow project during his campaign.
"Certainly, it smacks of illicit negotiations and dealings with an adversary, with Putin's henchmen," the senator, who formerly served as Connecticut's attorney general, responded. Blumenthal also said that Trump has "lied to the American people."
Berman then asked, "Is that illegal?" The senator responded by laying out how it could be illegal, depending on the circumstances.
"It may well be, if he also lied under oath or other contexts," he said. "But the fact is, Putin had something on him, which may be the reason why he issued a statement about the Trump Tower meeting that was plainly false. [That could be] why Trump Jr.'s testimony may very well be false."
"Lying to the American people may not be itself breaking the law, but if it's part of a conspiracy, part of aiding and abetting other illicit actions.… We need to see the full special counsel report and all that he knows," Blumenthal added.
Trump and Putin have repeatedly said there was no cooperation during the 2016 presidential campaign. But Mueller's probe has so far led to indictments or guilty pleas from five of Trump's former advisers, 26 Russian nationals, three Russian companies, one California man and one London-based lawyer. The president's former campaign chairman Paul Manafort also lied to the FBI about sharing confidential polling data with an associate linked to Russian intelligence during the election, according to court filings.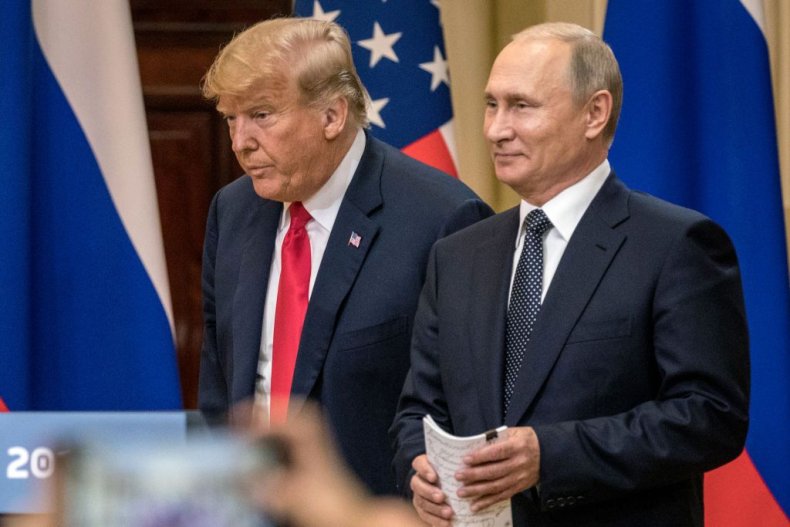 Giuliani and Trump have publicly given conflicting timelines regarding the negotiations surrounding Trump Tower Moscow, raising suspicions among a number of Democrats and analysts.
Last week, BuzzFeed reported that Trump had allegedly instructed his former lawyer Michael Cohen to lie to Congress about the real estate venture, which many pointed out could be obstruction of justice. A spokesperson for Mueller's team later said the report was "not accurate," while BuzzFeed journalist Anthony Cormier said on CNN's Reliable Sources Sunday that he stands by the article, having since received "further confirmation" of its accuracy.