Putin Spokesman Mocks Trump-Russia Investigations as 'Laughable' and 'Less and Less Serious'
Russian President Vladimir Putin's official spokesman Dmitry Peskov has dismissed the expanding investigations into President Donald Trump as "laughable," arguing the inquiries are becoming "less and less serious.
"There have been so many investigations like these that their significance has been devalued," Peskov said Tuesday, Russia's Tass news agency reported. "In general, they look less and less serious," he continued. "It is most important that none of the previously launched investigations have yielded any serious findings. All of them were laughable."
Peskov also said Putin's government didn't have the time or inclination to comment on every new investigation launched in the U.S. regarding Trump. "By and large, this is perhaps none of our business," he said. "It is an entirely U.S. affair."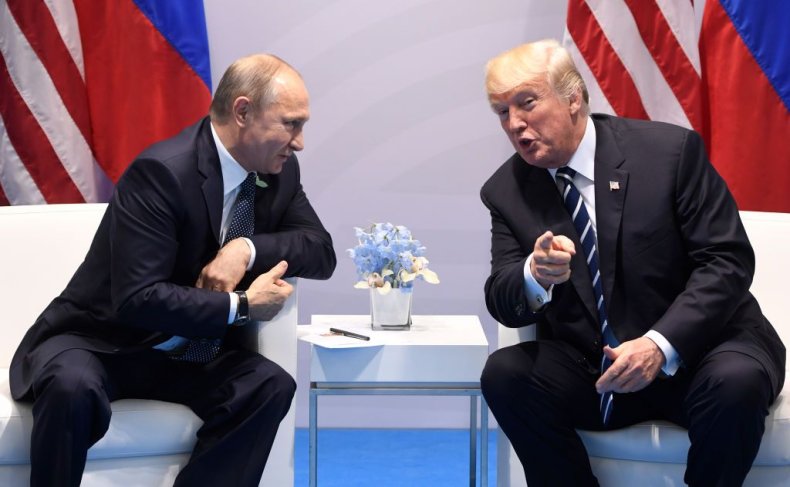 Despite Peskov's assertions, special counsel Robert Mueller's investigation into Trump's 2016 presidential campaign has resulted in dozens of indictments. Six close associates of the president have been charged, including former Trump campaign chairman Paul Manafort. Several have been convicted, although none for for actions that would be classified as colluding with Russia.
Manafort, who has been convicted of crimes that stemmed from the investigation, was known to have shared confidential polling data with an associate linked to Russian intelligence. Trump friend and unofficial adviser Roger Stone has also been indicted for allegedly communicating directly with WikiLeaks in regard to leaked Democratic National Committee emails, which were allegedly hacked by Russia. Stone and WikiLeaks deny the charges.
Putin's spokesman's comments came in response to a new investigation launched by the House Judiciary Committee this week. The inquiry aims to determine whether Trump obstructed justice, conspired with Russia and abused his power. The committee has subpoened numerous close associates, including family members, of the president for documents relating to the investigation. In total, 81 people or places have received document requests, including Trump's son Donald Trump Jr. and son-in-law Jared Kushner.
"Over the last several years, President Trump has evaded accountability for his near-daily attacks on our basic legal, ethical and constitutional rules and norms," House Judiciary Committee Chairman Jerrold Nadler said in a statement on Monday.
During a Sunday interview with ABC News's This Week, Nadler shared his personal perspective that "it's very clear that the president obstructed justice."
"Eleven hundred times he referred to the Mueller investigation as a witch hunt… He tried to protect [former National Security Adviser Michael] Flynn from being investigated by the FBI. He fired [former FBI Director James] Comey in order to stop the Russian thing, as he told NBC News. He's dangled pardons. He's intimidated witnesses in public," the congressman said.
Trump classified the investigation as "the greatest overreach in the history of our Country," in a Tuesday morning tweet. "The Dems are obstructing justice and will not get anything done. A big, fat, fishing expedition desperately in search of a crime, when in fact the real crime is what the Dems are doing, and have done!"