Putin Says U.S. Establishment Stops Trump From Improving Ties With Russia And 'Invents Fake News'
Russian president Vladimir Putin blamed the U.S. establishment for preventing an improvement in relations between Moscow and Washington.
During his annual televised question-and-answer session with members of the public, Putin was asked about the prospects for better ties if he met with President Donald Trump.
The Russian energy Ministry's department head Evgeny Grabchak, who faces U.S. sanctions, asked Putin on air if he would "want to meet with Trump."
Putin replied that dialogue with the U.S. was "always good" adding that Russia was "ready for this dialogue as long as our partners were too."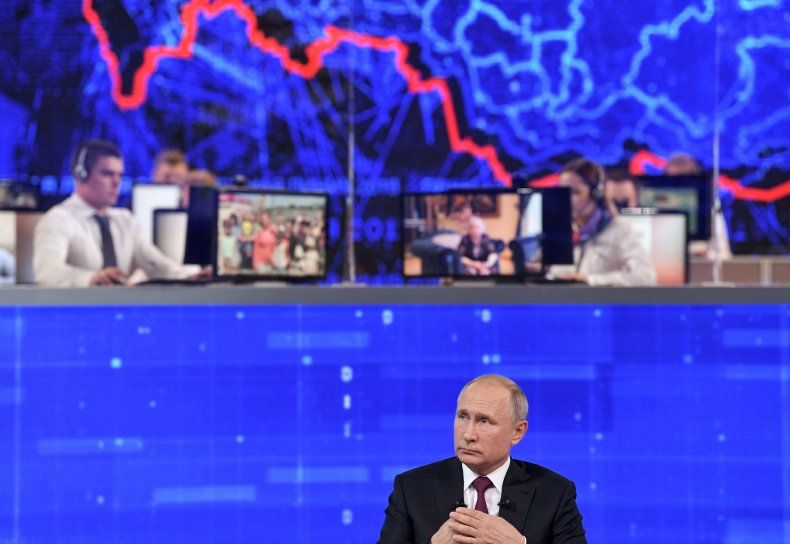 Putin went on: "But even if Trump wants to change anything, there are restrictions imposed by other organs of power. There is a part of the American establishment that continues to invent fake news. We have things to discuss with Trump in all areas, including the economy," Novaya Gazyeta reported.
On Wednesday, Trump announced that he would meet Putin at the G20 summit in Japan next week, as well as hold talks with the Chinese president Xi Jinping, Reuters reported.
In Thursday's phone-in, Putin fielded questions from all corners of Russia for four hours and 16 minutes. The annual event is criticized internationally for being carefully choreographed with questions vetted in advance.
Putin remained bullish on the sanctions imposed by the EU and the U.S., insisting that they are the main losers by not having access to Russian markets.
He also boasted about Russia's military capabilities, despite being only the seventh biggest spender and not having the budget of its main "competitors," which he listed as the U.S., the U.K., China and France.
When asked why military hardware made such a frequent appearance on Russian television, he replied: "If you want peace, prepare for war. The one who does not feed his army, feeds another."
He added that despite Russia's "fairly modest military expenditure" it had more military power than other nations. "This should spark a feeling of pride and respect among those who work in military construction," he added.
With reports suggesting that he is losing popularity, Putin was also asked from people in regional hospitals about long hospital queues and declining living standards.
At the end of the marathon session, Putin fielded a number of quick-fire questions. One was whether he was "sick of being president?" to which he replied: "No, otherwise I would not have run for this term."