Vladimir Putin Says Russia-U.S. Relations Have 'Degraded' Under Donald Trump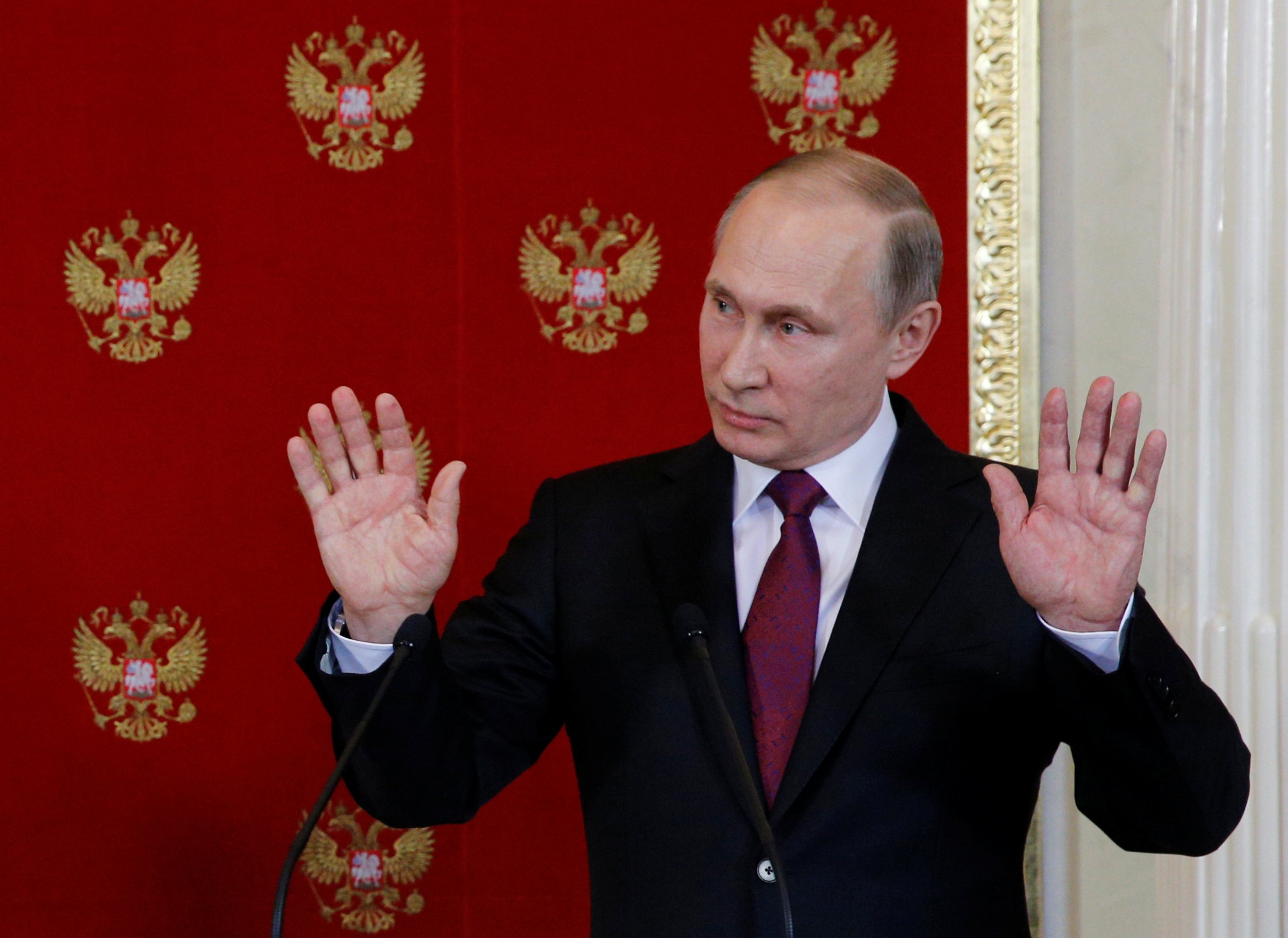 Russian President Vladimir Putin believes the level of trust between his country and the U.S. has dropped further since the arrival of U.S. President Donald Trump.
When asked by a journalist from Russian TV channel Mir about the state of Russian-U.S. relations, Putin said, "we can say that the level of trust at a working level, particularly in a military level, has not improved but rather has degraded."
The Kremlin has deliberately refused to confirm if Putin will meet U.S. Secretary of State Rex Tillerson alongside Russian Foreign Minister Sergey Lavrov in Moscow on Wednesday. Putin usually greets the U.S.'s top diplomat on visits to Russia and continued to do so when tension was high over the political situation in Ukraine.
On Wednesday, Putin's spokesman kept up the suspense, saying Putin might visit the two foreign ministers, depending on whether there is an "appropriate" moment for him to join the discussion.
At an Arctic forum in March the Russian president said he would be happy to meet Tillerson during his visit. However, ties have become strained again after the U.S. carried out a strike on Moscow-ally Syria last week, targeting a military airfield allegedly used in a regime chemical attack.
Russia and Iran, Syria's main allies dismissed allegations that Syrian President Bashar al-Assad's regime carried out the deadly chemical strike that killed more than 80 civilians. However, the U.S. has accused Assad of the strike and the Pentagon said it would investigate any Russian role, claims Moscow has rejected.
The Kremlin published the full transcript of the the interview with Mir, during which Putin addressed his remarks from Tuesday on the Kremlin's belief that there may be false flag chemical attacks in Syria to provoke further U.S. military action. He told press in Moscow that Russia had information about "other provocations" prepared in Syria, seeking to accuse Assad of more chemical attacks, and Mir asked if the Islamic State militant group (ISIS) could be behind the supposed plans to frame Assad.
"To my mind, I did not say that this was a provocation on the part of ISIS," Putin said. "I said that this was a provocation but who it was organized by, I did not say. There are various possibilities."
The only other possibility Putin gave was the one given by the Assad regime—that a Syrian air strike hit a chemical weapons depot of the anti-Assad rebels.
Tillerson's past as a holder of Russia's state order of friendship and an opponent of sanctions on Russia during his tenure as CEO of Exxon Mobil, originally placed him in the pro-Russian camp of Trump's cabinet picks, though he has expressed a tougher stance towards Moscow since his Congressional confirmation.
Links between the Trump team and Russia are partly the subject of a Congressional investigation in the U.S. and have already cost the job of former National Security Advisor Mike Flynn. He resigned from his position on February 13 after he conceded he had not revealed that he had conducted talks with the Russian ambassador to the U.S.