Putin Tumbles In Hockey Triumph Against Oligarchs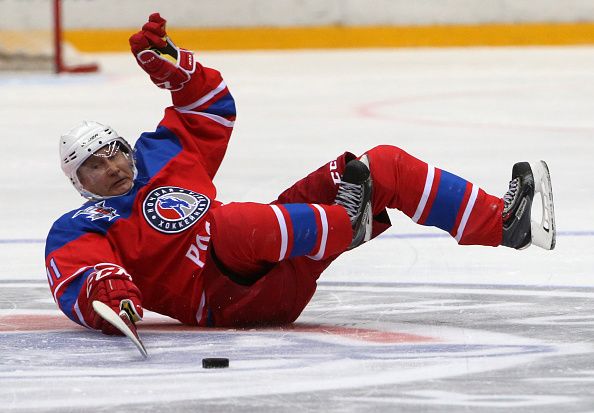 Russia's President Vladimir Putin must be running out of space on his mantlepiece as his hockey skills won him another trophy on Tuesday night, state news agency RIA Novosti reports.
Putin led a team of state officials and ex-hockey stars against some of Russia's most famous billionaires in Sochi, competing in the annual gala match from the amateur "All Star Hockey League". The match finished 9:5 to Putin's team, who, clad in his standard ref number 11 jersey, scored one of the goals and provided assists for the other two.
Putin entered play in the second period and scored immediately in the classic mould of an impact substitution. The game was not entirely without hiccups for the president's side, however, as he took an awkward tumble during play, falling on his backside with his legs in the air at one point.
He was back on his feet shortly after and the images that will stick in viewers' minds when they recall the game will likely be the more glorious moments of the match. Also photos of the 63-year-old's fall did not feature in the extensive highlights on state media.
The annual match, played in Sochi since 2013, has featured Putin's talents on every occasion in the last three years. In his last two hockey matches alone Putin scored a total of 15 goals, making Tuesday's match low scoring one by his standards. When asked about his more subdued form this year, Putin told sports broadcaster Match TV that he was "still learning" the game.
"This is a practice match after all," Putin added, though no doubt he would like to recapture the form he displayed during an exhibition match for his birthday in October, when he scored seven times.
Although an avid hockey fan, Putin's success may also have something to do with the fact his team stars the likes of hall of fame winger Pavel Bure and Olympic medalists Alexander Mogilny and Valery Kamensky.
While Putin picks his teammates by the number of Stanley Cups and Olympic honours, his opponents have different accolades in common, namely many of them are under sanctions from the U.S. and EU. Oligarchs Gennady Timchenko and Boris and Arkady Rotenberg faced off against their friend and were on the losing side of Putin's offensive on Tuesday night.
Far from being overconfident about his skills, however, Putin has been critical of his workrate on the ice rink. Last month one of Russia's most senior sports officials credited Putin as one of the main culprits for Russians' increased interest in playing and watching hockey.
To that Putin humbly replied, "Let's not call what I do 'playing'."