Putin Unable to Match People to Equipment in Ukraine War: UK Defense Chief
Russian President Vladimir Putin is struggling to match troops to equipment as his military suffers from low morale and recruitment struggles amid its invasion of Ukraine, said United Kingdom Defense Chief Sir Tony Radakin on Sunday.
Putin launched the invasion of Ukraine in late February, initially hoping for a quick victory. However, the Russian military was met with a stronger than expected defense from Ukraine, who has largely held its own during the war.
Fighting has been concentrated in only the easternmost region of the country in recent months, and Russia has not achieved its stated goal to "liberate" Donbas, a separatist region in Eastern Ukraine. Military experts have given a myriad of potential reasons for Russia's failure to quickly take Ukraine, with many citing weaknesses within Russian troops.
Radakin outlined some of the challenges the Russian military continues to face during an appearance on the BBC.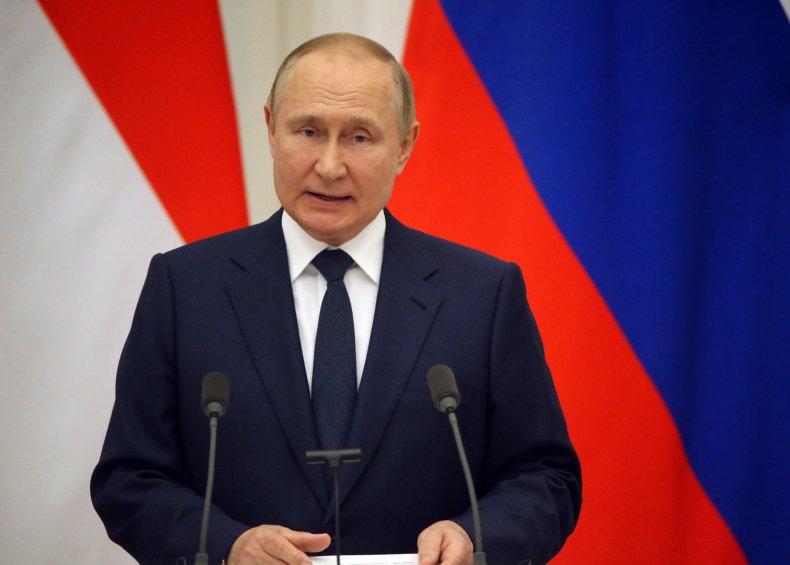 "There are some Russian troops that are clearly effective, and they are taking ground and being successful," he said. "But the overall force is struggling. They're struggling in terms of their numbers, but they're especially struggling in terms of their morale. And you're seeing that with the inability of President Putin to match the people with the equipment that he has."
Moscow has sought to mobilize reservist troops as the military deals with struggling morale, but that effort has not seen the success military leaders would hope for, as it has achieved only 30 percent of the numbers they would normally reach, Radakin explained.
"More and more, they're having to go to the more rural areas of Russia because people are avoiding the call-out in the cities," he said.
Radakin also dismissed reports that Putin is in poor health. Amid the war, several reports have emerged claiming the Russian president has a mélange of health issues, but the defense chief said those reports are "wishful thinking," according to the Telegraph.
Low Morale, Chain-of-Command Issues Plague Russian Military
Radakin is not the first person to point to low morale to explain Russia's lack of progress in Ukraine. Ukraine's General Staff of the Armed Forces said last month that Russia turned to "forced mobilization" in areas it occupies in the Donetsk region amid soldiers' low morale. The Institute for the Study of War (ISW) backed up these claims, reporting on a video that shows soldiers complaining about spending the war on the frontlines without food or medicine.
Ukrainian authorities said in April, less than two months after the war began, that some Russian soldiers were already refusing to fight due to their "moral and psychological condition," which prompted Russia to reportedly seek to enlist soldiers discharged from the military after 2012 to help fight.
The military has also faced other issues amid the invasion.
United States Lieutenant General Scott Berrier, the director of the Defense Intelligence Agency, said in May that Russian generals were being killed due to the military's poor chain-of-command communication—adding that Ukraine's chain-of-command is helping bolster its standing against Russia.
Newsweek reached out to the Russian defense ministry for comment.