Putin Uses Holocaust Remembrance Day to Attack 'Evil' Ukraine
Russian President Vladimir Putin denounced "evil" Ukraine in a message commemorating International Holocaust Remembrance Day on Friday as he continues his nearly year-long invasion of the neighboring country.
In a statement posted on the Kremlin's website, Putin spoke of the "dramatic moment" in World War II when the Auschwitz-Birkenau concentration camp in Poland was liberated on January 27, 1945.
"Of course, we mourn the millions of dead innocent people—Jews and people from other ethnic groups—who were shot, tortured, or died of hunger and illnesses," Putin wrote.
The Russian leader stated that it was "primarily" the Soviet Union "that put an end to the barbaric Nazi plans in 1945 by standing up for the freedom and independence of its motherland, saving the Jewish people and other ethnic groups from total annihilation and enslavement."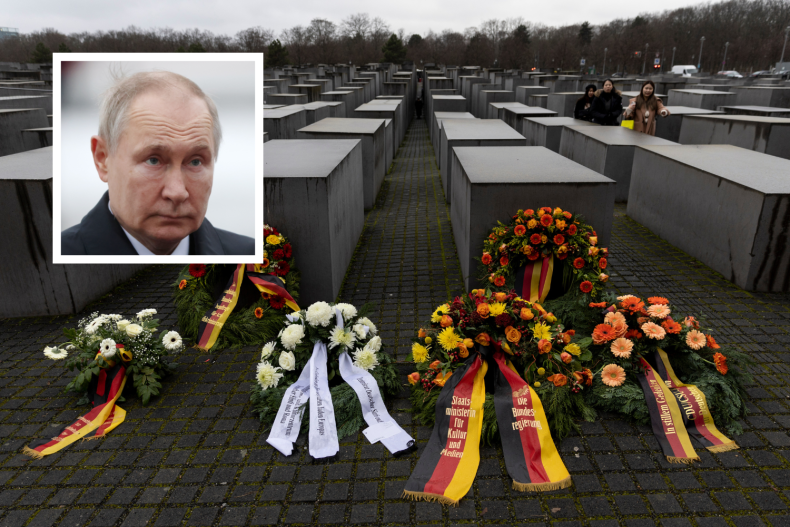 "Horrible tragedies can happen again if we forget the lessons of history, as demonstrated by the crimes against civilians, ethnic cleansing and punitive operations carried out by neo-Nazis in Ukraine," Putin continued. "It is this evil that our warriors are currently fighting courageously, shoulder to shoulder."
Russian officials and media have repeatedly alleged that the Ukrainian government is run by Nazis, even though Volodymyr Zelensky, Ukraine's democratically-elected president, is Jewish. Meanwhile, Putin's stated goals in invading the Eastern European country have also included the vague conditions of "denazification and demilitarization."
Such rhetoric has angered Western officials and has been dismissed by experts as Russian propaganda. Days after Russia invaded Ukraine in late February last year, scholars on Nazism, genocide, and World War II released an open letter saying that they "strongly reject" the Russian government's "equation of the Ukrainian state with the Nazi regime to justify its unprovoked aggression."
"This rhetoric is factually wrong, morally repugnant and deeply offensive to the memory of millions of victims of Nazism and those who courageously fought against it, including Russian and Ukrainian soldiers of the Red Army," the letter read.
Like Putin's statement, other messages in observance of International Holocaust Remembrance Day have also noted the conflict in Ukraine, but for different reasons.
NATO Deputy Secretary General Mircea Geoană said in an address on Friday that this year's commemoration was "particularly poignant for all of us here in Europe" since it came nearly a year after the invasion began.
"We are seeing horrific scenes that we thought we had banished to the history books...They are a chilling reminder of how fragile freedom is and how we can never take peace and security for granted," Geoană said.
Russian forces have been accused of committing war crimes in Ukraine. The Office of the United Nations High Commissioner for Human Rights estimates that there have been 18,483 civilian casualties in Ukraine from the war's beginning in February 2022 to January 22, 2023.
Newsweek reached out to Ukraine's Foreign Ministry for comment.