Vladimir Putin Is Using KGB Tactics In Crimea, Warns Lithuania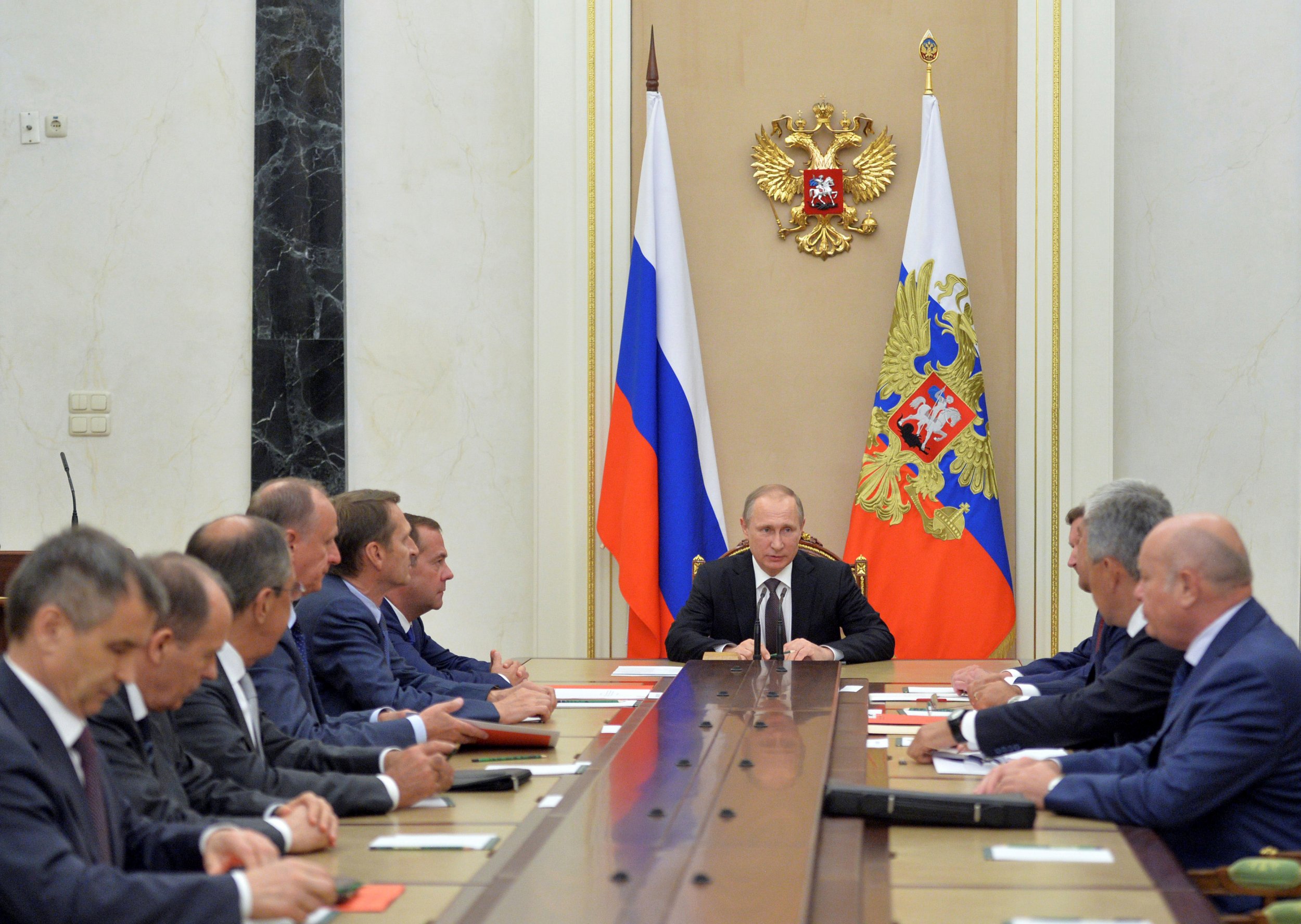 Russia is using Soviet-style tactics to confuse and attack Ukraine, Lithuania's foreign minister has claimed, after Moscow accused Ukraine of planning a "terror" attack on Crimea.
Crimea was annexed by Russia from Ukraine in 2014; on Wednesday, Russia's federal security services said they had foiled attempts by Ukraine to send a group of saboteurs into the region to destabilize the situation on the ground.
Ukraine strongly dismissed the allegations and both its president and the head of its security council have expressed concern that the Kremlin's enthusiasm to jump to conclusions means Russia is preparing for a new offensive. International observers in the Ukraine conflict from the OSCE also could not confirm such an incident had taken place.
According to Lithuania's foreign minister, Linas Linkevicius, the current tactics used by Russia—fabricating an attack in order to respond to it—resemble those of the Soviet secret police, the KGB.
"Such events are concerning, because this model of accusing someone of provocation to justify a future response, has not been used for the first time," he said Thursday, news site Delfi reported.
Lithuania, another former Soviet republic, has long held concerns that Russia's ability to summon and deploy troops quickly to smaller neighboring countries and its tendency to rely on a narrative of protecting Russian speakers in a foreign state, could make it a target.
Russia and Ukraine have both raised their combat alert near the Crimean administrative border, although analysts suspect that should a Russian advance occur, it is more likely it will be from separatist forces in Ukraine's east, rather than regular Russian troops in Crimea.
"We still think that while clearly Putin and Russia have capability for some landgrab, it won't serve the political ends of the Kremlin to begin an open war in Ukraine," Alexander Kokcharov from IHS Jane's 360 tells Newsweek. "In eastern Ukraine, where Russia insists the pro-Russian forces are local separatists, Moscow at least has some plausible deniability, but any incursion into Ukraine's Kherson region from Crimea would pretty much put Moscow in the spotlight and it would be very difficult for Russia to say it is not an aggressor nation.
"The threats are there but this is still an intimidation tactic. It is Putin's style to escalate military tensions ahead of an international summit, as he did with the battle of Debaltseve in 2015 during the Minsk talks and he will almost certainly be attending next month's G20 summit."
"It is also possible that Putin wants to beef up nationalist rhetoric ahead of the parliamentary elections next month," Kokcharov says, noting that Putin's popularity and that of ruling party United Russia has often spiked, following upticks of Russian military activity in Ukraine and Syria."
Otilia Dhand, Eastern Europe analyst for Teneo Intelligence, says that a rebel advance is more likely, with Ukraine's attention on Crimea and the world's attention on the Olympics and the U.S. presidential race.
"For Russia an advance from the side of Crimea is not convenient because it would likely trigger a response from Ukraine's Western partners," she says. "If we see any Russian move beyond the Crimean administrative border we are most likely to see naval forces and aerial forces move and unless we see that the statements from Moscow are still a vocal threat.
"But this is a useful diversion from whatever is happening in the east, where violence has increased recently and it usually increases in August. The Olympics are a useful distraction for Russia and the international response is more delayed because attention is on domestic issues and many politicians are on holiday. Plus a bit of saber rattling is convenient for Putin ahead of the September elections."
The EU and the U.S. embassy in Ukraine have said they have not seen evidence to believe Russia's account of the weekend's events in Crimea. However, Russia has already released the names of two suspects and arrested a man, Evgeny Panov, who will be held in detention for two months.