Putin Is Vetoing Which Countries Can Join NATO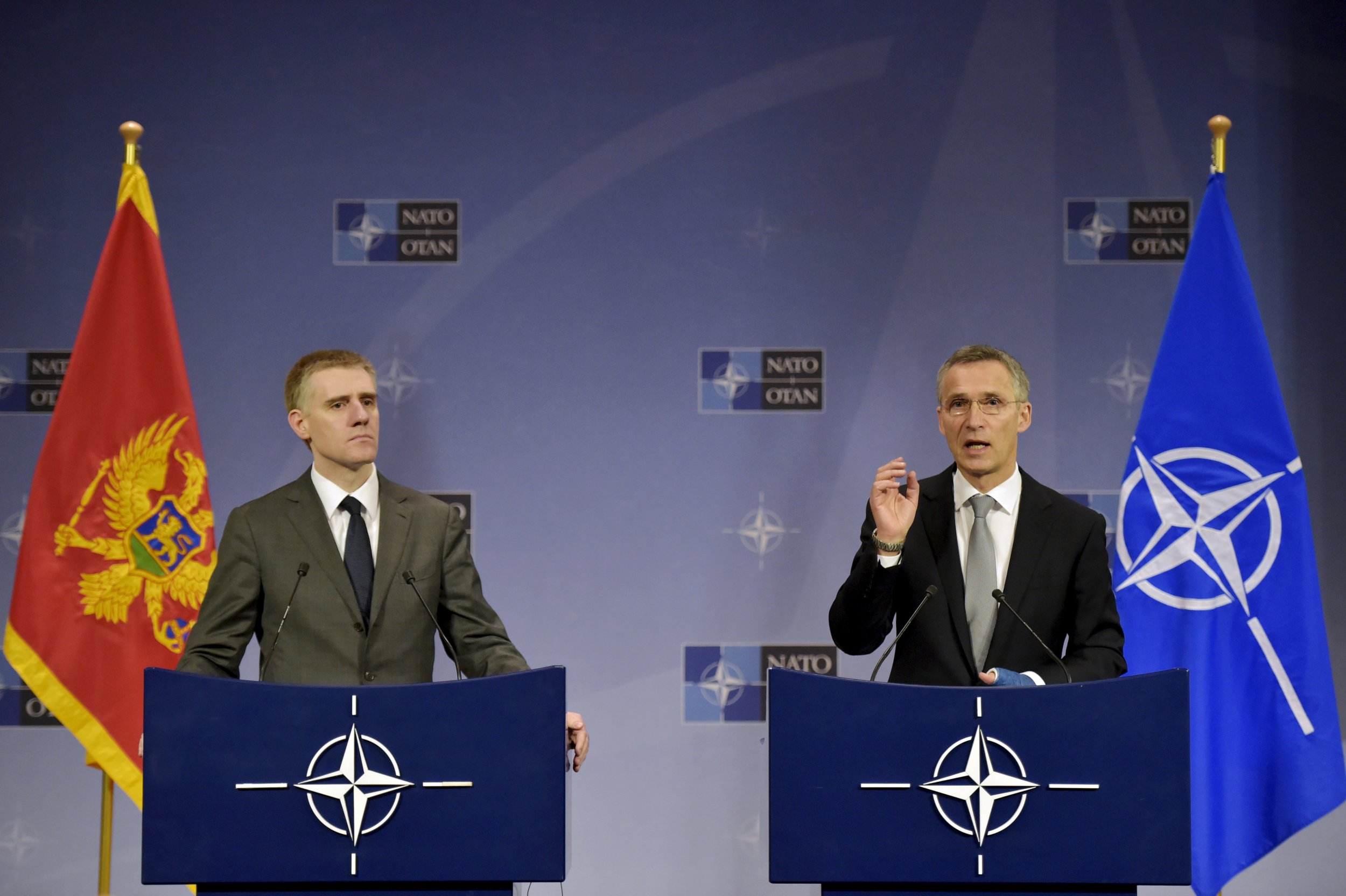 This article first appeared on the Carnegie Europe site.
Montenegro is poised to become the 29th member of NATO after the organization's foreign ministers invited this small Western Balkan country on December 2 to join the military alliance.
NATO Secretary General Jens Stoltenberg said the invitation confirmed NATO's open-door policy. "Every nation has its sovereign right to decide its own path, including what kind of security arrangements it wants to be a part of," Stoltenberg stated. He added that admitting Montenegro was not directed against Russia.
Tell that to Russia, which has been increasingly critical of NATO, particularly its enhanced military activities in Poland and the Baltic states.
Russia, which had repeatedly warned Montenegro against joining NATO and has invested heavily in the country, railed against the invitation. "Moscow has always said that the continued expansion of NATO, of NATO military infrastructure in the East, cannot but lead to a response from the East—that is, from Russia," said Dmitry Peskov, Russian President Vladimir Putin's spokesman.
NATO's decision to admit Montenegro will certainly send a signal to other countries in the region that the alliance is open for further expansion. But admitting a highly corrupt country such as Montenegro also sends another signal—and a negative one.
Montenegro's weak rule of law, poor governance and increasing attacks on the media undermine NATO's commitment to upholding democratic values. The European Commission's annual report on Montenegro goes into detail about how the country's democratic institutions have come under pressure from the government led by the veteran politician Milo Đukanović—not that this situation influenced NATO's decision.
Now that Montenegro's future security will be guaranteed by NATO and that the alliance will be able to strengthen its foothold in this part of Europe, what about Georgia's future?
Georgia has been waiting to join NATO for several years. And unlike in Montenegro, where at least a third of the public opposes NATO membership, in Georgia there is overwhelming support for accession.
At the NATO summit in Bucharest in 2008, leaders agreed that Georgia would become a member of the alliance. But under pressure from Germany and France, Tbilisi was not offered NATO's Membership Action Plan (MAP), which effectively gives the green light for a country to join the alliance.
This is despite the fact that Georgia has modernized its defense forces. It has introduced strong and transparent civilian controls over the military. It has combated corruption. And it has contributed to several NATO missions.
NATO knows all this. In their statement on the alliance's open-door policy, foreign ministers on December 2 went out of their way to reassure Georgia. "Georgia's relationship with the Alliance contains all the practical tools to prepare for eventual membership," the statement read.
Unless there is a radical shift inside NATO, there is no chance that Georgia will be offered the MAP when NATO leaders hold their summit in Warsaw in May 2016—or at any other time in the foreseeable future. The reason is Russia.
"The reality is that some big NATO members will oppose granting [Georgia] the MAP because they will not be prepared to defend [the country]," said Vasil Sikharulidze, president of the Atlantic Council in Georgia, which supports Georgia's Euro-Atlantic ambitions.
Defending Georgia would mean defending it against Russia if Moscow again attacked or threatened it, as in 2008. And what NATO country would be prepared to fight against Russia?
Sikharulidze said NATO's lack of a clear policy toward Georgia encouraged Russia. "As it is, the region is potentially highly unstable," he told Carnegie Europe. "A NATO presence would add to the security and stability of this part of the Caucasus," Sikharulidze went on. France, Germany and other NATO countries believe the opposite.
This limbo is benefiting Russia. Moscow is meddling in Georgia's media, political parties and economy, knowing full well how Georgia's goals to join NATO have been constantly blocked by several member states.
And whatever NATO says about each country choosing its own path on issues of security and alliances, or about NATO having an open-door policy, this does not apply to Georgia. Several NATO countries that oppose bringing Georgia into the alliance argue that such a move would import instability because Tbilisi doesn't have full control over its territory. The breakaway regions of South Ossetia and Abkhazia are de facto under Russian control.
That argument against NATO membership can now be used for Ukraine, which has also lost control over parts of its own territory after Russia annexed Crimea in March 2014 and invaded parts of eastern Ukraine.
Those views, combined with fears expressed by Germany, France and Italy of further antagonizing Russia, confirm that the open-door policy is but for the few. They also confirm that Russia exercises an indirect but powerful veto over who can join NATO.
Judy Dempsey is a nonresident senior associate at Carnegie Europe and editor-in-chief of Strategic Europe. Follow her on Twitter @Judy_Dempsey.