Putin Wants Ukraine for His 'Russian Empire,' Warns President Poroshenko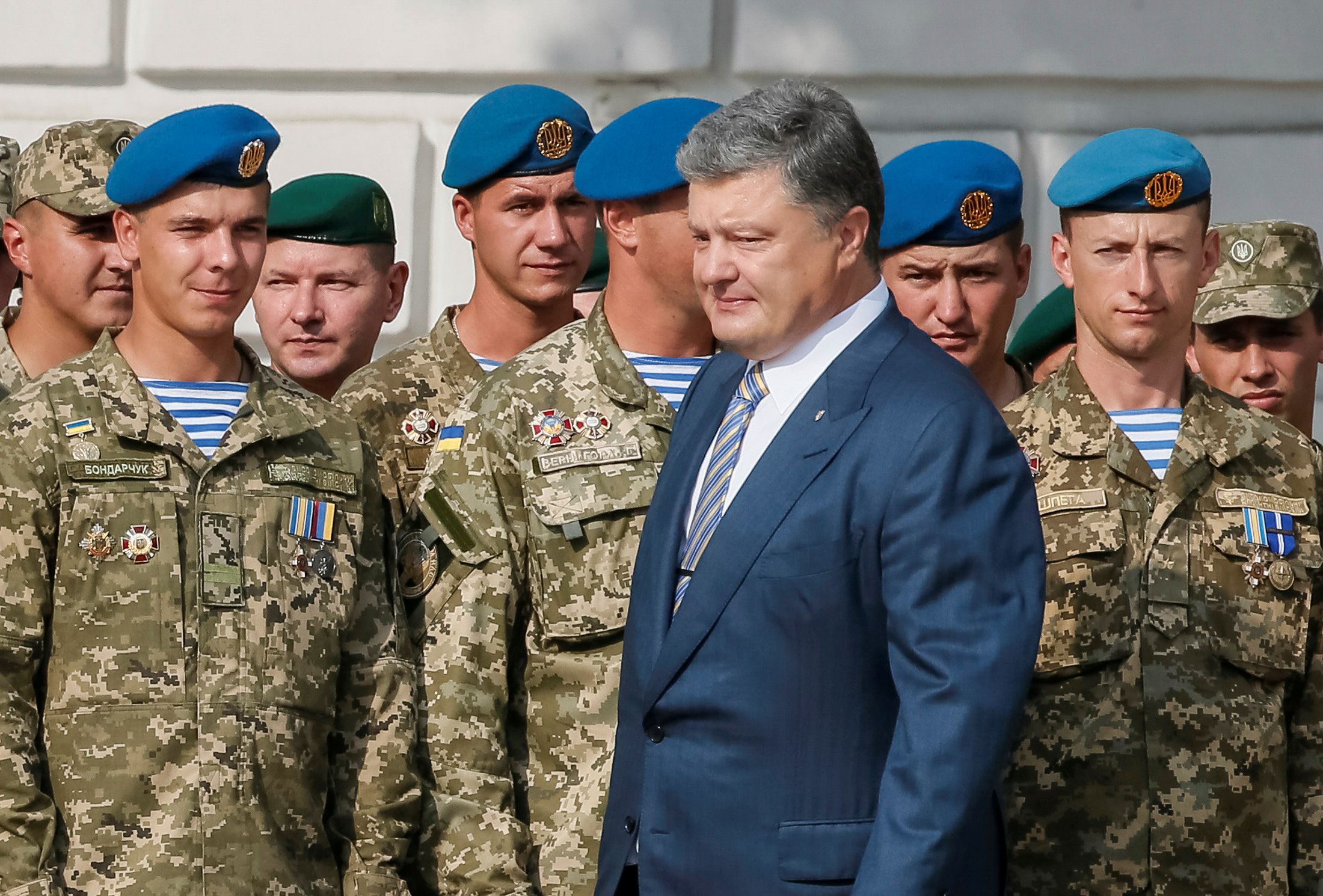 Ukraine's President Petro Poroshenko believes his Russian counterpart Vladimir Putin wants to return to Ukraine to the "Russian Empire," he told CNN in an interview on Wednesday.
Poroshenko, who was due to meet Putin along with the leaders of France and Germany next month, before Putin decided he did not want to, spoke on the 25th anniversary since Ukraine declared its independence from the Soviet Union.
He said it was the "direct responsibility" of Moscow that Ukraine's east was experiencing a sharp uptick of violence, which has killed 13 Ukrainian soldiers in recent weeks.
Poroshenko was elected president in 2014, after hundreds of thousands of pro-EU demonstrators in Ukraine turned out in central Kiev for months calling for his predecessor Viktor Yanukovych's resignation. The pro-Russian leader Yanukovych fled Ukraine after police in Kiev clashed with protesters.
In the immediate aftermath, Russia annexed Ukraine's Crimea peninsula and in Ukraine's eastern border regions, Donetsk and Luhansk, Russian-backed militants declared independence. On Wednesday Poroshenko suggested the resurgence of fighting in the east was part of a much bigger Kremlin strategy.
"During the last two weeks we have increased the numbers of Russian shelling…The total number of this shelling was 1400," Poroshenko said. "Ukrainian forces opened fire only in response."
"The purpose of Putin is [an] attempt to destabilize the situation in Ukraine," he said. "They don't need Donetsk nor Luhansk. They need the whole of Ukraine should be a part of the Russian Empire." [sic.]
"They have only one purpose—[the] world should be less stable, less secured," Poroshenko said of Russia. "It is absolutely the same situation like Russian bombardment in Aleppo," he added, referring to Russia's campaign in Syria.
"Russian aggression completely destroyed the post-war global security system," he added. When asked about his attitude towards either of the U.S. presidential candidates. Poroshenko declined to state a preference, saying he had faith that the U.S. voters would make the right choice and that Ukraine had enjoyed support from both U.S. parties in the past and trusted it would continue to do so.
Russia has denied formally backing rebels in Ukraine's east, however, it has sent 55 convoys to date with internationally unsanctioned aid to the territories and rebels have confirmed they have received arms from Russia and thousands of Russian troops fight for them.
However, Russia's Foreign Ministry has also said it supports a "united Ukraine" but one that is also "neutral," particularly in a military sense.