Vladimir Putin Tells Emmanuel Macron It's Time for Russia and France to 'Get Over' Strained Relationship
Russian President Vladimir Putin says he told French President Emmanuel Macron that he wanted to the two countries to move on from their past problems.
Putin told Macron in Moscow on Sunday that it was time for the two nations to "get over" strained relations that stemmed from Russia's actions in Ukraine and Syria, according to The Associated Press.
He added that the growing trade between the two countries was "grounds to believe that we will get over all the difficulties we have recently been facing and will embark on a path of positive development."
The two leaders met before France's win in the World Cup final over Croatia in Russia, which has hosted the entire tournament.
"[I want] to congratulate you as the organizing country for how well this event has passed off. It has not only been watched around the world, but the whole world has come here." Macron said, according to Channel NewsAsia.
Putin responded by praising France's play in the tournament. "I am sure we will see an interesting, intense, close match which millions of spectators across the world will enjoy," he said.
Russia's actions on the world stage in recent years, which include a military intervention in Ukraine in 2014 and support for Syrian President Bashar Al-Assad, have been met with resistance from France. Macron blasted Russia's state-run media program while standing next to Putin in May 2017 as "agencies of influence."
"When news outlets spread despicable lies, they are no longer journalists. They are organs of influence," he said. "Russia Today and Sputnik did not behave as media organizations and journalists, but as agencies of influence and propaganda, lying propaganda, no more, no less."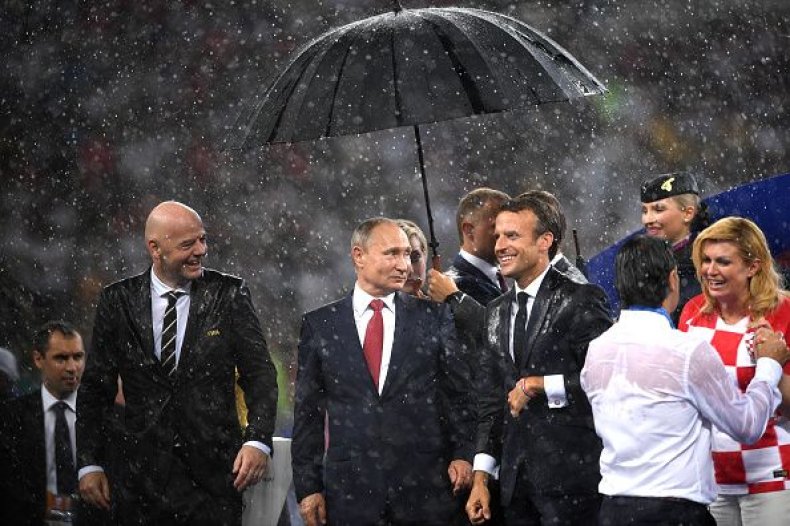 Beyond France, Russia has drawn international attention amid accusations of meddling in the 2016 presidential election in an effort to get then-candidate Donald Trump elected. Despite the consensus of multiple U.S. intelligence agencies, Putin has denied any involvement in meddling with the U.S. election.
"Could anyone really believe that Russia, thousands of miles away influenced the outcome of the election? Doesn't that sound ridiculous even to you?" he told NBC News in March. "It's not our goal to interfere. We do not see what goal we would accomplish by interfering. There's no goal."
Trump is set to meet with Putin on Monday in Helsinki, Finland, and has said he'll be "asking about" Russian meddling in the election.