Putin Wants to End World War Two, Sign Peace Deal With Japan This Year
Russian President Vladimir Putin has called on his country to strike a historic peace deal with "natural partner" Japan by the end of the year, following more than 70 years of discord.
The leader spoke at a forum in Vladivostok next to Japanese Prime Minister Shinzo Abe. Putin said it was in everyone's interest to conclude the territory dispute that goes back to World War II. Both countries claim a chain of four islands between Russia's Sakhalin and Japan's Hokkaido, which Moscow seized in 1945 and has kept control over ever since.
"Seventy years we have been negotiating," Putin said, referring to talks about how to resolve the dispute. "Shinzo has said, 'Let us change the approach.' Well, let's. Here is an idea that came into my head: Let us reach a peace deal—not now but by the end of the year—without any prerequisite conditions."
The Japanese leader cracked an uncomfortable smile as applause slowly echoed from the audience in the room, after Putin admitted he had come up with the idea while onstage.
"Then, on the basis of this peace treaty, we can continue to resolve all contentious matters as friends," Putin added, thanking the audience in the Russian city for its support, according to a video by state news agency RIA Novosti.
Abe's chief Cabinet secretary, Yoshihide Suga, quickly signaled that Putin's announcement was a surprise to Tokyo, as the Russian president had not made any such a proposal when the two leaders met in private Monday. Suga added that Japan's position has not changed and that it seeks to sign a peace deal, but only after striking an agreement over the fate of the four islands under Moscow's control.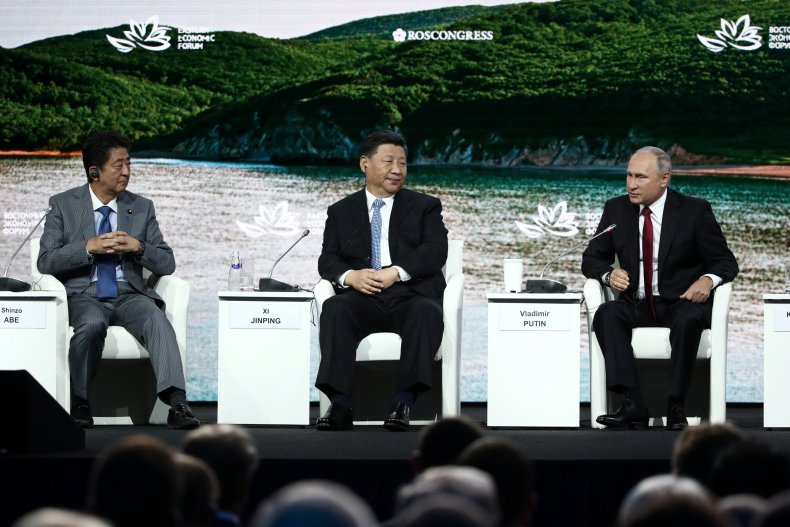 Japan, the world's third-biggest economy, has a strong bargaining chip in keeping trade and business with Russia germane to the discussion, especially because access to the islands is lucrative in terms of fish and natural resources.
Related: Russia wants to build a bridge linking Japan and Europe by train
The issue over the islands, which Japan calls the Northern Territories and Russia calls the South Kuril Islands, is also a matter of principle for Tokyo. The Soviet army forcibly deported the indigenous population of the islands when Moscow took control in the final days of World War II, and their descendants want justice to be restored. What is more, Japan is involved in other territorial disputes and is unwilling to set a precedent of abandoning claims too readily.
Putin has publicly cultivated a good relationship with Abe, especially as his ties to Europe's major nations have deteriorated following the annexation of Crimea in 2014. However, in terms of policies, Russian officials have shown no signs of compromise and have even increased the military presence on the islands, despite Japan's protests.