Putin Wants You to Shut Up About Russia's Politics During World Cup 2018
Russian President Vladimir Putin toned down his notorious machismo in a speech to the FIFA Congress in Moscow on the eve of World Cup 2018, declaring that "guests" in his country will receive "warmth and kindness." But he also had a warning for everyone—stay quiet about politics.
"I would like to underline that FIFA is committed to the principle of keeping politics out of sports," Putin said, TASS reported. "Russia has always adhered to such approaches and is striving for the closest cooperation with everyone who is determined to develop and enhance a creative beginning for sports and its boundless humanistic potential."
Russia will kick off the World Cup in its opening game against Saudi Arabia on Thursday. But while soccer fans focus on the football, critics of Putin will use the international sporting spectacle to highlight the myriad abuses of power committed by his regime.
Among issues at the fore are Russia's interference in Western elections, its continuing war on Ukraine and the annexation of Crimea, its military support for the Assad regime in Syria despite chemical weapons atrocities, the attempted assassination by nerve agent on British soil of a former spy as well as other hits, and the domestic crackdown on Russian opposition activists.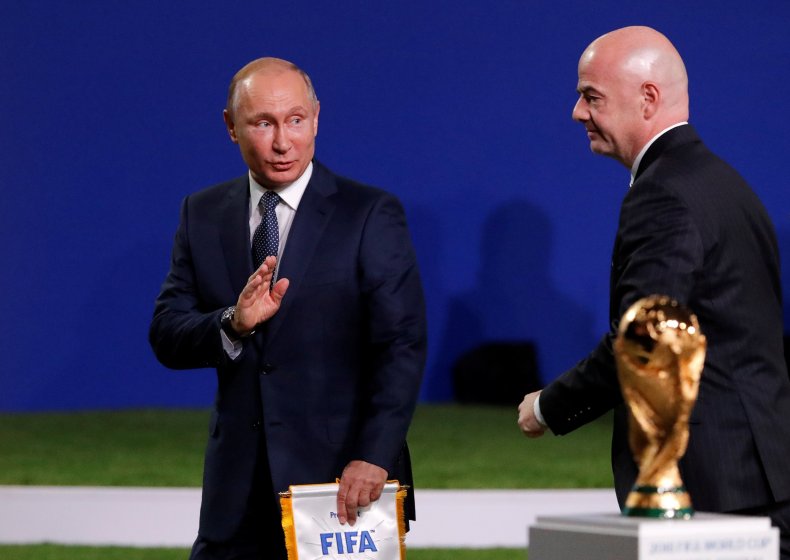 "In hosting the World Cup, the Russian authorities need to understand that their dismal human rights record is going to receive a lot of attention this summer," said Kate Allen, director of Amnesty International UK, a human rights group.
"The authorities have been employing Soviet-style tactics against human rights defenders, using intimidation, harassment, false charges and torture to silence them. We're not here to rain on the World Cup parade, but behind all the euphoria and goal-scoring celebrations we need to recognise the grim reality of everyday repression in Russia."
Putin told FIFA he wants visitors and Russians to "understand that other countries like their own are home to kind, enthusiastic and open-minded people and all of them want to live in peace, communicate with each other, visit each other, and watch and play football together."
"Our goal is that all our guests—from football stars to ordinary fans—will feel the warmth and kindness of our people, get into the spirit of Russia's multiethnic culture and unique nature and [we] hope [you will] all wish to come here again," Putin said, according to TASS.
The World Cup lasts for one month from June 14 to the final on July 15. There are national teams from 32 countries competing.
Putin Wants You to Shut Up About Russia's Politics During World Cup 2018 | World