Putin 'Very Alone' and There's No Turning Back After War―German Minister
Vladimir Putin "only seems to care about his place and Russia's place in history."
On a possible peace: "It's a Ukrainian decision what in their understanding a victory or compromise could be."
On Western support for Ukraine: "I would say that criticism of Germany in many parts was unfair"
Russian President Vladimir Putin is increasingly isolated thanks to his costly invasion of Ukraine and has no route back to the pre-war status quo with Western nations, according to Tobias Lindner, a minister of state at the German Foreign Office.
Lindner spoke with Newsweek on the sidelines of the Lennart Meri Conference in Tallinn, Estonia, last weekend. The annual event focuses on foreign policy and security issues from a northern and eastern European perspective, and this year was dominated by discussions about the Russian invasion of Ukraine and NATO's imminent expansion.
Ukraine's fierce resistance combined with European Union and NATO action, has left Putin secluded inside the Kremlin, the German minister said: "Putin has gotten more isolated over the past years already, and maybe that will continue.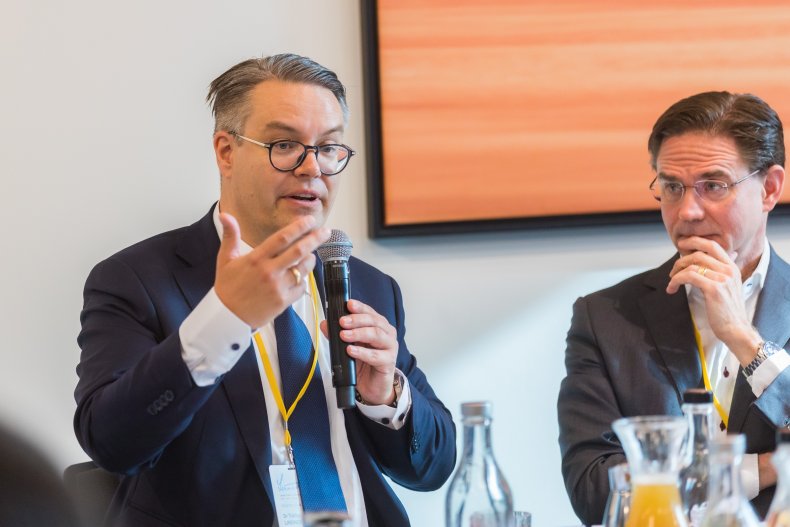 "He's very alone. And he only seems to care about his place and Russia's place in history. And that's one of the reasons why this war of aggression goes beyond Ukraine. It's about Ukraine, but it also goes beyond Ukraine.
"Russia will remain that Russia under Putin, at least for how long he is in power.
"And there's no going back to the status quo ante even if this war might end...I believe that at least a majority of the people have understood that we mustn't be naive again when it comes to Russia."
EU, NATO, and partner states like Japan may be throwing their weight behind sanctions, but Moscow can still count powerful friends in India, China, and others. Estonian President Alar Karis told Newsweek this weekend that Russia cannot be totally isolated.
The isolation is far from universal, though Russia's reliance on Western technology, services, and exports means Moscow is suffering. Lindner pointed out that Russia's remaining partners also appear more hesitant as Putin's operation sinks deeper into the Ukraine quagmire.
Belarusian dictator President Alexander Lukashenko, for example, has hosted Russian troops, missiles, and aircraft, but has not thrown his military into the invasion as many expected. Belarusian authorities have been grappling with pro-democracy resistance movements inside the country, the massed rallies of 2020 and 2021 fresh in their minds.
"I think Mr. Lukashenko realized that he's in a very uncomfortable position," Lindner said.
"The only ally—I wouldn't say friend—but the only ally he has is Mr. Putin, and he is highly dependent on Mr. Putin. Putin is the only backing of his own power, and that's a huge problem for Lukashenko.
"Lukashenko is the example for the world that if you make the decision to go close with Mr. Putin and not with Western countries, you will lose, and it will be bad for you compared to the other options."
Beijing, the German minister said, should pay close attention: "On the one hand, China has chosen sides, if you look at the narrative, the accusations against NATO. On the other hand, in Beijing they are very carefully looking at the sanctions relating to their own situation.
"And I think they understand—maybe we should do more so they understand—if they go too close with Moscow, it's bad for their midterm future economic perspectives...I think also China was surprised by the strength and speed of the Western sanctions."
A Push for Peace
With German Chancellor Olaf Scholz and French President Emmanuel Macron publicly pushing for a ceasefire as their primary goal, some in Ukraine and more Russo-skeptic EU-NATO states are urging Western allies not to give Putin concessions, or force Kyiv into another frozen conflict.
Lindner rejected any suggestion that Berlin is prioritizing its own interests over those of Ukraine. "Our policy is that it's only the decision of Ukraine to decide if they want to negotiate something or not, it's their right to defend their country, they are under attack," he said.
"Point number one: We shouldn't interfere, it's a Ukrainian decision what in their understanding a victory or compromise could be. It's not our decision.
"Second, we have our own interest. We as Germany but also as the Western countries on this planet. And our interest is it must be proven that in the 21st century, a war of aggression must not be won."
He continued: "If Putin would be rewarded for that aggression, that might incentivize others in a few years in other places on the planet.
"If you look to the Indo-Pacific region, for instance, to do it again might be from our point of view a bad example, from their point of view a good example, that you can ignore the international rules-based order, that there are no consequences, and that you are rewarded when you go to war."
Ukraine's battlefield success has prompted discussions about what victory looks like for Kyiv. President Volodymyr Zelensky has demanded the Russian forces return to their pre-invasion positions before any negotiations can happen, but he and other leaders have been open about Ukraine's intentions to take back all land occupied by Russia and its proxies since 2014.
Ukrainian aggression and ambition, reports suggest, are prompting disquiet in some Western capitals.
Lindner said it is not up to Berlin to dictate any peace. Asked whether Germany would support Ukrainian ambitions to seize back Crimea and the occupied Donbas, he replied: "That's the decision of Ukraine, it's not our decision."
He urged Western allies to maintain support for Ukraine and keep the pressure on Moscow, and also suggested that international criticism of Germany for its perceived slow response to the invasion had been unfair.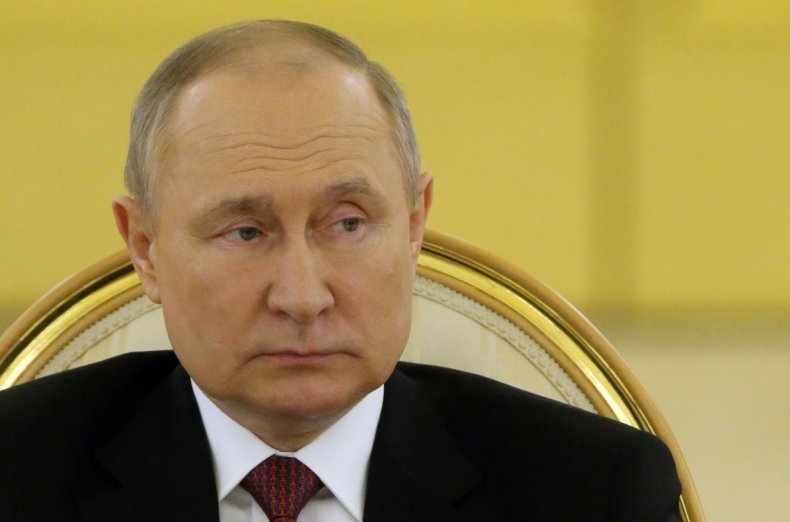 "I can understand that there are discussions and different positions among allies, but I would say that criticism of Germany in many parts was unfair," Lindner said.
"For some time now, it's stopped. That's the good news. But for some time, it seemed to be that it was very easy to say: 'It's the Germans in Europe that are blocking [action on] Nord Stream 2, SWIFT, heavy weaponry, sanctions, embargos on fossil fuels.'
"When you look at German politics, I think the German government really understood the signs of the time. And we have made an epochal shift in our policy, if you compare it to what happened five or 10 years ago, in terms of investing in domestic and collective security, in terms of our policies towards Russia, in terms of delivery of weapons—also heavy systems.
"And I don't see that it needs pressure to do that. What it needs is unity among allies. What it needs is clarity from the political leaders in Germany. And that's it."
Not everyone is convinced that Germany's seismic shift is genuine. Scholz, in particular, has appeared hesitant to throw his full weight behind Kyiv. The chancellor is yet to visit Kyiv, and his government recently found itself caught in a diplomatic spat with Zelensky over a canceled visit to Ukraine by President Frank-Walter Steinmeier.
Lindner, a member of Germany's Green Party, said his party's long-held opposition to the Nord Stream 2 pipeline put him in an easier position than others who have been more supportive of doing business with Russia.
"On the other hand, many Germans—myself included—had been very reluctant in saying, 'Okay can Putin really be so crazy and do a full-scale invasion of Ukraine, putting the whole security architecture of Europe at risk?'" he said.
"I think Germany and the German politicians, they have learned their lessons. And it also includes—I assume—the CDU/CSU party, the party of the former Chancellor Angela Merkel.
"So this epochal shift in our policies will remain, and will also sustain this government."
EU Ambitions
Ukrainian and eastern European leaders are urging Berlin to demonstrate its commitment by backing Kyiv's EU ambitions; specifically by pushing for the country to be awarded candidate status.
The European Commission will publish its analysis of Ukraine's suitability in June. Approval by member states would hand Kyiv a huge win in its long journey to Brussels.
Asked if there was currently enough support for Ukraine's candidate status within the bloc, Lindner replied: "I don't know yet, honestly.
"I think the good news is that, as far as I have seen, the Ukrainian side has very carefully tried to give the answers to the questions to the European Commission, and we shouldn't interfere now, and let the Commission do its job and carefully evaluate and assess what are the answers, are they sufficient, and so on and so forth.
"And we should make clear in the public debates, at the moment it's not about EU membership, it's about candidate status. So you have to wait and see, to be patient for at least a few weeks until the EU summit and wait for the assessment of the Commission."
Ukrainian Deputy Prime Minister for European and Euro-Atlantic integration Olga Stefanishyna told Newsweek this month that the Commission's report could help sway skeptical nations.
"The Commission plays a very important role," Lindner said to that suggestion.
Ukrainians were frustrated by Macron's recent intervention in the EU membership process. The French president—often criticized in Ukraine for his failed attempts at dialogue with Putin—said it could take "decades" for Ukraine to join the union, and proposed an as-yet undefined "new European political community" that could include aspirant members without full accession.
"It's not my job to make comments on the comments of the French president," Lindner said of the plan. "But I have an opinion about proposals. And we made clear in our coalition compact that we have an open door policy.
"When it comes to Ukraine, the so-called end status can be a full EU membership if they fulfill the conditions. We are not in favor of a 'fast track' in the sense of lowering the conditions for them. But if they fulfill the conditions, the door is open and the way can end in full membership."
"That's my plan A, so I'm not talking about a plan B. It's not the first time that other political environments have been proposed in history. The lesson learned is that no one was able to fill the proposals yet with concrete meaning."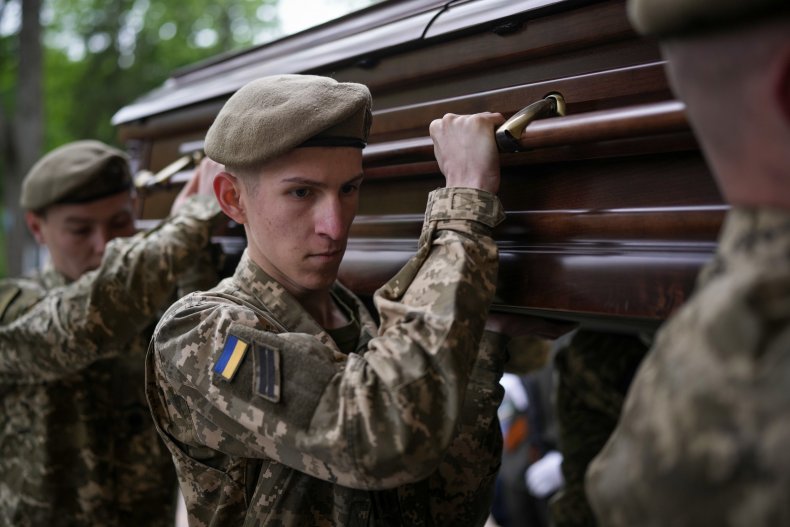 While considering Ukraine's request—plus the membership bids of Moldova and Georgia, as well as existing candidate countries and aspirants in the Balkans—the EU is also trying to hash out a sixth sanctions package.
This round of measures is slated to include restrictions on oil imports from Russia; a key income stream for Moscow, and a top target for the Ukrainians since the invasion began.
But this means pain for the collective European economy. Hungary has been particularly opposed, Prime Minister Viktor Orban describing an oil ban as a "nuclear bomb" for the national economy.
Germany, too, has previously been reluctant to support an oil embargo, though Berlin now says it will not oppose the measure and will wean itself from Russian oil by the end of 2022 whether the EU introduces restrictions or not.
Lindner was positive about the package's chances: "My impression is that it is well understood—also in Hungary, also in other countries—that it's about security interests and that sanctions are the way. So therefore I expect that the sixth sanctions package might come into power very soon, including oil.
"I believe in the end, it's not about teaching the Hungarians. Every country has its own specific problems. Be it Hungary, be it Bulgaria, be it Germany—we also have one refinery that is dependent at the moment on Russian oil.
"So I argue: Look into the specifics, try to get those specific issues solved."
Russia appears to be settling in for a long war in Ukraine. If the fighting continues, the EU's sixth sanctions package is unlikely to be its last.
"It's not my job to speculate about further sanctions packages, but if you look about the areas in which sanctions are already in place—listings of individuals and entities, financial sanctions, import and export restrictions—these are the fields in which to look," Lindner said when asked where the bloc might look to hurt Russia.
"But I believe we shouldn't only talk about how much sanctions, but how to implement them. Are there loopholes? Do we get other like-minded partners into alignment with the sanctions? Are we able to put pressure on countries like China, for instance, not to circumvent the sanctions? I think we shouldn't ignore those issues."
Putin said this week that EU sanctions on Russia's oil exports would be tantamount to "economic suicide." Deeper sanctions on Russian fossil fuel exports will impact Europeans, and could exacerbate the pan-European inflation crisis.
Asked whether Western governments should be doing more to prepare their citizens for such costs, Lindner replied: "We at least need to explain our policies.
"This war is also a war of misinformation, meaning that as Western governments we have to clearly watch and look at what misinformation and what narratives are spread by Russian media, state-owned, state-near media in Russia, but also in Western countries.
"And we have to be better in terms of what I would call strategic communications. Strategic communication is not what our press officers are doing day by day. But it means you have to explain to your public.
"It's not propaganda, you have to explain to your own public what we are doing, why we are doing this. You have to explain it in simple, understandable words."
He added: "I think we are improving when it comes to that. For instance, my Foreign Minister [Annalena Baerbock] and Minister of Economic Affairs [Robert Habeck], they're making video statements on social networks trying to explain about the oil embargo. What is the problem, what can be solved, what's the timeline, and why we are doing this. And I think that's the way we should do it."
Finland, Sweden and NATO
Germany's fellow EU nations Finland and Sweden are on course to soon also become NATO allies. Both countries have now officially applied for membership, and their accessions are expected to be fast and smooth. At the Madrid summit in June, the 73-year-old alliance will likely welcome its 31st and 32nd members.
Turkey is the only NATO nation that has expressed reservations. President Recep Tayyip Erdogan has accused Finland and Sweden of harboring terrorists—an allegation based on their defense of Kurdistan Workers' Party members considered terrorists by Ankara.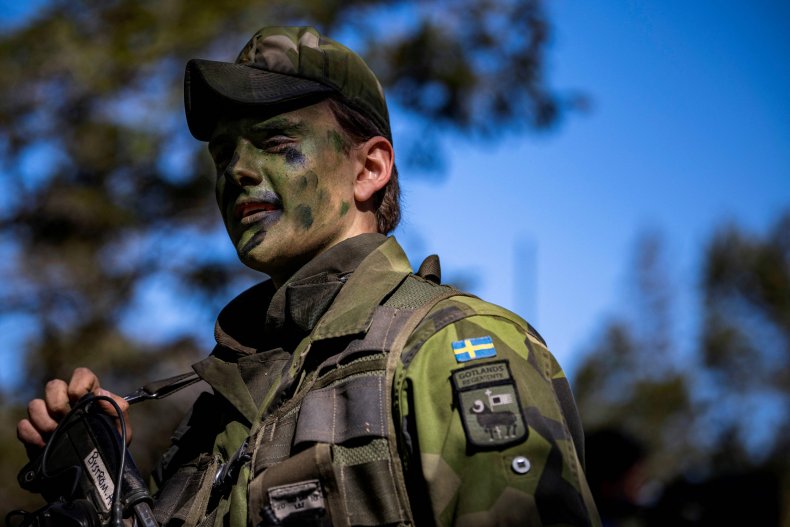 Erdogan may be using the NATO enlargement debate as leverage to increase pressure on Kurdish militants, and to extract concessions from NATO, the EU, and the U.S. on a series of issues, including Turkey's exclusion from the U.S. F-35 fighter jet program.
"For sure, there will be a discussion among all NATO members," Lindner said of Finnish and Swedish membership. "But I believe it's in the interest of all NATO members, also of Turkey, that they—if they wish to do so—become members of the alliance."
In the meantime, the fighting in Ukraine continues. The pivotal battle for Donbas is well underway, with Russia's offensive stalled in places but making significant progress in others. Much of the southeast remains under Russian occupation, and Ukraine's major cities remain under regular air and missile bombardment.
Lindner said the Western allies must remain clear-eyed. "One lesson learned is that Putin is doing what he says," he said. "It's not rhetoric, or it's not publicity."
He continued: "I think another lesson learned is you should work for diplomacy, and dialogue, and talking. But you need to do it out of a position of strength.
"It's not a trade-off between collective defense, and deterrence and dialogue. It's not a trade-off. It's a toolbox. Both tools need to be in that box."
Newsweek has contacted the Russian Foreign Ministry to request comment.