Russian President Vladimir Putin warned Ukraine on Tuesday over the F-16 fighter jets Kyiv is set to receive amid the ongoing war.
Speaking at the Eastern Economic Forum in Vladivostok, which kicked off on September 10, Putin weighed in on how Kyiv's forces are faring in the counteroffensive, now in its fourth month. He claimed Ukraine has lost 71,500 troops in an effort that has so far produced "no results."
"There are big losses," the Russian president said. "They want to achieve results at any cost, they say. Sometimes, you get the impression that these are not their people. The commanders just tell me from the battlefield. We constantly [contact them]."
Putin commented on pledges by Western nations to supply Ukraine with F-16 fighter jets to boost its Soviet-era air force and aid its fight against Russian forces in the war.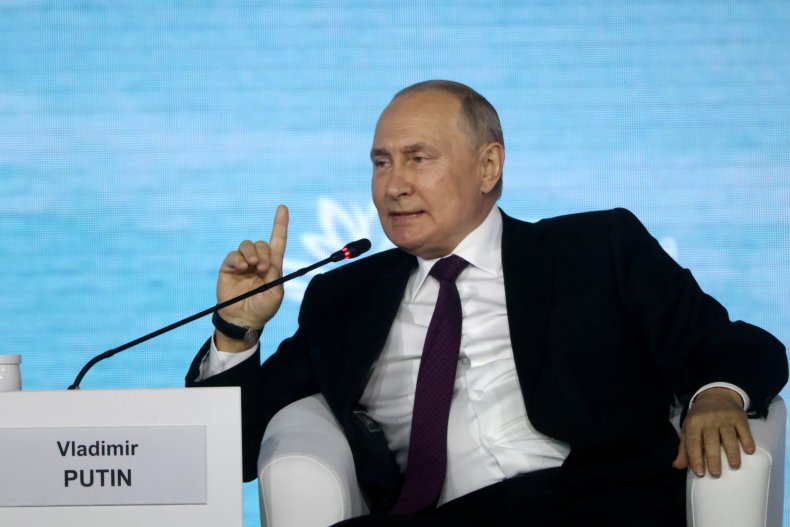 "They are going to supply F-16s. Will it change? No. This simply prolongs the conflict," he said.
On August 24, NATO member Norway became the third country to pledge to donate the United States-made F-16s to Ukraine, joining the Netherlands and Denmark. Ukrainian President Volodymyr Zelensky hailed the decision by Western allies as "historic and inspiring."
However, Ukrainian Air Force spokesperson Colonel Yuriy Ihnat said in remarks reported by Ukrainian outlet Ukrinform last month that Ukraine will not receive F-16 fighter jets before next year.
"It is already obvious that we will not be able to protect Ukraine with F-16 jets this autumn and winter," Ihnat said.
Newsweek reached out to Ukrainian authorities via email for comment.
Putin also said on Tuesday that since his September 2022 partial mobilization order, some 570,000 Russians have joined the military—roughly the population of Baltimore, Maryland.
Russian Defense Minister Sergei Shoigu said last September that Putin's partial mobilization decree would target 300,000 reservists and ex-military personnel with "certain military specialties and relevant experience."
"We have carried out partial mobilization. Three hundred thousand people were called up. Now, over the past 6-7 months, 270,000 people have voluntarily signed contracts to serve in the armed forces and volunteer units. This process continues," said Putin.
He added that between 1,000 and 1,500 Russians sign up to fight in Ukraine daily.
"This is what distinguishes the Russian people, Russian society. I don't know if this is possible in any other country or not. People deliberately enroll in military service, realizing that they will ultimately end up at the front," the Russian president said.
"And our men, Russian men, understanding what awaits them, understanding that they can give their lives for their homeland or get seriously wounded, they still do it consciously and voluntarily."
Moscow has been luring foreign fighters for its war in Ukraine in recent weeks, with citizens of Cuba, Armenia, and Kazakhstan, a former Soviet republic bordering Russia, targeted through various means.
Reports have also emerged that migrant workers with Russian citizenship are being rounded up to fight in Ukraine.
The Kremlin has not commented on the reports. Newsweek reached out to Russia's Foreign Ministry via email for comment.
Do you have a tip on a world news story that Newsweek should be covering? Do you have a question about the Russia-Ukraine war? Let us know via worldnews@newsweek.com.
Update 09/12/23, 8:09 a.m. ET: This article was updated with additional information.