Putin Warns Against Foreign Interference in Belarus After Offering Military Help to Country's Dictator
Russian President Vladimir Putin has warned against foreign interference in Belarus after himself offering military help to the Eastern European country's president Alexander Lukashenko.
Hundreds of thousands of Belarusians have taken to the streets in the wake of the country's August 9 election, which saw Lukashenko—who has been in power for 26 years—come away with just over 80 percent of the vote compared to his popular challenger Sviatlana Tsikhanouskaya. The rival candidate and her supporters have alleged the results were fraudulent. Tsikhanouskaya has since fled the country, saying she fears for her life.
Putin discussed the situation with German Chancellor Angela Merkel and other European leaders on Tuesday.
"The parties thoroughly discussed the situation in Belarus following the presidential election," a statement from the Kremlin said, following a telephone call between Putin and Merkel, Russia's Tass news agency reported. "Russia pointed out that foreign attempts to interfere in the country's domestic affairs were unacceptable and could further escalate tensions."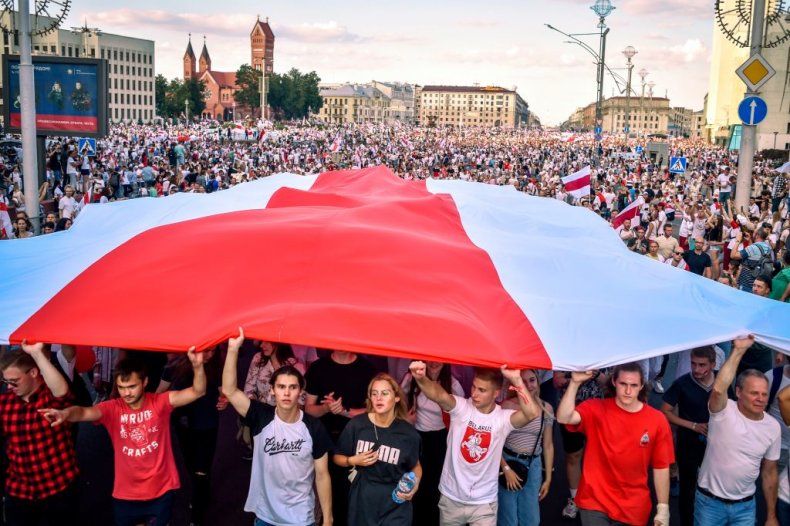 The Russian leader's remarks to Merkel appeared at odds with his own offer to interfere in the situation.
Lukashenko and Putin spoke on Saturday. Following that conversation, the Belarusian leader—who has been dubbed "Europe's last dictator"—said that Putin told him that "at the first request, Russia will provide comprehensive assistance to ensure the security of Belarus in the event of external military threats," according to state news agency Belta.
Newsweek reached out to the Russian Embassy in Washington, D.C., for comment, but it did not respond by the time of publication.
European Council President Charles Michel also spoke with Putin on Tuesday. Michel said on Twitter that "only peaceful and truly inclusive dialogue can resolve the crisis in BY [Belarus]," but did not detail what was discussed with Russia's leader.
In a Monday tweet, Michel wrote: "The elections in #Belarus were neither free nor fair. Violence against peaceful protesters was shocking and has to be condemned. Those responsible must be held to account. The EU has started work on sanctions."
The European Council president is scheduled to hold a video meeting with leaders of all 27 European Union countries on Wednesday, in which they are expected to endorse a sanctions plan against Belarusian officials. The sanctions will target officials in Belarus who are believed to be behind the alleged election fraud and the crackdown on peaceful demonstrators.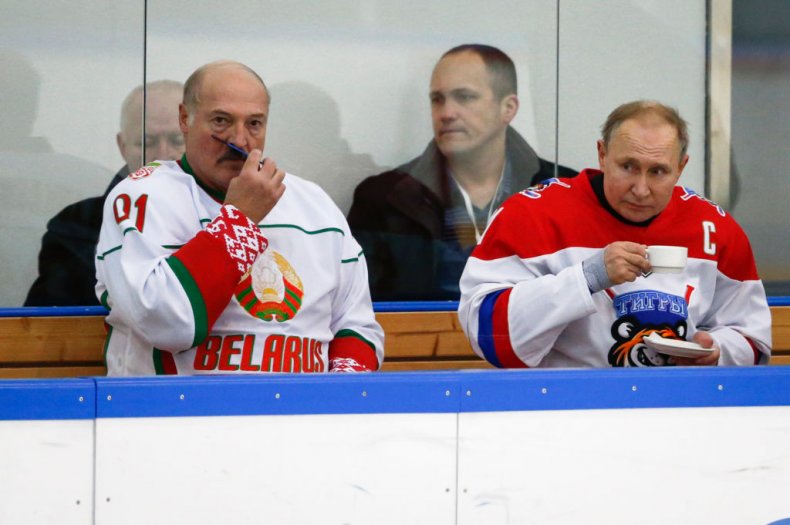 President Donald Trump commented on the situation on Tuesday, voicing support for the anti-Lukashenko movement and saying he'd speak about the issue with Russia "at the appropriate time."
"I like seeing democracy. Democracy is a very important word. It doesn't seem like it's too much democracy there in Belarus," Trump said during an unrelated White House event.
"It's certainly a very big march, and it seems to be a peaceful march," the president added.