Putin Issues 'Nuclear Powers' Warning Over Sanctions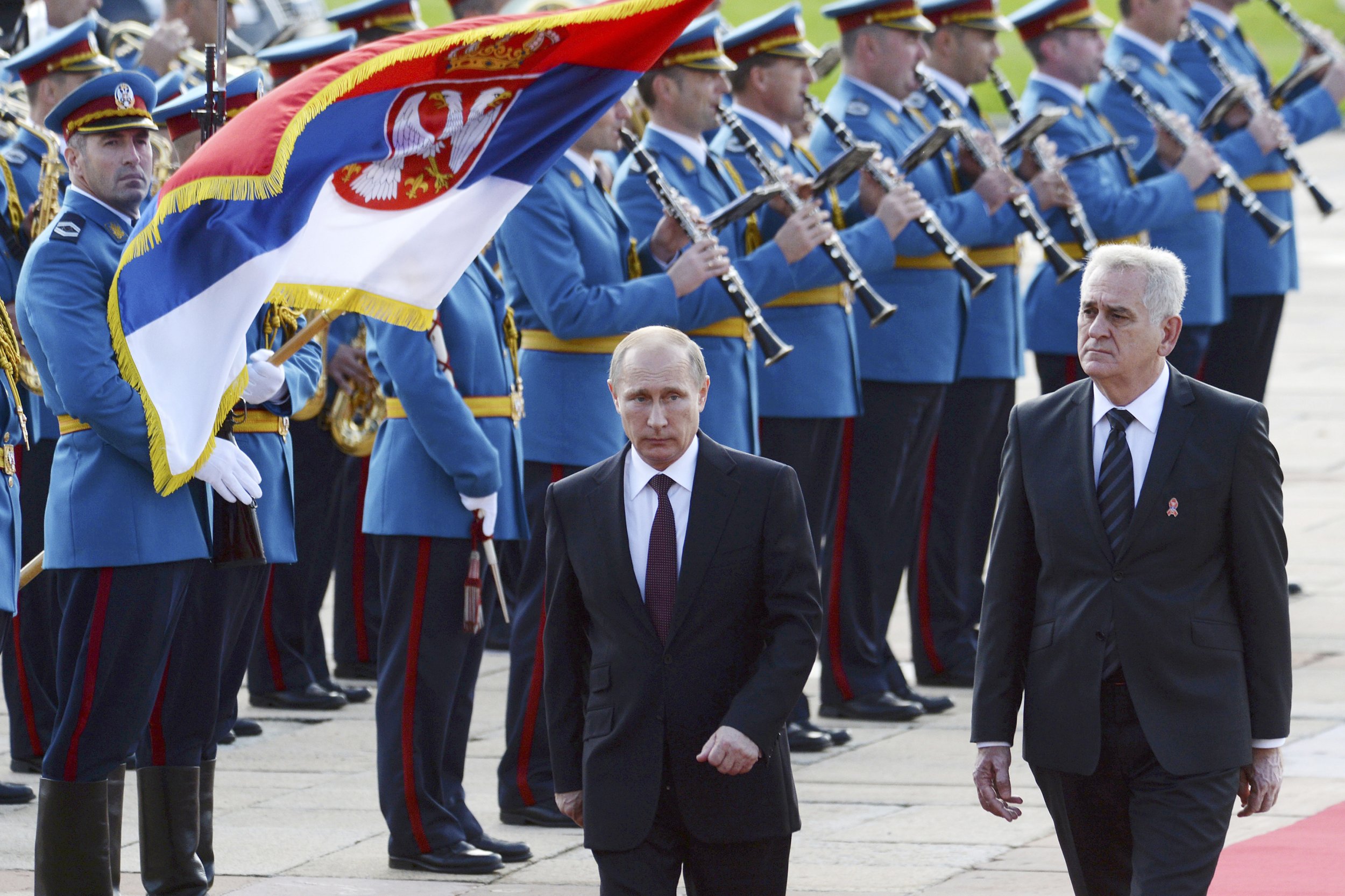 Russian President Vladimir Putin has spoken out against US and EU sanctions on Russia, urging them to remind themselves of the consequences of nuclear conflict between the two sides, in Serbian newspaper daily newspaper Politika today.
"Our partners need to understand that attempts to destabilize Russia using one-sided, illegitimate, restrictive measures will not stabilise [the situation in Ukraine], but only complicate dialogue."
Putin said he hoped western leaders realised "the carelessness of attempts to blackmail Russia", reminding them of "the threat of a fall-out between the largest nuclear powers".
Speaking during his state visit to Belgrade on Thursday, where he joins Serbian prime minister Aleksandar Vucic in commemorating the 70th anniversary of the Red Army's victory over the Nazis in Belgrade, Putin blamed the "hostile" attitude toward Russia held by the US for the recent breakdown in the two countries' relationship.
"Washington openly supported the events in Maidan square," he said, referring to the protests that led to the ousting of Russian leaning Ukrainian president Viktor Yanukovych, "but when their own proteges in Kiev turned a large part of Ukraine against their rabid nationalism, they blamed Russia for promoting the crisis."
"Then president Barack Obama used the platform of the UN General Assembly to include 'Russian aggression in Europe' in his list of the three greatest threats to humanity today, alongside the deadly Ebola outbreak and the terrorist group Islamic State. Adding the economic sanctions imposed on entire sectors of our economy this approach can seldom be called anything other than hostile," he added.
The Russian president added it was his country that has always sought "constructive cooperation" with the West, while not always being extended the same courtesy, listing scientific, economic and counter terrorist projects jointly undertaken by the US and Russia since 2009, which the US had reneged on.
Putin had previously alluded to his preparedness for a nuclear altercation with the US in late August, telling a youth forum that: "Russia is one of the most powerful nuclear nations… it is better not to come against Russia as regards a possible armed conflict."
Putin is expected to join European and Asian leaders at the ASEM summit held in Milan on Friday, where the situation in Ukraine will be a major point of discussion.