Russian President Vladimir Putin said it was too difficult to assess the impact of the U.S. quitting a landmark global nuclear weapons treaty after more than three decades.
At his annual question and answer session with domestic and foreign media on Thursday, Putin said the threat of nuclear war should not be underestimated, according to Tass.
Read more: Russia to test nuclear forces as Vladimir Putin warns of U.S. arms race
Putin also criticized the Trump administration for pulling out of the Intermediate-Range Nuclear Forces Treaty signed in 1987, which he said would mean an uncertain future for arms control.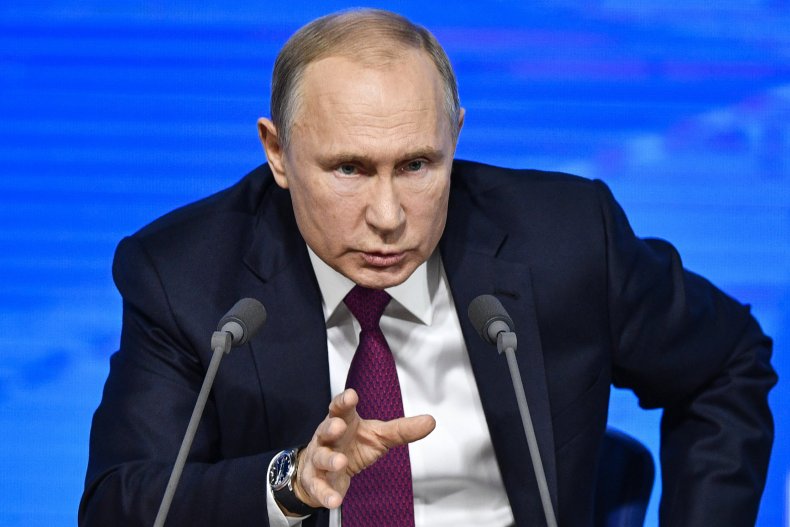 A journalist from the Kremlin-funded Channel One said that he had grown up with the threat of nuclear war and asked Putin how could he reassure his son "who, like me is now scared of nuclear war," The Moscow Times reported.
Putin replied: "The danger of the situation escalating is being downplayed... If something like that were to happen, this might lead to the collapse of civilization and maybe our planet.
"Unfortunately, there is this tendency to underestimate the current situation, but there are concrete, present-day risks."
The Russian president went on to explain the factors behind the increased risk of nuclear war, and offered two scenarios for its outbreak.
"First of all [there is] the collapse of the international system of arms control, of moving away from an arms race after the United States withdrew from the relevant treaty that was the cornerstone of non-proliferation... This forced us to respond by ramping up our defenses against such weapons."
"Now they are moving to leave the treaty on short and medium-range missiles. What if these missiles turn up in Europe? Obviously, we'd need to guarantee our safety somehow, and they better not start squealing about us trying to get some sort of advantage. We're not seeking an advantage, we're trying to maintain the balance and preserve our security."
Another potential scenario, Putin said, involved the launch of a non-nuclear ballistic missile that still sparks a nuclear war, because a proportionate response could come before the missile actually hits. "Imagine a submarine launching a ballistic missile from somewhere out there in the ocean. Who the hell knows if it's nuclear or not?" the Russian president asked.
This week, Russia announced it would hold an exercise of its nuclear forces next year in light of the U.S. pulling out of the INF treaty.
The Trump administration has also reportedly refused to begin negotiations on renewing the New START treaty, which expires in 2021. Putin has vowed to respond by working to "restore balance" in the military sphere.
Russian Defense Minister Sergei Shoigu said that more than 18,000 exercises and training sessions were conducted in the past year, and that new ones were being planned for 2019.
Thursday's marathon Q&A, moderated by Putin's spokesman Dmitry Peskov, is expected to last for several hours and has been carefully choreographed, with questions posed by media outlets that have been vetted.
When asked by a Ukrainian journalist about how much money Russia spends in "occupied" Donbass and why Russia shoots at Ukrainian citizens, Putin replied that he wanted peace and that "Ukraine remains one of our biggest trading partners."