Putin, Who Invaded Ukraine And Sent Troops To Syria, Complains The World Is 'Becoming More Chaotic'
Russia's President Vladimir Putin told his international ambassadors he is concerned about the current global situation and complained that the world is "becoming more and more chaotic."
"The current global situation cannot but cause concern," Putin said at a ceremony to give Russian ambassadors their diplomatic credentials, reported TASS. "The situation in the world is becoming more and more chaotic."
However, Putin added that he hopes "common sense will eventually prevail and international relations will get back on constructive track and the entire global system will become more stable and predictable."
Western allies accuse Putin's Russia of being a destabilizing force in the world. The Kremlin says it is under attack by Western "Russophobia" and NATO's desire to expand, threatening Russia.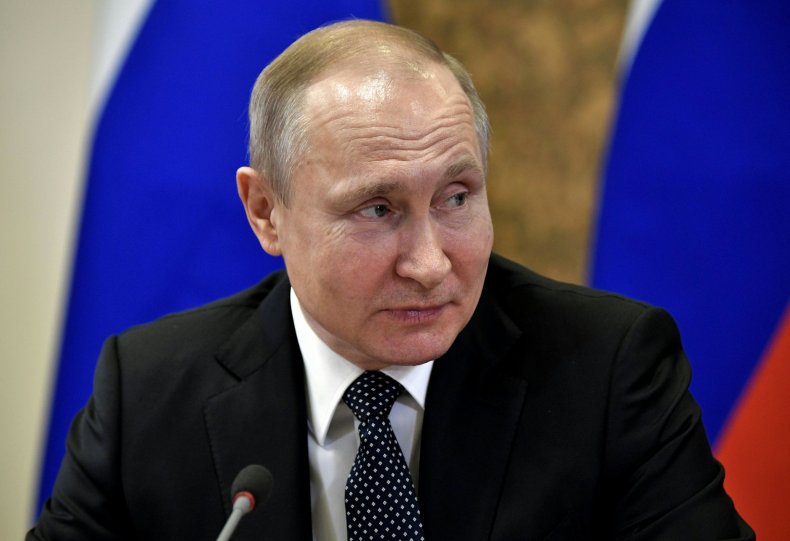 In 2014, Putin ordered the invasion of eastern Ukraine by Russian forces.
Russia annexed Crimea after the fall of the Kremlin-allied Yanukovych government in Kiev amid popular protests against corruption and aborted efforts to move Ukraine closer to the West.
Sanctions on Russia remain in place over its illegal annexation of Crimea. Russia claims Crimeans wanted to separate from Ukraine and that it was acting defensively against the expansion of NATO, which the Kremlin believes wants Kiev to join its alliance.
Since 2015, Russia has deployed troops to support the Assad regime in Syria's civil war after Western powers, including the U.S. and U.K., decided two years earlier not to fully intervene in the conflict on the side of moderate rebels fighting the government.
This is despite evidence of war crimes committed by the Assad regime, including a chemical weapons attack on the town of Khan Sheikhoun in 2017, which killed dozens. The United Nations said Assad's forces were to blame for the attack.
Assad denies that his forces are responsible for another chemical attack in Douma on April 7, 2018, which killed dozens and injured hundreds more.
Russia claims it found no evidence of a chemical attack at the scene as distressing reports, images and video footage emerged from the aftermath of the incident showing dead bodies, including children, foaming at the mouth.
The World Health Organization said its partners in the area reported around 500 people showing up at medical facilities displaying symptoms of exposure to toxic chemicals, and that the bodies of at least 43 people who died showed similar signs.
President Donald Trump pledged to respond to the Douma chemical attack with force against those responsible, which he says is the Assad regime. Russia warned of "grave consequences" if any of its citizens are injured in military action against Syria by the U.S.
Putin's Russia is also isolated diplomatically over the chemical attack on a former colonel in its military intelligence unit and his daughter on a street in England. Sergei Skripal, 66, and his daughter Yulia, 33, were poisoned with a Russian-developed novichok nerve agent. Both survived.
The elder Skripal was convicted in 2006 of being a double-agent for the British. He was released from prison in 2010 under a spy swap deal and settled in England.
Britain accused the Kremlin of having a hand in the attack and convinced its allies, including the U.S., to expel Russian diplomats and suspected spies in response. The mass expulsion saw hundreds of Russian officials expelled from 28 countries. Russia responded in kind.
Russia is also accused of meddling in other countries' elections, including the 2016 U.S. presidential election, through the leaking of stolen emails and the use of social media to stir up divisions, though it denies any interference.
And Putin recently unveiled a new generation of weapons of mass destruction in Russia's powerful arsenal, including the "Satan 2" hypersonic intercontinental ballistic missile, which he boasted is capable of defying air defenses and delivering its catastrophic nuclear payload anywhere in the U.S.
"As for Russia, it will continue to consistently be committed to strengthening global and regional security and stability and fully comply with its international obligations, build constructive cooperation with partners based on respect relying on international legal norms and the UN Charter," Putin told his ambassadors, according to TASS.