Vladimir Putin Wished 'Long Years in Prison' by Protesters on His Birthday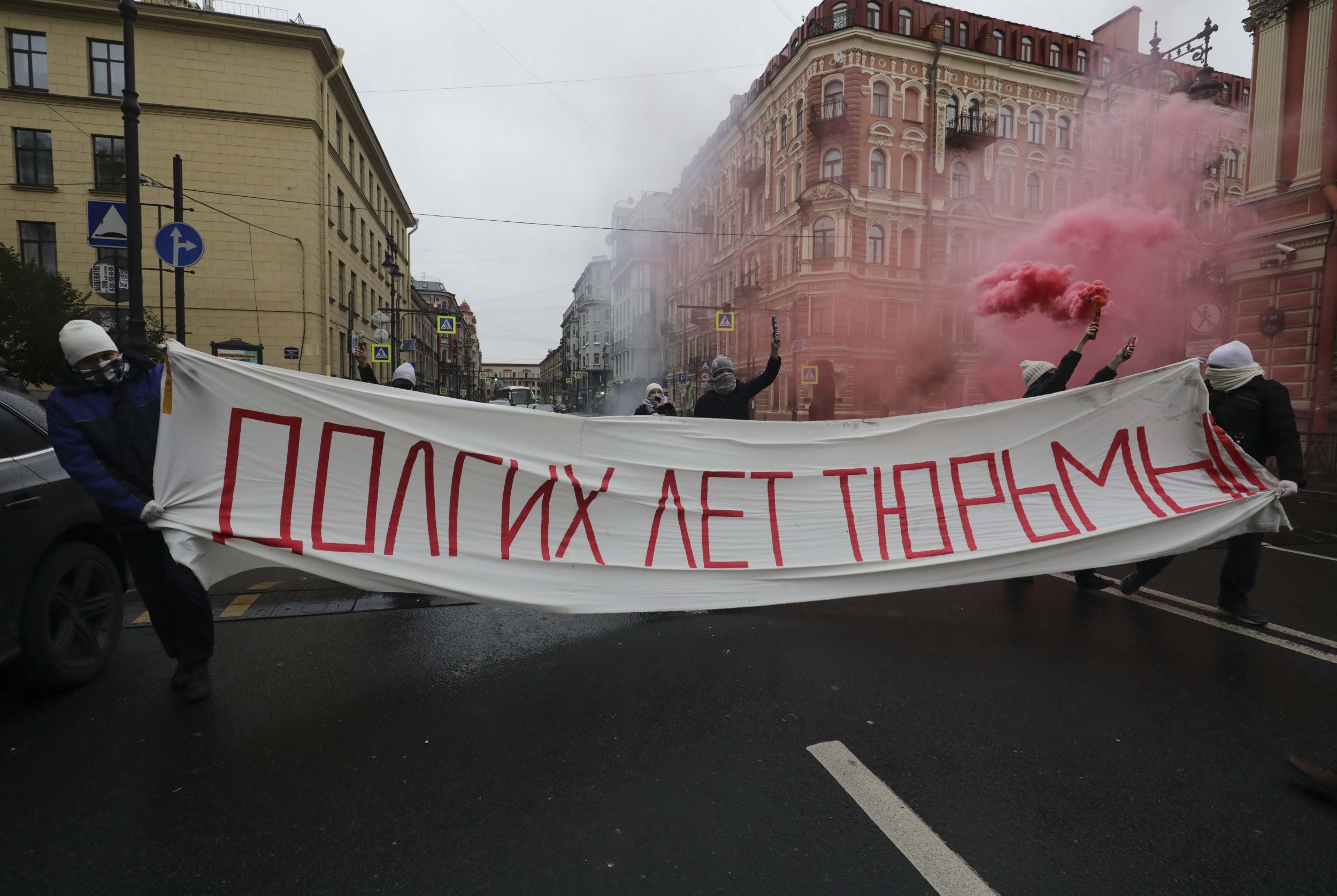 Small groups of protesters took to the streets in several cities throughout Russia on Sunday to wish President Vladimir Putin ill on his 66th birthday.
A group of activists in Putin's hometown, St. Petersburg, lit flares and marched down a street carrying a banner wishing the president "long years in prison," written in large block letters. In a video of the demonstration posted to Facebook, the protesters can be seen wearing black clothing with white scarves covering their faces, and chanting slogans against the Russian leader.
At least 11 people were detained after the protest, one of which was not involved in the protest, according to government critics, Radio Free Europe reported.
Meanwhile, in Kazan, the capital of the Tatarstan region, police detained several teenagers as they attempted to hang a banner on a bridge that read "Happy birthday, liar and thief." The young protesters were charged with violating the country's law regarding public gatherings and then released.
Activists also had a demonstration in the city of Ulyanovsk, commemorating the 2006 murder of investigative journalist Anna Politkovskaya, who was shot and killed in Moscow on Putin's 54th birthday. They also chanted that they "wish Putin many years of life far from Russia."
Eight activists held single-person protests in the city of Irkutsk, in the Siberia region. Their signs called out Putin's government for its involvement in foreign conflicts, such as Syria and Ukraine, as well as the highly controversial decision to raise the country's retirement age. Putin signed the legislation last week, which raised the retirement age from 60 to 65 for men, and 55 to 60 for women.
"Putin steals our pensions" and "Putin has money for wars, but not for pensions," the demonstrators' posters read.
Approval of Putin and his government has dropped significantly in recent months, largely due to his push to increase the retirement age. The issue has highlighted the gap between Putin's rhetoric of a mighty Russia and a life expectancy of just 65.3 for men, according to 2017 data from the CIA World Factbook, meaning the average Russian man will now barely have a few months to enjoy retirement before death.
Thousands have protested against Putin and the government as a result, with some using slogans such as "Away with the czar" and "Putin is a thief." In early September, authorities reportedly detained more than 1,000 anti-government demonstrators as large-scale protests took place in major cities across the country.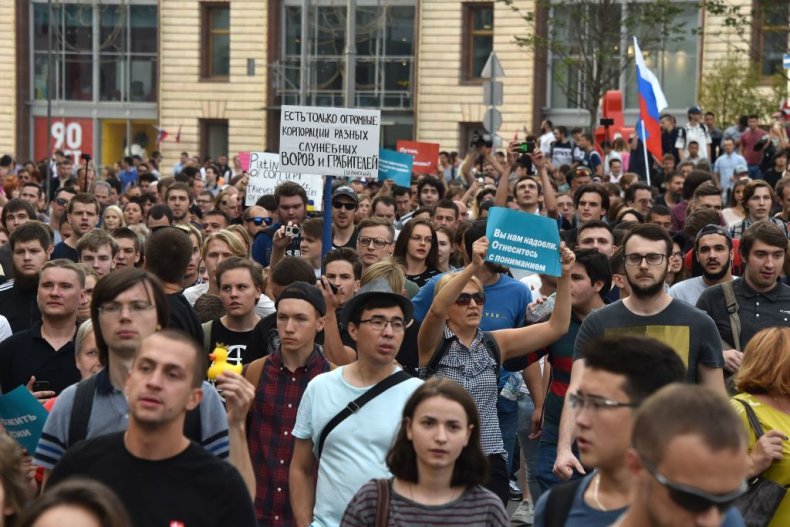 Despite the recent controversy, Putin has maintained power in Russia for more than two decades. He won re-election this spring to another six-year term as president, although critics emphasized that all his serious opposition had been blocked. Accusations of election rigging and ballot stuffing are also common in the country.
Thousands of Russians took to the streets last year as well to protest on the Kremlin leader's birthday, The Telegraph reported at the time. More than 100 were detained by the police during the demonstrations.
"I came out to support the opposition because I don't agree with the course our country has taken," Anatoly Morozov, a student in St. Petersburg, told the British newspaper at the time. "The ignorance and insanity has reached impossible levels."