Putin Wishes WWII Vets in Ukraine 'Long Life' But Continues Deadly Attacks
Russian President Vladimir Putin wished veterans of World War II in Ukraine "good health and long life" as his military forces kept up attacks against the country this weekend.
"I sincerely wish the Ukrainian veterans of the Great Patriotic War the strength of their hearts, good health and long life, and to all the people of Ukraine a peaceful and just future," Putin said in a statement published Sunday by the Kremlin.
His remarks came as Russia prepares to celebrate Victory Day, "our great and common holiday," as described by Putin to the veterans that he "warmly" congratulated.
Victory Day, marked on May 9 each year, commemorates the end of World War II, or "the Great Patriotic War," as it is known in Russia.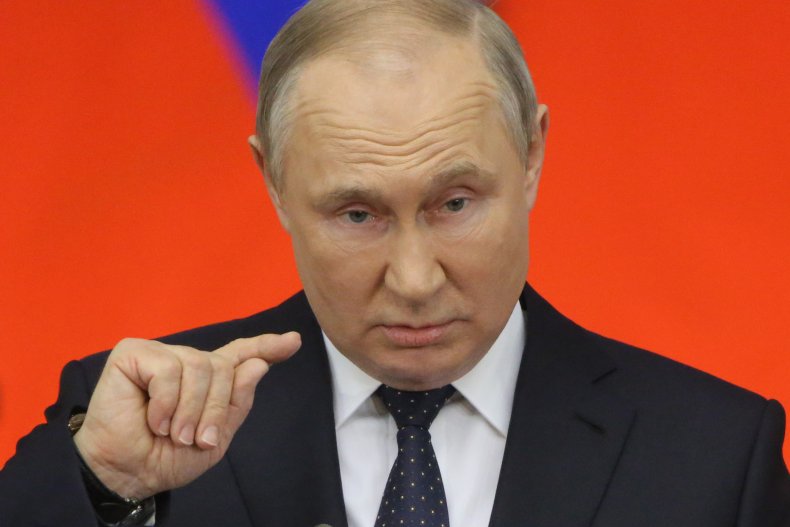 "Seventy-seven years ago, thanks to the courage and heroism of the front-line soldiers and partisans, and the tenacity and selflessness of the workers on the home front, fascism, which sought to enslave Europe and caused pain and suffering to tens of millions of people, was crushed," Putin said. "The immeasurable sacrifices made in the name of the common Victory became a guarantee for our life and freedom. This memory cannot fall into oblivion."
Putin claimed it is Russia's responsibility to fight against "Nazism."
"Unfortunately, today Nazism is once again raising its head and trying to impose its barbaric, inhuman order," he said. "Our sacred duty is to prevent the retaliation of the ideological heirs of those who were defeated in the Great Patriotic War."
A separate statement also issued Sunday by the Kremlin said Russians are fighting against "Nazi filth."
"In his messages to the heads of the Donetsk and Lugansk people's republics, the Russian leader noted that today our military personnel, like their ancestors, are fighting shoulder to shoulder for the liberation of their native land from Nazi filth and expressed confidence that, as in 1945, victory would be ours," that statement said.
Putin was said to have stressed the importance of showing "respect to the soldiers and home front workers who crushed Nazism at the cost of innumerable sacrifices and hardships."
"Today, our common duty is to prevent the revival of Nazism, which brought so much suffering to the people of different countries," Putin was quoted as saying in the statement. "It is necessary to preserve and pass on to posterity the truth about the events of the war years, and the common spiritual values and traditions of fraternal friendship."
His statements were reported as "greetings to the leaders and people of Azerbaijan, Armenia, Belarus, Kazakhstan, Kyrgyzstan, Moldova, Tajikistan, Turkmenistan, Uzbekistan, Abkhazia, South Ossetia, the Donetsk People's Republic, the Luhansk People's Republic, as well as the peoples of Georgia and Ukraine."
At Putin's Mercy in Ukraine
Meanwhile, Ukrainian veterans in Kyiv are begging for mercy and seeking for Putin to release soldiers and citizens from the Azovstal steel plant in Mariupol, which is not under Russian control.
"War is the destruction of the people. Especially now," said veteran Oleksiy Tkachenko in a video posted by Ukrayinska Pravda. "This is Putin's order. You can't do things like this. Why are you making people suffer? Release the garrison from Mariupol, please. Release them. We ask you to take appropriate measures for the release of both military and civilians who are currently in the city of Mariupol."
Fighting continued in Ukraine this weekend.
Ukrainian officials reported up to 60 people are feared to be dead in the Luhansk region, where a Russian strike on Saturday destroyed a school being used as a hideout in the village of Bilohorivka.
Ukraine's Ministry of Foreign Affairs described the incident as a "brutal war crime" in a tweet on Sunday, saying it came "shortly before the Day of Remembrance and Reconciliation, constantly repeating the tragedy of World War II."
There have been reports from U.K. defense officials that Putin may use Victory Day to announce a formal declaration of war against Ukraine, a claim disputed last week by a Kremlin spokesman.
Newsweek reached out to the Russian Defense Ministry for comment.