Putin Won't Take COVID Vaccine Russia Touts as 91% Effective, Kremlin Says
Russian President Vladimir Putin will not receive one of the nation's immunization candidates meant to protect against the novel coronavirus, a government spokesperson reportedly said Tuesday. Putin's press secretary and deputy chief of staff, Dmitry Peskov, told journalists "it's impossible" to administer a vaccine still in development to the Russian leader, according to Bloomberg Politics.
"We have not yet begun widespread vaccination and the head of state can't take part in vaccination as a volunteer," explained Peskov, addressing a question about whether Putin was among the thousands of recipients to whom Russia's most advanced vaccine candidate has already been distributed.
"It's impossible," he continued. "The president can't use an uncertified vaccine."
Peskov's acknowledgment of the Russian COVID-19 vaccine's present limits followed months of less cautious rhetoric from Putin, the Kremlin and Russia's health ministry. As researchers race to develop a vaccine that will offer immunity from the novel coronavirus, questions about safety and efficacy are of paramount importance.
Russian officials say their immunization candidates possess both qualities, although the country's swift registration of Sputnik V, its leading COVID-19 vaccination contender, was met with skepticism and concern from health experts across the globe.
Russian health authorities granted a preliminary registration certificate for Sputnik V in early August, after including just a small group of people in early-stage clinical trials. The certificate permitted Russia to administer the vaccine to medical personnel and other high-risk individuals while conducting "post-registration" trials scheduled to continue through the start of the new year.
On Tuesday, officials behind Sputnik V confirmed slightly more than half of all 40,000 volunteers involved in Phase III clinical trials had received the two-dose vaccine's first installment, and 19,000 had received the first and second. They said that "no unexpected adverse events" occurred during the trials and reported the vaccine was 91.4 percent effective based on analysis conducted over 28 days.
The vaccine has not yet received formal authorization for widespread distribution. Last week, manufacturers reportedly submitted an application to certify the immunization candidate with the World Health Organization, according to Melita Vujnovic, a WHO representative in Russia.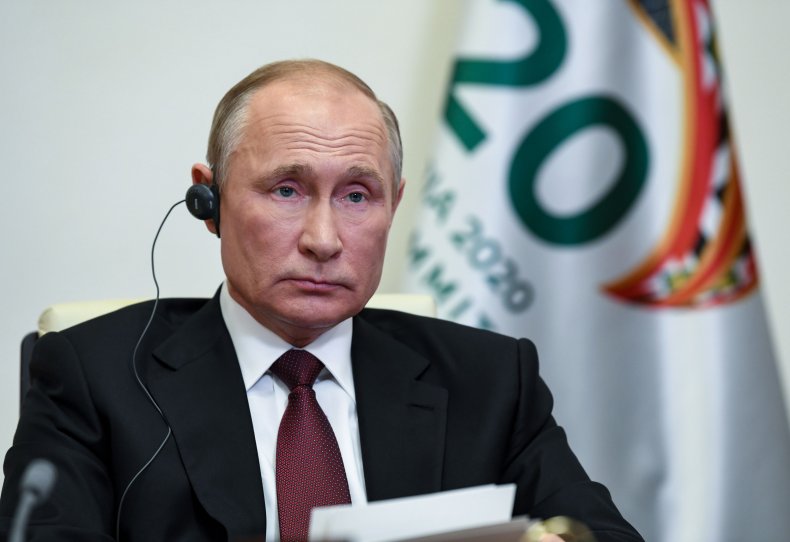 Russia's Sputnik V is one of three COVID-19 immunization candidates the nation is currently working to develop. A second candidate, called EpiVacCorona, received its preliminary registration certificate in October. Speaking to fellow world leaders at the virtual G20 Summit last week, Putin shared intentions to distribute Russia's vaccines to individuals in other countries in addition to his own.
"Our country, Russia, is ready to provide the countries in need with the vaccines developed by our researchers," the president said. "This is the world's first registered vaccine Sputnik V, based on human adenoviral vectors platform. The second Russian vaccine, EpiVacCorona from a Novosibirsk research centre, is also ready. The third Russian vaccine is coming."
Russia has confirmed one of the world's highest incidences of COVID-19 since the nation began to report initial cases last March. As of Tuesday afternoon, more than 2.1 million people have tested positive for the respiratory disease across Russia, and at least 36,675 have died. The country's confirmed case count trails behind those recorded in the United States, India, Brazil and France.
Newsweek reached out to the Kremlin for further comment but did not receive a reply in time for publication.