China, Russia Vow to Strengthen Ties as Putin and Xi Tout Best Relationship in History
Russian President Vladimir Putin emphasized his country's strong ties with China during a recent phone call, calling the relations between the two countries "the best in history," according to China's state news agency Xinhua.
Putin reportedly made the comments during a Tuesday phone conversation with Chinese President Xi Jinping's top diplomatic aide Yang Jiechi. News of his message came after Monday's announcement from the White House that President Joe Biden will meet with Putin at a June 16 summit in Geneva. The encounter will be the first between the two since Biden was elected president and is seen as a move to ease tensions between the nations.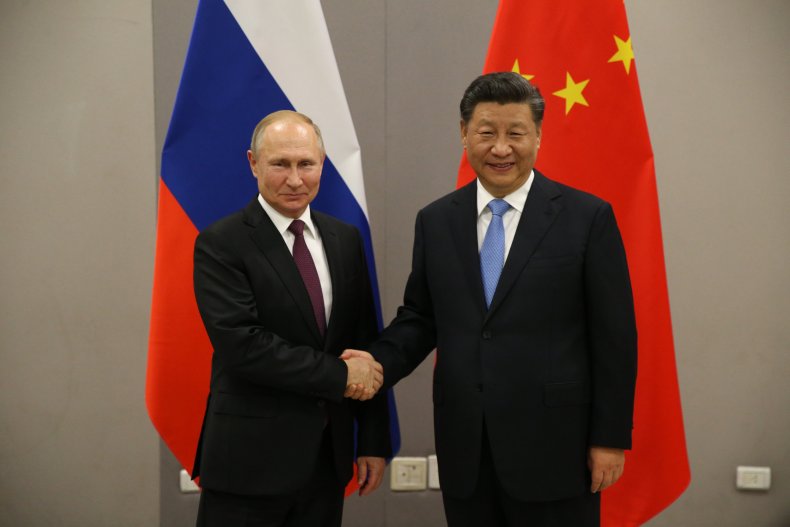 Xinhua also reported that during the phone talk, Putin told Yang that he pledged to work with China to defend multilateralism. That comment has been interpreted as a defense from Russia and China against the any attempt by the U.S. to push its allies to weaken authoritarian governments, according to the South China Morning Post.
Yang was visiting Moscow to discuss security and affirm China's commitment to maintaining close ties with Russia. According to Xinhua, Yang said, "China is ready to work with Russia to comprehensively implement the consensus reached by the two presidents and turn the high-level political mutual trust into more results from strategic coordination."
While on his visit to Moscow, Yang also co-chaired the annual bilateral strategic security consultations with Russian security council secretary Nikolai Patrushev, a continuation of a series of meetings the two countries have been holding since 2005. During his conference with Yang, Patrushev also noted that Russia has always strove to furthering its strategic partnership of coordination with China.
The Global Times, a paper controlled by the Chinese government, published an editorial on Wednesday which stated that China and Russia keep a strong bond because of "the U.S. and its main allies' suppression of the two countries."
Putin and Xi have made similar comments in recent weeks that echoed the sentiment that the two leaders and their countries enjoy a beneficial and close relationship. During a video ceremony on May 19 to officially launch a project to build nuclear reactors in China using Russian technology, Putin remarked, "It can be said that Russia-China relations have reached their highest level in history."
During the same virtual ceremony, Xi also spoke of how diplomatic ties between Beijing and Moscow had strengthened. The Chinese leader said, "In the face of the epidemic and changes unseen in a century, China and Russia have firmly supported each other and cooperated closely and effectively."