Putin, Zelensky Shown Passionately Kissing in Pride Poster
An Italian street artist has displayed a poster depicting Ukrainian President Volodymyr Zelensky and Russian President Vladimir Putin kissing days before an LGBTQ pride parade.
Street artist Andrea Villa hung a large poster of Putin and Zelensky kissing each other by the side of a city street in Turin on Wednesday, three days before the Turin Pride Parade on June 18. The artist previously hung an image that depicted Putin as Nazi leader Adolf Hitler in protest of Russia's full-scale invasion of Ukraine, which began February 24.
The new poster shows Putin and Zelensky, both dressed in suits and backed by their respective national flags, locking lips while embracing one another, with Putin's arms shown perched on Zelensky's shoulders. The hashtag #PrideAndLove is spelled out at the top of the poster.
Villa told Newsweek that the image was inspired by Russian painter Dmitri Vrubel's My God, Help Me to Survive This Deadly Love, a mural located on a surviving section of the Berlin Wall. The mural depicts Soviet leader Leonid Brezhnev and Erich Honecker, the leader of East Germany, engaging in a type of platonic greeting known as the socialist fraternal kiss.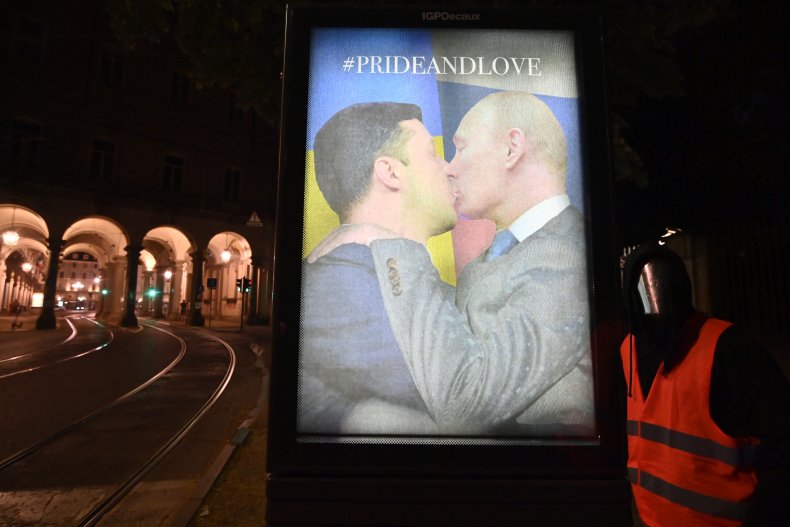 While the fraternal kiss in Vrubel's painting represented the "solidity of the link between" the Soviet Union and East Germany, Villa said, the collapsed Berlin Wall exposed the contradiction of "a clearly failed experiment." Villa said that there was a "parallel with the same utopia of European peace, which has now also disappeared" due to the Russia-Ukraine war.
"I wanted to represent the pride (Pride) of Russia, a country that has never known a true democracy because it is too scared of losing its role as a world power," Villa said of his poster depicting Putin and Zelensky. "And the hope (Love) that the two states (Russia and [Ukraine]) can make up and end the conflict."
The Italian press has dubbed Villa the "Turin Banksy." Villa rejected the comparison in an interview with Italian newspaper Libero, saying that he was on "a totally different path" than Banksy, insisting that the moniker was only used "to sell the headlines."
Like his more famous British counterpart, Villa's true identity is unknown. The name "Andrea Villa" is a pseudonym, while the artist also wears a mask that fully obscures his face when appearing in public.
Villa's poster of Putin sporting a disposable razor as a Hitler mustache in a fake Gillette ad went viral earlier this year when it was shared by the hacker group Anonymous, according to Forbes.
Multiple pictures of the Putin and Zelensky poster, taken by photographer Stefano Guidi and licensed to Getty Images, show a masked Villa hanging the poster and standing nearby on Wednesday.
Although the poster shows a type of platonic kiss, its placement just before Turin's Pride parade and use of the word "Pride" suggests a link to LGBTQ issues. Russia and Putin have been heavily criticized in recent years for a culture of homophobia and anti-LGBTQ laws.
Conditions for the LGBTQ community in Russia have deteriorated since the war in Ukraine began, according to the Center for European Policy Analysis (CEPA). Political persecution of LGBTQ activists has also reportedly increased, while homophobic propaganda has been used to justify the war.
Gleb Latnik, a Russian refugee and head of the group RUSA LGBT, told CEPA that LGBTQ people in Russia are also less likely to support the war because they know "if Russian propaganda lies about LGBT members, it can lie about everything else."
"Accordingly, these people are more active in expressing their position against the war, and that is why they are more likely to become victims of repression," he added.
Newsweek reached out to the embassies of Ukraine and Russia in Washington, D.C., for comment.