Putin's Arrest Warrant Threatens to Upend His Most Important Relationship
The International Criminal Court on Friday issued an arrest warrant for Russian President Vladimir Putin, charging him with an alleged war crime in Ukraine.
The U.S. says China has sided with Russia in the Ukraine war, but Western allies have urged the Chinese to reach out to Ukrainian President Volodymyr Zelensky.
Despite the awkward timing of the arrest warrant, it is unlikely that it will affect Chinese President Xi Jinping's decision to visit Russia next week.
The news of Russian President Vladimir Putin's arrest warrant may not lead to an immediate war crimes prosecution, but it could upend one of his most important relationships, one that he has methodically cultivated over the past year.
On Friday, the International Criminal Court (ICC) issued the first formal international charge against Putin since Moscow invaded Ukraine in February 2022. The court, which Russia does not recognize but prosecutes those accused of war crimes, charged the Kremlin leader with unlawfully abducting and transporting Ukrainian children and teens.
Prosecuting war crimes can be difficult, especially in Russia's case since the country never ratified the Rome Statute establishing the ICC in 1998. Also, Russia doesn't extradite its own nationals. Unless Putin were to travel to one of the countries that did ratify the statute, it would be nearly impossible for the court's authorities to execute the warrant.
Aside from the complicated logistics behind the warrant, the decision to call for Putin's arrest notably comes days before a critical meeting between Russia's leader and Chinese President Xi Jinping.
On Thursday, the Chinese Foreign Ministry announced that Xi would pay a state visit to Moscow, from Monday to Wednesday, following an invitation from Putin. It will mark Xi's first trip to Russia since the war in Ukraine began and is seen as a clear indication of how close the two countries have become in the past year.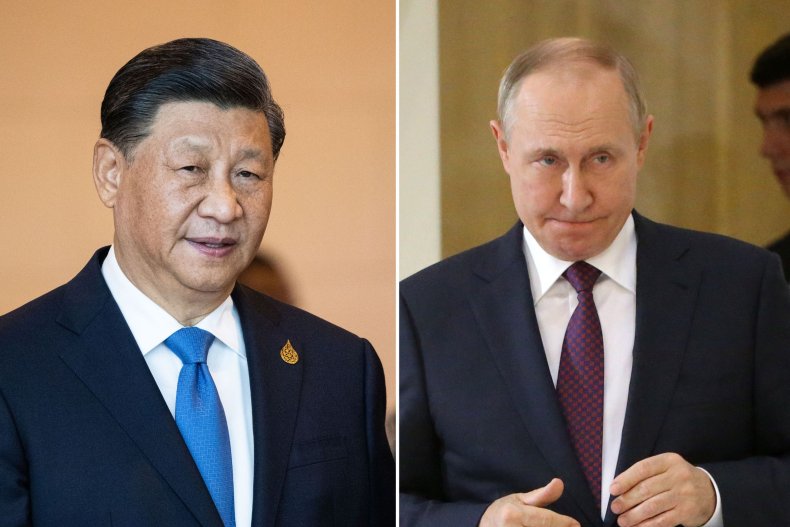 "This will hang over the upcoming meeting between President Xi and President Putin," retired U.S. Army Europe Commanding General Ben Hodges told Newsweek. "China, a permanent member of the U.N. Security Council, will have to think about its credibility and role in the world, especially if it is also considering providing lethal aid to Russia."
Next week's visit was the latest sign of how emboldened Beijing has become in its ambitions to become a major global player. Although China has sought to depict itself as neutral in the Ukrainian war, it is seen by the U.S. as siding with Russia. China has condemned the West's sanctions against Russia, criticized NATO's response to the invasion and said there are "no limits" to its partnership with the Kremlin.
The U.S., whose relationships with both Beijing and Moscow and been deteriorating, has cautioned China about proposing a ceasefire during Xi's visit. Western allies have urged Xi to reach out to Ukrainian President Volodymyr Zelensky. They also have doubts about Beijing's motives in strengthening its relationship with Putin.
Eleonora Tafuro, a senior research fellow at the Russia, Caucasus and Central Asia Center at the Italian Institute for International Political Studies, told Newsweek that even if the arrest warrant's timing and the meeting with Xi is just a coincidence, the collision of the two events could "actually make Xi nervous as he faces mounting Western pressure to stop supporting the Russian regime."
It seems unlikely that Xi will address the ICC's warrant during his trip to Moscow. But the circumstances of Xi's visit will be less than ideal, Michael Kimmage, who held the Russia/Ukraine portfolio while on the State Department's policy planning staff, told Newsweek.
Still, the unpleasantness is "nothing that would get in the way of the China and Russia relationship," he said.
Jordan Gans-Morse, the faculty director of Northwestern University's Russian, Eurasian and East European Studies Program, told Newsweek, "It's hard to imagine that this will change President Xi's calculations regarding his upcoming visit to Russia."
Gans-Morse said there would be more consideration over how a Moscow visit could hurt the reputation of a European leader like French President Emmanuel Macron or German Chancellor Olaf Scholz. But since the Chinese media is so tightly controlled by the state, "Xi has no reason to worry about such a narrative emerging at home."
Even on a geopolitical level, Gans-Morse said, Xi likely feels secure enough that he's not particularly worried about being shunned by the U.S. or Europe. Those perceptions, however, could change should China show more overt participation in a Ukrainian war peace plan next week.