Putin's Biggest Critics Announce 100,000-Strong 'Russian Spring' Protest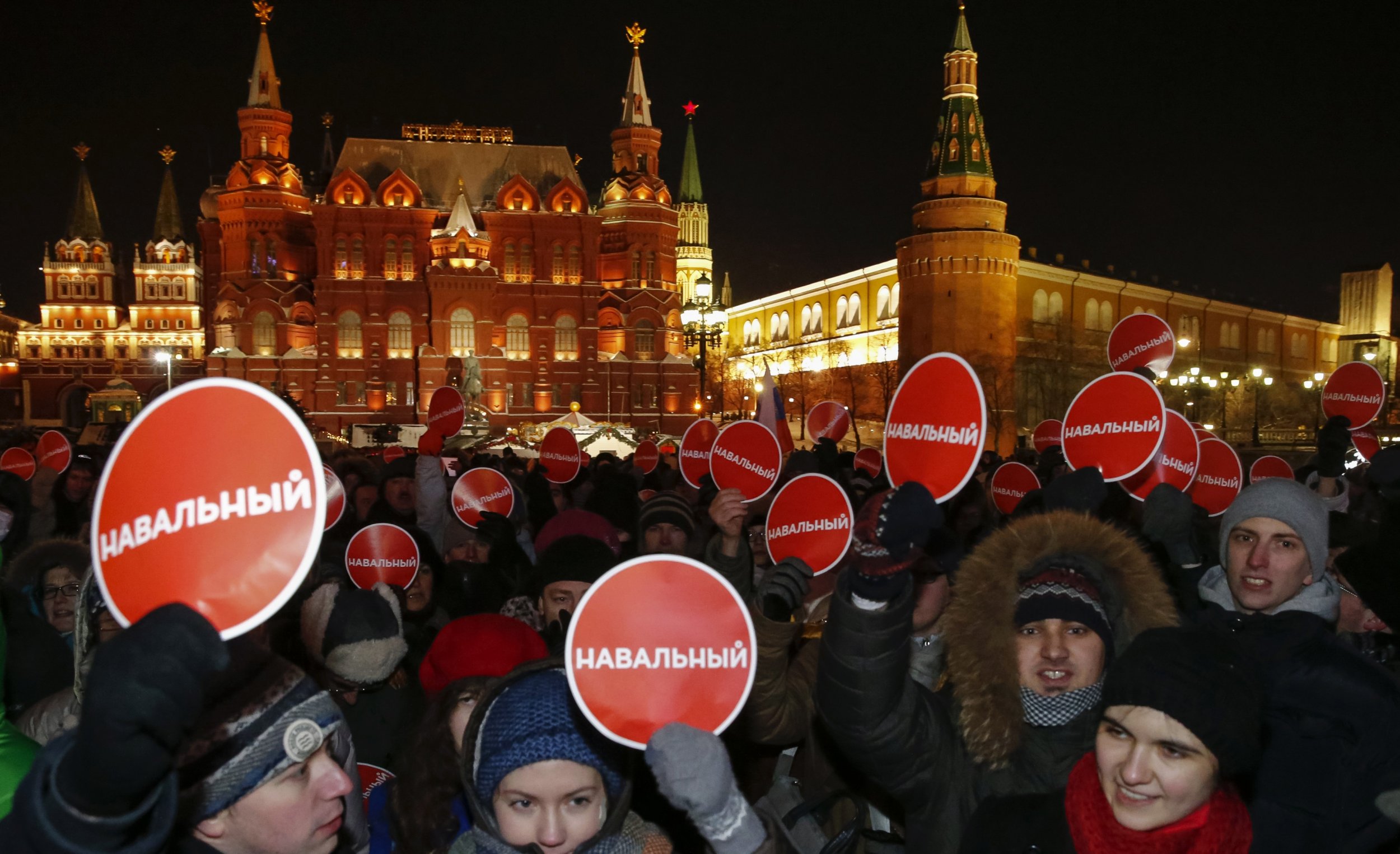 Anti-Putin activist Alexei Navalny, who is currently under house arrest, has officially informed authorities of his intention to assemble a 100,000-strong, anti-government protest in Moscow on 1st March.
A photo of Navalny's letter, addressed to Moscow mayor Sergey Sobyanin and requesting permission for the protest, was posted on his blog. The image also revealed that Mikhail Khodorkovsky was one of the letter's five signatories.
Khodorkovsky is a Kremlin dissident who announced last September that he would be prepared to run for president if incumbent Vladimir Putin could not combat corruption and prevent a financial crisis in Russia.
The former oligarch spent a decade in Russian prison after publicly challenging Putin on issues such as corrupt government officials. He was unexpectedly pardoned by the president in 2013 and has lived in exile in Zurich, Switzerland ever since.
Neither Navalny nor Khodorkovsky have said whether Khodorkovsky will return for the first time to Russia to personally join the protest. "We are all very happy with [Khodorkovsky's support]," Navalny wrote today. "He has called on his fellow countrymen to join the march."
According to the letter, the 'anti-crisis' protest will be called 'Spring', alluding to the non-violent revolutions which toppled Communist governments in eastern Europe after the break-up of the Soviet Union in 1989. Navalny has already said he will call for Putin's resignation during the protest due to his "inability" to manage the Russian economy.
"We would like the demonstration to go ahead and we trust we will be able to avoid the eternal fuss about whether we had any or enough legal permission to protest," Navalny wrote on his blog.
The legal requirement of organising a protest is to inform the authorities at least 15 days before the scheduled date and state that the demonstration will not be violent, two things which Navalny believes he has covered in his letter.
"We considered it necessary to make our intentions known even earlier so that all local services are able to make preparations ahead of time," Navalny added.
The outspoken activist was arrested along with more than 100 of his supporters on the night of his verdict in December, after they took to the streets to protest his controversial conviction in a spontaneous demonstration.
Navalny plans for the 1st March event to be a peaceful demonstration and anticipates that up to 100,000 people will attend, descending on Moscow's historic Tverskaya Street, famed as one of the capital most luxurious locales and home to several government ministries. The street culminates in the Red Square, where the march will finish outside the gates of the Kremlin's presidential offices.
"We have only chosen this specific location for the march because it is used for similar occasions several times a year, such as 1st May and 7th November," Navalny wrote, referring to the annual government-backed marches which regularly close down Tverskaya. Labour Day is marked by demonstrations in May and the yearly commemoration of the Soviet 'October Revolution' on 7th November often involves a parade of the armed forces.
"We can save Russia from the financial crisis," Navalny wrote in preparation for the march. "We are all going to march under the flag of Russia."
The opposition leader announced last week he was planning a protest on the same day the Moscow High Court refused to grant him early release from house arrest. Navalny was given a suspended sentence for corruption charges in late December 2014, in a shock trial which has been heavily criticised by observers including the EU foreign policy chief and the U.S. State Department.
Navalny's brother Oleg was sentenced to three and a half years in prison on the same charges, and the Kremlin-critic maintains that Russian authorities are "holding Oleg hostage". The validity and legality of Alexei Navalny's own sentence has also been criticised, as many believe that his trial and conviction was a form of political revenge.
Navalny and Khodorkovsky are two of Putin's most most high profile opponents but Khodorkovsky's backing of Navalny's protest is the first time the two have presented a united front against Putin since Navalny publicly announced he wanted to collaborate late last year.