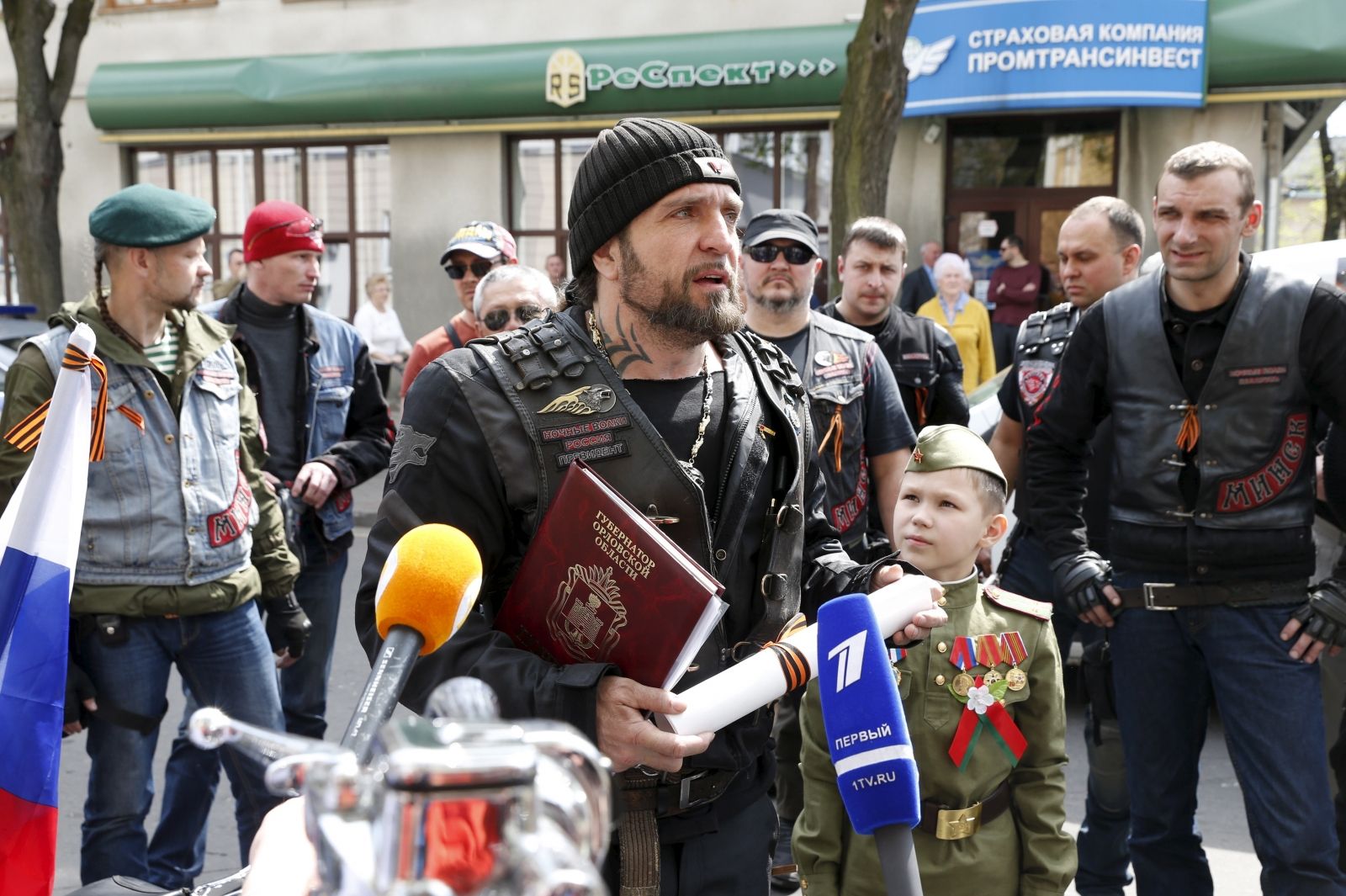 Russia's motorcycle gang, often known as "Putin's bikers", are calling on the Russian president to give the national crest a Soviet makeover.
The "Night Wolves", who travel around Russia and Europe several times a year, have become notorious and influential advocates of a pro-Kremlin brand of Russian nationalism, mixing nostalgia for Soviet military glory with conservative Orthodox Christian mores. They have even ridden alongside Vladimir Putin himself.
Funded by Kremlin grants, the group have been turned away at Poland, Lithuania and Ukraine's borders in recent years due to their support for Russia's annexation of Crimea. They have become prominent figures in Russian public life, none more so than their leader— Alexander "the Surgeon" Zaldostanov.
Speaking to Russian state news on Tuesday, Zaldostanov called on the Kremlin to show, via Russia's coat of arms, that the country is proud of its Soviet as well as Tsarist past.
"Russia's coat of arms, this symbol of the state, is a sacred symbol of our past and future triumphs. First and foremost, we must solidify the continuity of our state," Zaldostanov said. "The current coat of arms, the two-headed eagle, is inherited from the Russian Empire. But we must also show that the we come from the USSR - which cast (Yury) Gagarin into space, the first space satellite, had the mighty Soviet army and, of course, the titanic, sacred victory in World War II."
According to Zaldostanov, the symbol of this victory is the five-pointed red star, which once adorned Soviet buildings and insignia. The biker added that he has sent a letter to President Putin asking him to consider adding the red star and wheat grain borders to the two-headed eagle symbol.
Speaking to pro-Kremlin news site Life, Zaldostanov said he would not only want to Sovietize Russia's two-headed eagle but, if it were up to him, he would restore the Soviet lyrics to Russia's national anthem.
Both the current national anthem and coat of arms underwent great changes in the 1990s following the collapse of the Soviet Union, with the current crest established by President Boris Yeltsin, while his successor Putin chose to retain the Soviet anthem's music but commissioned new lyrics without Soviet symbolism. Zaldostanov's bikers play a remix of the national anthem, with Soviet lyrics incorporated, at their annual bike shows.
"I noticed that everyone knows and loves the words to the Soviet national anthem," he said. "At the end of our (last) show, the crest was suspended over us, beneath volleys of fireworks, people were trembling, grown adults were crying and everyone thanked me for it."
Kremlin spokesman Dmitry Peskov said that he was not aware if the president's office had received a letter from Zaldostanov but said they would consider his opinion, should they receive the biker's correspondence.