Putin's Bodyguard Challenged to 'Minecraft' Duel and Pillow Fight in Viral Defense of Critic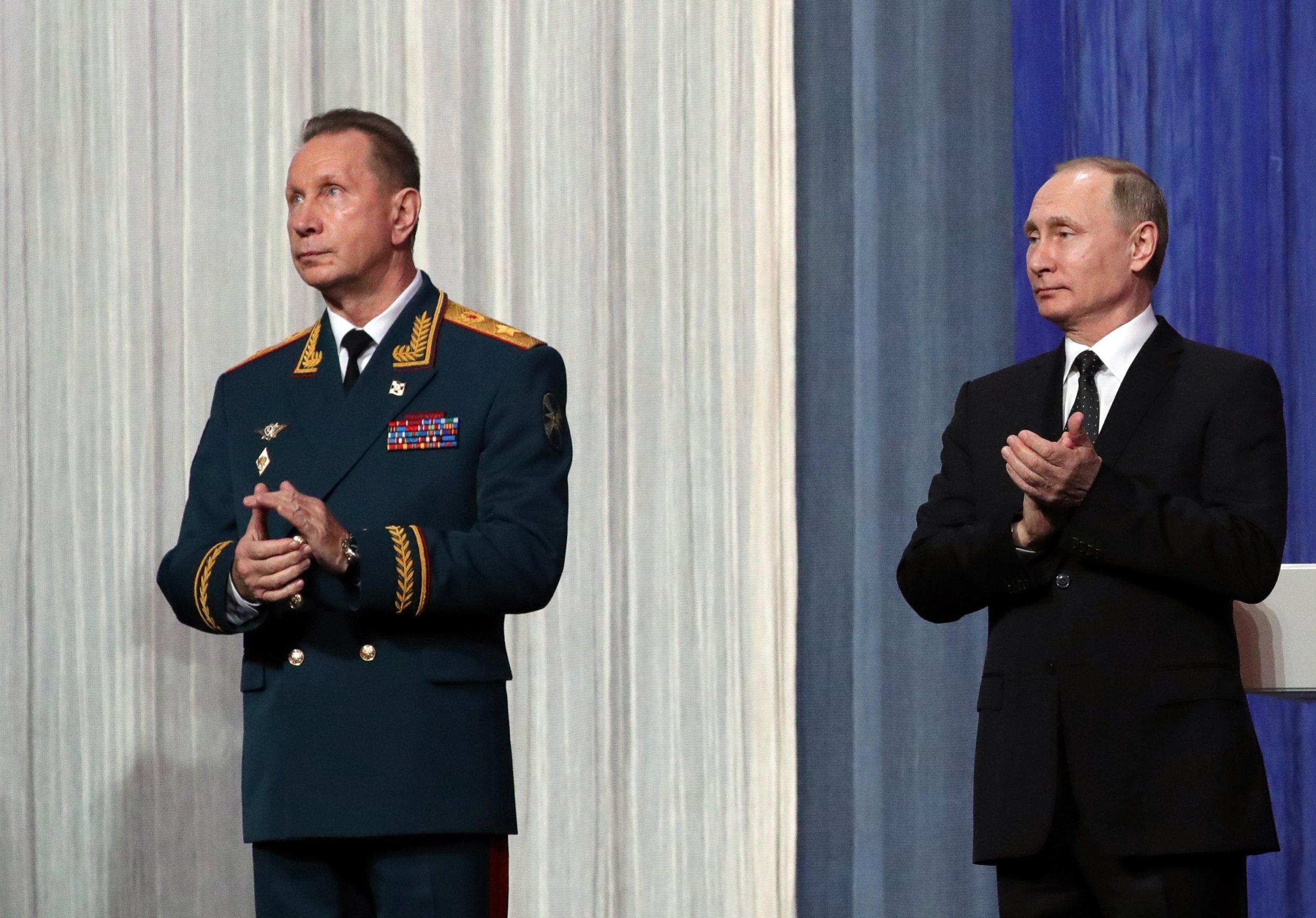 The head of Russian President Vladimir Putin's National Guard is facing a slew of bizarre duel challenges after he threatened to pound a leading Kremlin critic like "a juicy steak."
Viktor Zolotov, who once served as Putin's bodyguard, recorded a video telling anti-corruption blogger Alexei Navalny he needed "a quality kick in the ass." The clip, posted on the National Guard's official YouTube channel, was in response to an expose by Navalny, who alleged the unit had been paying for services such as catering at inflated prices as part of a corrupt scheme. Zolotov called Navalny "rotten from within" and said that, as a matter of honor, he would revive a "wonderful tradition" and assault him physically.
In a matter of a couple of days, Zolotov's video has been viewed almost two million times, earned 140,000 dislikes and sparked a viral, mocking trend called #ZolotowChallenge.
"I am calling out the corrupt Zolotov to a swimming duel," Viktor Soldatov, Russian swimmer and 2015 World Aquatics Championships bronze medalist, wrote on Facebook, posting a video threatening to shame Zolotov in the pool.
Navalny ally Lyubov Sobol also joined in, challenging Zolotov to take a math test, adding "it is obvious you have serious problems with equations."
"Viktor Zolotov, I challenge you to a humorist duel. The one to think of the best joke about Putin [wins]," Oleg Kozyrov, Russian writer and blogger wrote on Twitter. "I promise to joke with all my power."
Quickly, Russians were keen to find reason to call out the National Guard's chief, picking a discipline close to their heart. "Viktor Zolotov, I challenge you to a fight in MineCraft, in a player-vs-player battle," one Twitter user wrote, while several issued virtually the same challenge but in the games Heroes of Might and Magic, For Honor and online poker.
"Guys, I didn't get a chance to grab breakfast this morning and I am blaming Viktor Zolotov, so I am challenging him to a pillow fight" one Twitter user announced in a video. "We'll see each other [again] with our pillows, Viktor Zolotov!"
"I got sick and I could not go play soccer," another complained on Twitter. The one I blame for this is you, Viktor Zolotov. I am calling you to face off against me in a penalty shootout. I will make beefsteak out of you."
"Mr. Zolotov, today my friend dropped my smartphone from laughing at your address to Navalny," one Twitter user complained. "The screen is cracked. You are the one to blame for this. I am challenging you to a duel in changing the protective glass!"
"Since you are a man with the ambitions of a great duelist, I challenge you to a showdown in Mario Kart," one Russian Twitter user wrote. "We will make it clear in front of all of the National Guard's staff who is the better racer." Some suggested the head of the National Guard may be better off taking a break. "Zolotov, I challenge you to a sleeping contest," one Twitter user wrote, with a video of himself snoozing at home.