Putin's Forces, Stalled on the Ground, Turn Up the Brutality in Ukraine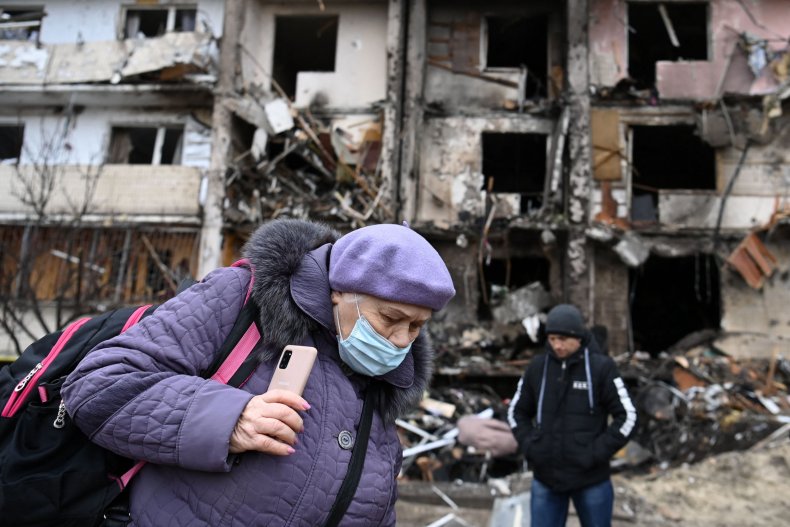 The Ukrainian resistance remains strong and inspiring. But with every triumph the defenders amass on the ground, the Russian military reverts to its true nature. As the war enters its second week, long-range attacks with artillery, missiles and aircraft wreak ever more civilian destruction, and the invaders plod forward, controlling an increasing amount of territory around the eastern periphery of the country.
Russia's tactical failure on the ground defines the nature of the war so far. A quick occupation of the capital city Kyiv failed; Ukraine's second-largest city, Kharkiv, just 10 miles from the Russian border, has also held off the attackers. Though the fog of war obscures much of what is going on, Russia is consolidating control of territory while also destroying Ukraine's capacity to defend itself. It isn't quick progress, nor is it by any stretch of the imagination precise or pretty.
With the United States and NATO holding fast to their position that they will not deploy their own forces against Russia—the alliance rejected Kyiv's appeal to establish a no-fly zone—the military prospects for Ukraine look bad.
"All the assigned tasks are being successfully solved," Russian President Vladimir Putin told a meeting of his Security Council on Friday. His statement seemed to indicate that, at least on the ground, the attacking force won't be reinforced. The "tasks," previously specified as "demilitarizing" and even occupying Ukraine, seem more modest.
Weather has undone even the best of invaders over millennia of warfare, and the image of Russian armored vehicles bogged down in mud told the story of the first week of the Ukraine war. The Russian advance north of Kyiv stalled after just two days, a combination of sheer congestion, an inability of the army to operate off of paved roads, and poor training and leadership—as well as the impact of a valiant Ukrainian territorial defense.
"It's a big traffic jam," one U.S. retired U.S. Army general told Newsweek. Like most traffic jams, he says, the holdup will eventually give way. Some observers may argue that Russia is regrouping as part of an intentional "tactical pause" for consolidation, but the retired general says that actual evidence on the ground indicates that Putin's land army is not pausing: it is stopped dead. Supply lines of fuel and repair are listless and inadequate; Russian soldiers are hungry and exposed to the elements.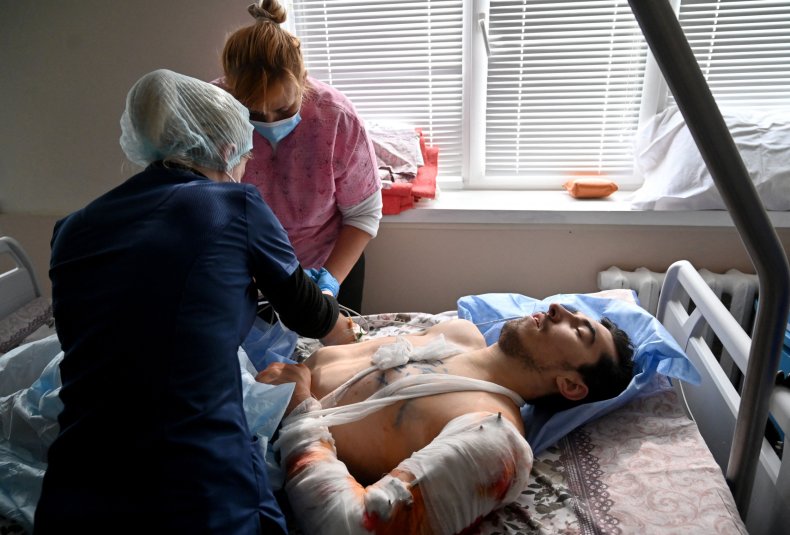 So rather than resupply and regroup, the bulk of the ground force invading from the north is experiencing a further decline in readiness. Poor morale and motivation are evident in the army's lackluster performance. There are reports of Russian soldiers refusing to fight, of soldiers abandoning their vehicles and an increasing number of surrenders and desertions.
The retired general, who requested anonymity in order to speak candidly, called the Russian army "a warrior force that is turning into a disgruntled chain gang."
The government in Kyiv claims to have killed some 9,000 Russian soldiers. If that number holds up when the fog clears, that is almost two-thirds of the 15,000 Soviet soldiers killed in ten years of war in Afghanistan. (Russia this week said that only 498 of its troops had been killed.)
"Imagine, too, that you are trying to get to your destination while you're bombing that very destination," the retired general says. "I'm not arguing that the Russians could have ever expected a hospitable response, but everything that is happening now is increasingly bad news for Putin." Ukraine's sense of purpose is growing. And off the battlefield, international support for Ukraine solidifies, the Russian economy deteriorates, and domestically the Kremlin is finding itself having to clamp down on protests, internet access and the last vestiges of independent news media.
The retired officer, once involved in war-planning against both the Soviet Union and Russia, says that if there is any method to Putin's madness, it is that he is waiting for the Ukrainian "adrenaline rush" to dissipate from either sheer exhaustion or the increasing difficulty of daily life amid the destruction caused by the bombs.
"It's a balancing act for Putin," he says. "The more attacks into civilian areas, the greater the resistance."
Unable to advance its forces on Kyiv and Kharkiv, Russia began increasing its number of artillery, rocket, and missile attacks on Tuesday night, attacks on more than a dozen Ukrainian cities. In the heaviest strikes, the Pentagon says that some 500 long-range missiles have been fired since the start of the war. The distribution of those strikes reveals Russia's shifts in strategy. In the first 24 hours last week, Russia shot 75 missiles—more than in the next five days combined. But since March 1, it has been firing an average of about 80 missiles every day.
Mid-week, the Kremlin claimed that Russia delivered a "massive strike" on Ukraine's military infrastructure, and much of what is being seen around Kyiv represents strikes on military targets. That air attack also took place as Russia undertook its largest air assault of the war, dropping paratroopers near two Ukrainian cities in the east and inserting fresh forces into the battle via helicopter.
Overall, the Kremlin says that it has hit some 1,612 Ukrainian military facilities to date. Some 20 airbases have been under consistent attack, as have military headquarters, air defense installations and other important command facilities.
One of the mysteries in Russia's attack, though, has been the relative absence of its Air Force in the fighting. From the beginning, only about 75 tactical fighters have been used, and that number has not increased. (In the first week, an intelligence source says, Russia lost 28 of those fighters; they appear to have been replenished at the same level.)
One U.S. Air Force observer, a senior strategist on the Air Staff, tells Newsweek that the absence of the Russian Air Force is baffling. He offers four possible explanations: First, that Russia overestimated the ease with which it would pacify and occupy Ukraine. Second, that organizationally only those forces allocated to the invading army (and under its control) are engaged in the fight. Third, the limited aerial fighting force might indicate that the Russian Air Force is not an enthusiastic participant. The Russian military is significantly dominated by its army and ground forces, and there may have been some bravado and arrogance on the part of the army—that it could win the war alone, says the U.S. Air Force officer. But, he adds, the fourth factor might be the most significant: that Ukraine has mounted an effective air and missile defense of its own skies. (The Ukrainian Air Force is now being resupplied by its Eastern European neighbors, continuing to exact damage on the Russian ground forces.)
"We assess the Ukrainian air and missile defense system remains intact and remains effective," a senior U.S. defense official said this week.
Captured secret documents disclosed by Ukrainian intelligence last week offer insight into Russia's overestimation of its own military prowess. Taken from a surrendering soldier in the south, the documents—maps, planning documents, logistical and personnel spreadsheets, even radio call signs—reveal that Moscow's war plan anticipated that the entire country would be taken over in 15 days. That plan is now in shambles.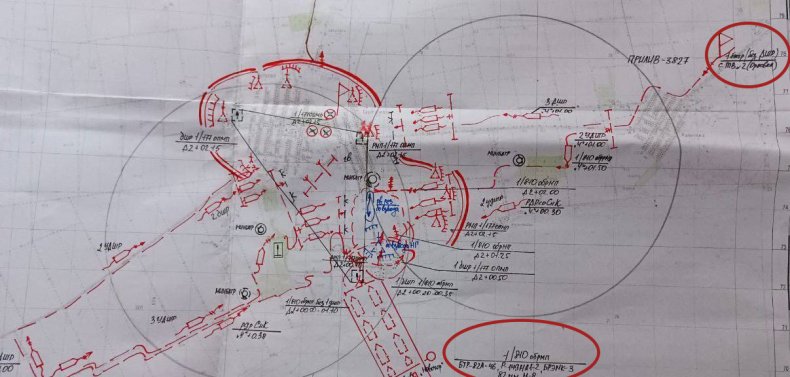 In all of this, despite popular support, Ukraine is the big loser. The level of civilian destruction increases, particularly in the most fought-over cities of Kyiv, Kharkiv, Mariupol and Chernihiv. The Ukrainian State Emergency Service says that more than 2,000 civilians were killed in the first week of fighting.
Before the bombing escalated Wednesday night, most of the civilian damage in cities was due to attacks on military installations. But after escalation began, more and more civilian objects—including electrical power production and communications infrastructure—came under attack. Many civilian homes and buildings have also been hit. It may be that Russian weapons are not accurate in battle or are experiencing technical failures. But it's equally likely that a sputtering Russian army is just being increasingly brutal, hitting more and more civilians in its frustration. This includes the use of banned cluster bombs in urban areas as well as indiscriminate multiple rocket launcher attacks.
U.S. military observers, speaking to Newsweek on condition of anonymity, say that more than 250 civilian apartments and homes were destroyed in the first week, a number that almost doubled after Wednesday. As Russia continues to intensify the pace and brutality of its attacks, that number is sure to increase. For now it appears that Russian ground forces will mostly continue to take the easiest path, halting movement forward when too much opposition is encountered, bypassing pockets of Ukrainian resistance to focus on surrounding the capital and shifting much of the emphasis of firepower to long-range attacks.
In a video address to the nation early Thursday, Ukrainian President Volodymyr Zelenskyy called on Ukrainians to keep up their resistance. As a country, Ukraine was organized for a territorial defense from the beginning. The Ukrainian Army, National Guard, territorial reserve and national police quickly threaded together as a singular force to focus on the areas of Russian advance.
Hundreds of thousands under arms are now being joined by an equal number of civilian fighters, many of whom are being formally trained and equipped. In just two days when the invasion began, over 150,000 Ukrainian reservists and volunteers mobilized (about the size of the Russian invasion force). More than 100,000 Ukrainian citizens (and 16,000 nationals of other countries) have entered the country from abroad. The State Border Guard Service says that the vast majority of returning citizens were men who sought to join the fight.
Russia has made real progress in the south, where Kherson, Nova Kakhovka, and Melitopol have largely been conquered. Kherson, a city of 250,000 on the Black Sea coast just north of Crimea, was the first major objective where Russian ground forces saw success. Mayor Igor Kolykhaev said Thursday that the city was surrounded, with Russian troops entering the city and taking administrative buildings; Ukrainian forces withdrew.
"Russian forces have taken full control of the Kherson regional center," Russian Ministry of Defense spokesman Gen. Igor Konashenkov claimed at a press briefing.
Vadym Boychenko, the mayor of Mariupol, another Black Sea port, said the attack on Kherson proved to be "the hardest, cruelest of the seven days of this war," his city being pummeled for hours.
The human costs were already "staggering," said U.S. Secretary of State Antony Blinken. "Hundreds if not thousands of civilians have been killed or wounded."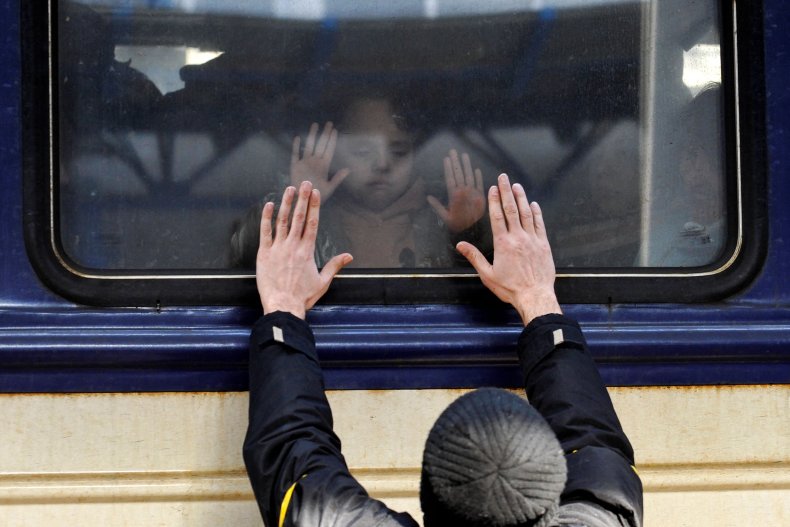 Those civilian casualties will likely mount. And in the coming week, Russia will likely make slow but steady progress on the ground, seeking to surround rather than conquer the major cities. A key marker to look for will be the effectiveness of Ukrainian air assets, continuing to defend the country's skies as well as undertake attacks on ground forces.
Ukrainian and Russian officials, meanwhile, sat down for a second round of talks, agreeing in principle to establish safe corridors for Ukrainian civilians to leave the country and for humanitarian supplies to enter, particularly in the besieged cities.
Vladimir Medinsky, who led the Russian delegation, said after the talks that the two parties' "positions are absolutely clear" and that "mutual understanding was found on part of them." He also referred to possible political "settlements" between the two countries, perhaps one of the only bright spots for Ukraine; that is, if Russia is going to abandon the completion of its military objectives.
"We want to reach serious agreements on a ceasefire and peace as soon as possible," Ukrainian presidential advisor Mykhailo Podolyak said after the talks.
The Ukrainian Foreign Ministry added that the country was ready to negotiate, but that it would not respond to "Russian ultimatums."
Ukrainian President Zelensky called on Russian President Putin to meet with him in person. "What do you want from us?" he said in the video message, apparently mocking Putin's habit of facing off from opposite ends of a very long table. "Sit with me at the negotiating table, I'm free," he said. "Sit with me, ... I'm your neighbor ... I don't bite. I'm a normal man, sit down with me, talk, what are you afraid of?"
In fact there is plenty to fear, as Zelensky well knows.