Putin's Gathering Missiles When He Claims He Wants Peace, Ukrainian MP Says
A Ukrainian parliament member said she doesn't believe that Russian President Vladimir Putin will negotiate in good faith, saying his track record indicates he'll mount even more devastating attacks on her country while claiming he wants peace.
"I personally don't see any point of these talks. As a citizen of Ukraine who [has seen]...war with Russia for eight years, I can give you some tips and tricks on Putin's record," Kira Rudyk told CNN's Jim Sciutto on Wednesday.
Earlier this week, Russia and Ukraine met in Belarus to begin initial talks on the war but were unable to reach a conclusion on Monday. Further negotiations are expected in the "coming days," according to Vladimir Medinsky, a former culture minister who led the Russian delegation during Monday's meeting. But members of Ukraine's delegation have hinted that the Kremlin is unwilling to halt Russia's assault on the country.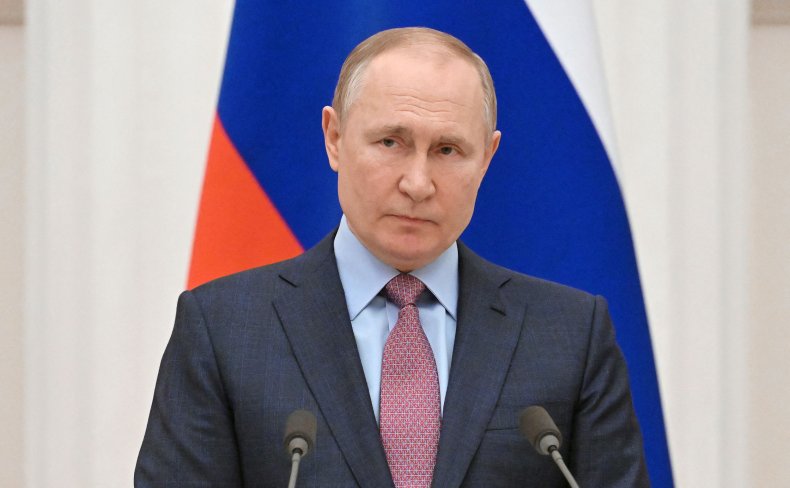 While talks remain ongoing, Ukrainian President Volodymyr Zelensky has begun seeking international aid. And on Tuesday, the European Parliament unanimously voted to approve Ukraine's application for membership in the European Union.
Rudyk, who is also the leader of the liberal, pro-European Holos Party in Ukraine, said the only way Putin will end hostilities is if Ukraine will "forfeit [its] aim to become EU members or to become members of NATO, which we are not going to do."
"When [Putin] says, 'I want peace,' this means get your Kalashnikov and prepare for war," she said. "If he says he wants peaceful negotiations, as he did, like, two days ago, this means I'm gathering my missiles and I will be attacking your cities twice as hard as I was doing before."
On Wednesday, she joined Zelensky's pleas to Western allies, calling on them to impose a no-fly zone over Ukraine.
"I know it's hard to do, and I know people were saying, 'Oh, it'll start World War III' or something. But I also can tell you that what we've learned from Putin is [that] he'll do whatever he wants and then say it wasn't him," Rudyk said. "Right now, we really need our partners to bend some rules to help Ukraine stand up."
President Joe Biden has repeatedly said that American troops won't fight Russia in Ukraine—a promise that extends to a no-fly zone.
Although Zelensky said that imposing such a measure would allow Ukraine to "defeat the aggressor with much less blood," White House press secretary Jen Psaki pointed out that it "would potentially put us into a place where we're in a military conflict with Russia."
"That is not something the president wants to do," she told MSNBC on Monday.