Putin's Meeting Is Sign He's Not on 'Suicidal Mission': Former Ambassador 
A recent photo of Russian President Vladimir Putin has sparked renewed concerns for the leader's mental and physical health.
Putin hosted a multilateral meeting to discuss peace in Afghanistan with regional stakeholders in Moscow on Tuesday.
Officials from China, India, Iran, Tajikistan, Kazakhstan, Kyrgyzstan and Uzbekistan were in attendance. Pakistan was also invited but decided to skip the meeting.
At the forum, Putin was photographed sitting across a large, round table from his guests, seemingly isolated on one side.
Michael McFaul, political science professor and former U.S. ambassador to Russia, said Putin's position could provide insights into the Russian leader's mental state.
"Putin still practicing social distancing. Doesn't strike me as a guy on a suicidal mission," he tweeted.
This is not the first time Putin has been photographed at a large table. He has been known to keep at a lot of space between himself and foreign leaders and officials during key meetings.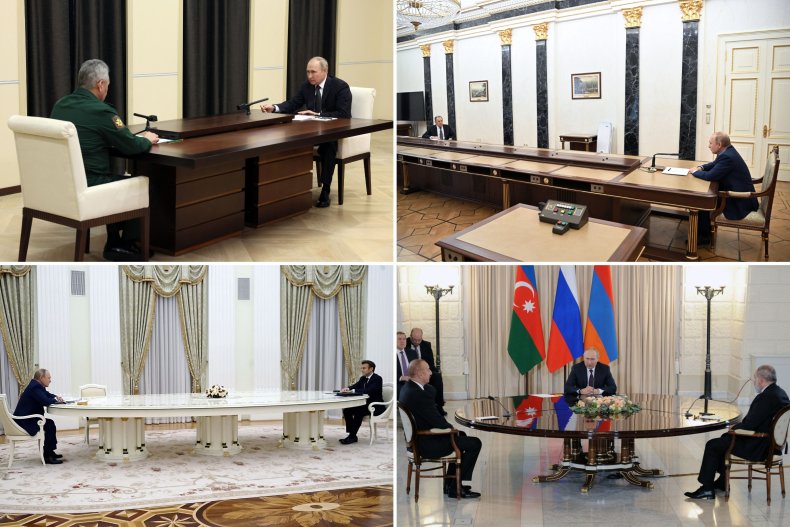 When asked if he would sit down for a talk with Putin in March 2022, Ukrainian President Volodymyr Zelensky gave a sarcastic reply, referencing Putin's tendency to sit at large tables.
"Sit down with me to negotiate, just not at 30 meters," he said. "I don't bite. What are you afraid of?"
This also comes as a new report from Russian investigative outlet iStories found that Russia is tracking online posts, comments and memes that are critical of Putin, including speculation about his health.
Since the beginning of Russia's invasion into Ukraine nearly one year ago, many Western leaders and experts have questioned the Kremlin's mental state.
In April, former Pentagon spokesperson John Kirby got emotional during a press briefing when discussing the images of war from Ukraine, noting the brutal killings of civilians and bombings of hospitals.
"It's hard to look at what [Putin's] doing in Ukraine, what his forces are doing in Ukraine, and think that any ethical, moral individual could justify that," he said, adding that no "well-thinking, serious, mature leader would do that."
"I can't talk to his psychology, but I think we can all speak to his depravity," he said.
Ukrainian military officials said in April that Putin was very sick with cancer and would die soon.
When asked if Putin was "terminally ill," Kyrylo Budanov, Ukraine's military intelligence head, replied, "of course," and that he had been ill for a "very long" period.
When asked when he would die, he answered, "I think very fast, I hope," but only after Ukraine defeats his forces.
A classified U.S. intelligence report said Putin underwent cancer treatments in April.
Three high-ranking officials, who represent three separate intelligence agencies, told Newsweek in June that they are concerned that Putin is increasingly paranoid about his hold on power.
"Putin's grip is strong but no longer absolute," said one of the senior intelligence officers with direct access to the reports. "The jockeying inside the Kremlin has never been more intense during his rule, everyone sensing that the end is near."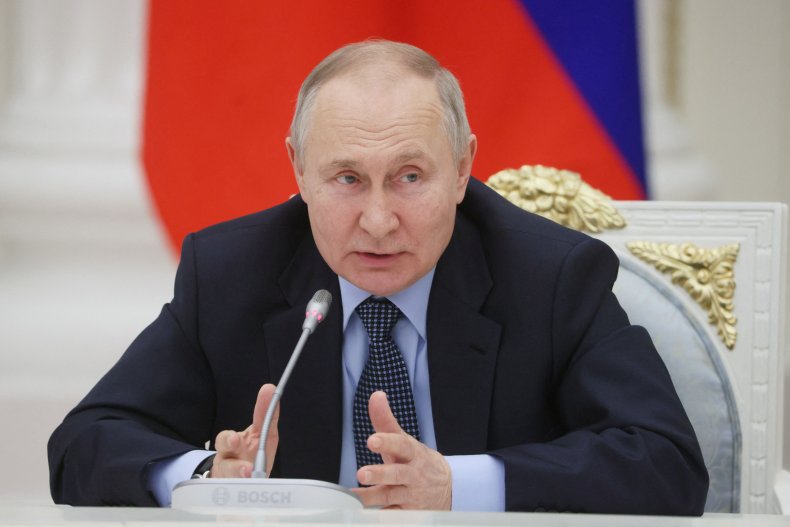 One official also said Putin has become increasingly isolated.
In October, Mark Feygin, a former deputy in the State Duma—the lower house of the Federal Assembly of Russia—told Newsweek that for the first time, Putin's "future is not defined by himself," leaving the leader more isolated and afraid.
"He's entering the eighth decade of his life, and his psychological condition is not good," Feygin said. "He is somewhat paranoid right now, and he sees or expects that his own inner circle, his own people, may rejoice to a certain degree that these failures are happening to him."