Putin's Nuclear Bargaining Chip Will Fail Again: Political Analyst
A Ukrainian political analyst argued in an article Thursday that Russian President Vladimir Putin's suspension of his country's participation in the New START treaty is a negotiating tactic that "is likely to fail."
During his state-of-the-nation address on Tuesday, Putin announced his decision on the treaty, which limits the number of nuclear weapons for both the United States and Russia. The treaty was Moscow's last remaining nuclear arms control pact with the U.S., and his decision brought an international reaction.
Volodymyr Fesenko, a political analyst and head of Ukraine's Penta Center think tank, wrote in the Kyiv Post that Putin's suspension of Russia's participation in the treaty was equivalent to "nuclear blackmail."
"His announcement is in line with his typical political style: He threatens and blackmails on the one hand and offers a bargain on the other," Fesenko wrote. "By way of blackmail he tries to force the other party to accept his conditions."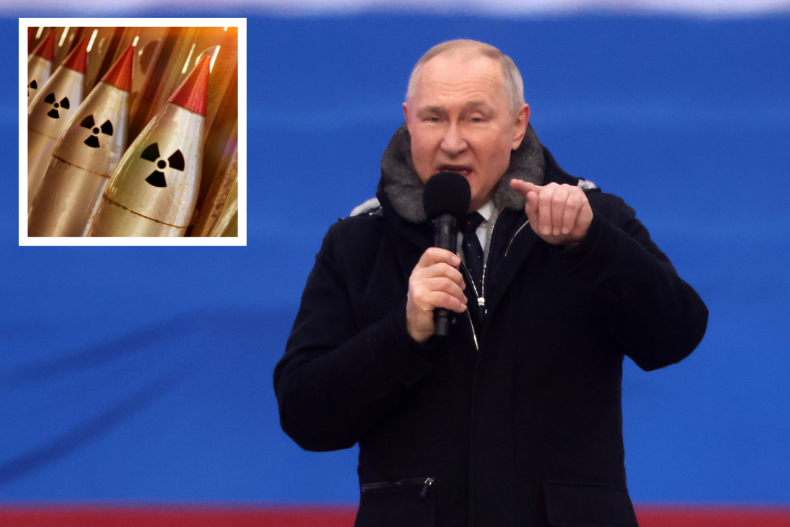 Fesenko also said that Russia's "blackmail" with the New START treaty was started by Kremlin officials before Putin's decision.
He cited Russia Ministry spokeswoman Maria Zakharova's November 2022 announcement that Russia was postponing a meeting on the pact because the U.S. was supplying weapons to Ukraine. Fesenko also said Deputy Foreign Minister Sergei Ryabkov said in January that the New START treaty might not be extended after its 2026 expiration date.
The U.S. State Department accused Russia of breaking the treaty weeks before Putin's announcement. In late January, the State Department submitted a report to Congress that said Russia had breached the terms of the treaty by rejecting on-site inspections of nuclear facilities and compliance talks.
"Russia has a clear path for returning to full compliance," a State Department spokesperson told Newsweek at the time. "All Russia needs to do is allow inspection activities on its territory, just as it did for years under the New START Treaty, and meet in a session of the Bilateral Consultative Commission. There is nothing preventing Russian inspectors from traveling to the United States and conducting inspections."
Anatoly Antonov, the Russian ambassador to the United States, called the State Department accusations "sensational" during an interview with RIA Novosti, a Russian state-run news outlet, and said it was the U.S. that had violated the accord.
Fesenko said in the Kyiv Post that the previous statements from Russian officials about the treaty suggest that Putin had been preparing to suspend the pact for some time. He also wrote that since Putin did not completely abandon the treaty, the Russian leader is likely using it as a bargaining tool.
"Importantly, Russia is not withdrawing from START but merely suspending its participation. This means Putin is still ready to negotiate, but necessarily on strategic offensive arms," Fesenko wrote. "His bargain entails an end to the war in Ukraine on his conditions. Otherwise, he would not have announced the suspension in his speech dealing with his war against Ukraine."
Fesenko continued, "This negotiating tactic has failed him many times before, and his attempt to put pressure using START is likely to fail too. The Kremlin's blackmail does not work anymore and Russia is not in any position to dictate its own terms."
Newsweek reached out to Fesenko and the Russian Ministry of Foreign Affairs for comment.