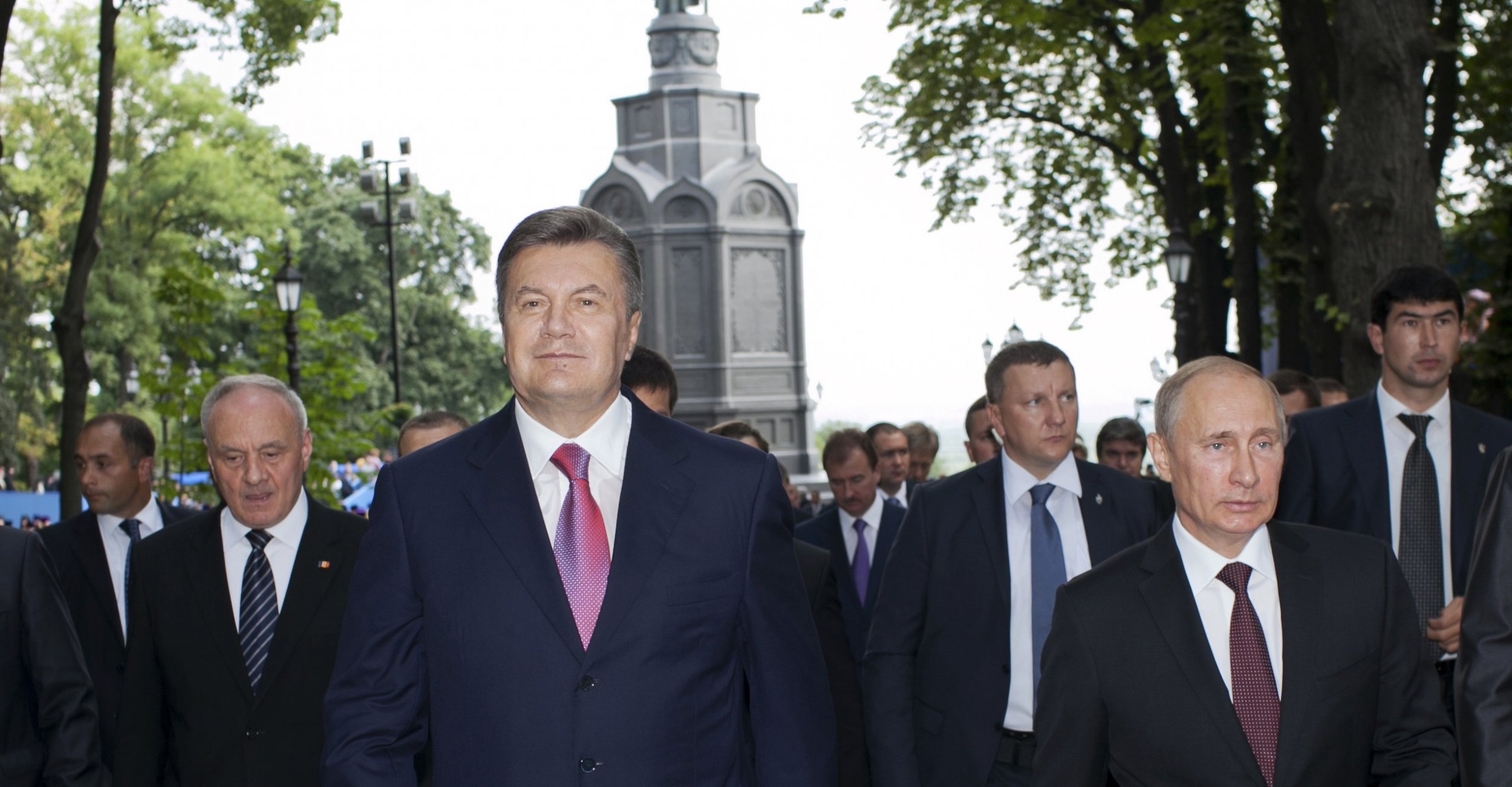 By the end of last week, Russia was odds on favorite to win a tug of love it has conducted for weeks with the European Union.
The former Soviet Republic of Ukraine is giving increasingly strong indications it will forgo a pact that would have opened it up to trade, and social and cultural opportunities in the West, leaning instead toward President Vladimir Putin, who dreams of reviving a grand Cold War-era Moscow-controlled Eurasian alliance.
At the center of the drama is Ukraine's President Viktor Yanukovich, a leader with an authoritarian streak who nevertheless would sooner get all the benefits of good relations with Europe than live under Putin's thumb.
Last week, however, he signaled that his fear of domestic political rivalry is stronger, and that he'd rather crush two formidable opponents – a popular former prime minister he has jailed and an even more popular former boxing heavyweight champion – before they can run against him in the next presidential election.
The venue of the would-be showdown was going to be a European Union gathering in Vilnius, Lithuania, starting on Thursday. By the time European leaders arrive there, Kiev will have made a final decision on whether it wants to join five other former Soviet republics and sign an association agreement that will put Ukraine on a path to EU membership, or join Putin's project, known as the Eurasian Union.
"I hope we go with Europe," a Kiev diplomat told me recently, speaking on condition of anonymity as he was unauthorized to express such opinions publicly. He said nevertheless that the country's inner political battles could endanger the European pact, and that much depends on the president's calculations.
On November 21, the Ukrainian government announced in a statement it would suspend all preparations for signing the agreement. The EU's foreign policy chief, Catherine Ashton, said in a statement that the Union "takes note of the decision," adding her "disappointment." In a sign that the decision is not final, however, Yanukovich was quoted in press reports as saying that he would "work further" on the "path to EU integration."
Yanukovich's dilemma was that if he wanted to sign the EU association pact, he'd have needed to immediately release from jail the pro-Western former prime minister Yulia Tymoshenko, or at least send her for medical treatment outside the country. The EU has made that demand as part of a number of conditions Kiev must meet before it can sign the agreement that could eventually lead to full EU membership.
Tymoshenko, the pro-Western leader of the 2004 Orange Revolution with blonde hair plaited around her head, who turned the country's back on Moscow, is just one candidate who may run against Yanukovich in the 2015 presidential contest.
The other is former heavyweight champion and current member of parliament Vitali Klitschko. Along with brother Wladimir, the Klitschkos are world famous. The brothers are Ukraine's most cherished national icons. After announcing last month he intends to run for the presidency, Vitali Klitschko immediately shot to the top of the polls, ahead of both Tymoshenko and Yanukovich.
Currently, however, neither of the two challengers is eligible for the contest. Tymoshenko was sentenced by a Yanukovich-controlled court in 2011 to a seven-year prison term. Klitschko, who has a home in Germany and pays taxes there, is barred from running by a constitutional provision.
"Ultimately, Yanukovich would rather run against himself," said David Kramer, the president of Freedom House, who as Deputy Assistant Secretary of State oversaw America's relations with Russia, the Ukraine and other former Soviet bloc countries in Europe.
The EU has set several conditions before Ukraine can sign the pact, including a major overhaul of its judicial system. By far the biggest sticking point is the fate of Tymoshenko. After demanding she be released from prison, the EU is now merely asking that at the very least Kiev should let her leave the hospital in Kharkiv, Ukraine's second largest city, where she's currently incarcerated, and be allowed to receive medical treatment in Germany.
On Thursday the Kiev parliament, dominated by Yanukovich supporters, voted down six resolutions, proposed by the opposition, to compromise with Europe over Tymoshenko's release. Parliament speaker Volodymyr Rybak, nevertheless, told leaders of all factions to continue negotiating, leaving the door open for a last-minute compromise.
Negotiations with Kiev "are ongoing," Ashton's spokeswoman Maja Kocijancic told me last week, indicating the EU assessment on whether Ukraine has fulfilled the conditions for joining the association agreement will not be made until the last minute.
But uncertainty, and growing doubts over Kiev's maneuvering, further soured relations with the foreign investors it so desperately needs. As the battles between rival factions in Ukraine heated up in recent weeks, the country's debt was demoted to junk status by the big Western rating agencies.
Signing the "most ambitious agreement the EU has offered to a partner country would have further enhanced the reform course of Ukraine and sent a clear signal to investors worldwide as well as to international financial institutions that Ukraine is serious about its modernization pledge," Ashton said in a statement.
Meanwhile, Putin is working hard to form a Moscow-controlled trading pact between Russia and eastern European and central Asian countries that were Moscow's satellites before the collapse of the Soviet Union. He has threatened to impose export tariffs and inflict other punishments if they join with the EU. For Putin, Ukraine is the most important piece of the puzzle, by far, in establishing his dream alliance and restoring Russia to its former Soviet glory.
"Ukraine is crucial for Putin's Eurasian Union project," said Lilia Shevtsova, a Moscow-based Kremlin expert at the Carnegie Endowment for International Peace. She calls Putin's project a "Kremlin survival mechanism that needs the existence around Russia of a galaxy of satellite states." Without Ukraine, she added, the alliance would be nothing but a "limping galaxy."
Then there is the Kremlin's eternal fight against the West. "Putin sees everything in zero-sum terms," said Kramer. If Ukraine signs the association agreement with the EU, he added, this would mark "a huge foreign policy setback for Putin." But Russia is a "declining power, and its future is rather bleak," he said. Moscow does not have as much leverage over Ukraine as Putin thinks. "Putin is increasingly out of touch with reality," he said.
Putin, however, has raised Russia's profile around the world recently, most notably by dominating the diplomacy surrounding the Mideast's central battle, in Syria, and he has established himself as a formidable opponent of the West in several other world crises, too. Now Kiev's top player seems ready to reward Moscow's efforts to win hearts in its "near abroad" as well.
As for America, it has largely co-opted Putin in many of those battles, including the crucial battle over the future alignment of Ukraine, where, according to Kramer, Washington "has been standoffish and decided to let EU take the lead."
Last week, the Senate passed a resolution, initiated by Richard Durbin, D-Illinois, that called on Ukraine to release Tymoshenko, and on the EU to explicitly demand her unconditional release from prison. Earlier, Victoria Nuland, the Assistant Secretary of State charged with European affairs, said, "We join the EU in urging Ukraine's leaders to make the right historic choice for their 45 million citizens."
Most Ukrainians seem to agree. "We can't be a democratic country with political prisoners," Klitschko told the BBC last month. Vowing to overcome the stumbling blocks to his presidential run, the former champ said, "My main goal is for Ukraine to be a European, modern country with European standards of life."
Yanukovich may privately agree, but for now the price of admission – which may include losing his own political power – seems too steep for his political pocket.