Putin's Punitive Theater of the Absurd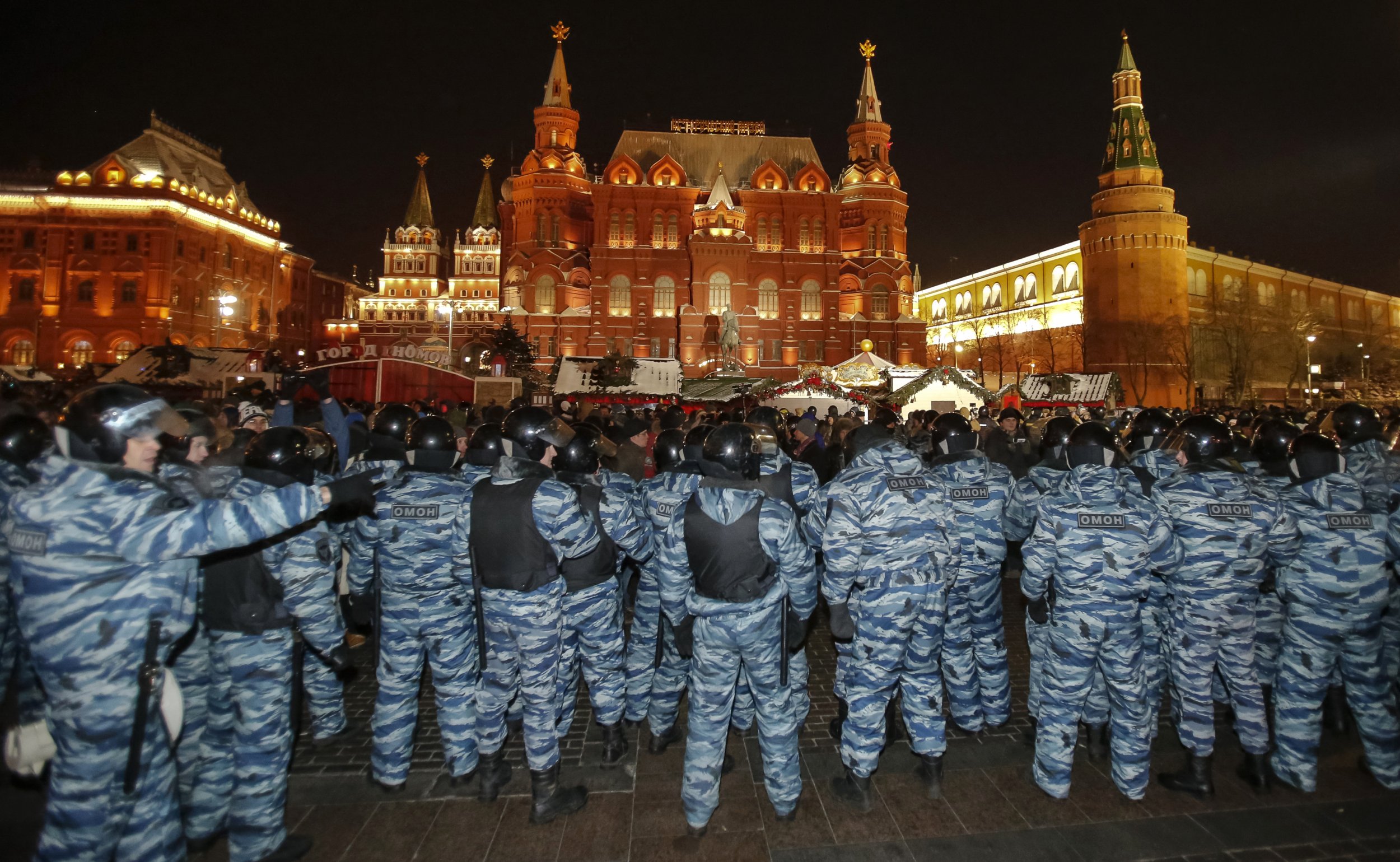 On the evening of December 30, 2014, just as two dozen or so patrons were settling into their seats at a purposefully ramshackle basement theater in central Moscow to watch a film about the ongoing conflict in Ukraine, police officials and a television crew entered the hall, declared a bomb threat and asked everyone to evacuate.
Despite the declared urgency that a bomb might go off, the police checked and recorded the documents of everyone in the audience and requested that they wait in paddy wagons parked outside, for their own protection. When questioned about the wisdom of taking 45 minutes to evacuate the site of a possible explosion, the police began to change their story without even a pretense of veracity.
Eventually, three of Teatr.doc's animating figures—Maksym Kurochkin, Stas Gubin and Seva Lisovsky—were taken off to a nearby police station for questioning.
All three would be released before sunrise. Much of the scenery for the company's productions fared less well, being destroyed by the raiding police. Summoned to the Ministry of Culture the next day, Kurochkin and Teatr.doc dramaturge and company leader Elena Gremina were told that the raid could have been worse and that, if they wanted, the ministry could call the police and have them return.
The arrival of a swarm of investigators accompanied by an NTV television crew is but the latest in an increasingly aggressive game of cat and mouse that began during the autumn between Moscow authorities and the tiny Teatr.doc. Threatening closure, increasing rents and relocation to a forsaken outer corner of galaxy Moscow, those in power are making it clear that they want Gremina's diminutive theater to go away. In fact, the film screening was to have been the last event before the company relocated to Bauman Street on the other side of central Moscow.
The December 30 raid is even more disquieting because the police were already quite busy that evening arresting nearly 300 of the thousands of demonstrators who had converged on Manezhnaya Square next to the Kremlin, just a couple of kilometers away from Teatr.doc, to protest the conviction of opposition leader Alexei Navalny on fraud charges earlier that day.
One might have thought the gathering of a handful of theater patrons would constitute too small a challenge for the regime at such a moment. Indeed, the mystery is why does Vladimir Putin's government fear a minuscule drama company operating from a Moscow basement.
Teatr.doc represents much more than it might seem at first glance. Founded by a group of rising playwrights in 2002, it quickly established itself at the center of the "New Russian Drama" that took shape in the late 1990s. Prompted in part by support from the British Council, dozens of talented young Russian playwrights embraced "documentary theater," which draws inspiration from people and events witnessed in everyday life.
For much of the new millennium's first decade, dozens of theaters sprang up across Russia, often in economically traumatized industrial cities such as Yekaterinburg, Togliatti and Perm. A score of young writers garnered the attention of the international theater community as their plays were translated into several languages and performed on stages in London, Washington, Chicago, New York and other major theatrical cities worldwide.
Rooted in the British "in-your-face" theater tradition, the Russians made the genre their own. Unlike European documentary productions, Russian playwrights and directors managed to identify transcendental moments of embedded humanity that lifted their stories above superficially mundane tales of rape, pillage, crime and corruption.
Moscow was somewhat late to the party, though the establishment of renegade companies such as Praktika and Teatr.doc quickly closed the gap between capital and province. Teatr.doc in particular demonstrated courage by producing Gremina's powerfully unnerving One Hour Eighteen Minutes based on the transcripts of the investigation into the death of Russian whistle-blower Sergei Magnitsky while in police custody.
By touching on such taboo subjects as the Magnitsky case—and, more recently, the unfolding tragedy in eastern Ukraine—Teatr.doc established itself as a prominent voice of measured criticism against a regime seemingly allergic to all that it cannot control.
Teatr.doc has assumed far more meaning than its tiny basement venue and limited audiences might suggest. The past decade has become recognized internationally as one of the most productive in the long, esteemed history of Russian theater. Plays that powerfully reveal and challenge society's conventions and deceptions have caught the eye of the international theater community, which has embraced the Russian stage as among the most innovative of our time.
That notoriety, in turn, made theater companies such as Teatr.doc especially vulnerable to an assault by the defenders of Putin's vision of moral imperative. With leading international figures such as Moscow Times critic John Freedman and Center for International Theater Development director Philip Arnoult closely following the rise and now threatened New Russian Drama renaissance, the whole world has been watching what is happening at Teatr.doc.
A distinctly local historical dimension to the story might be as significant for amplifying Teatr.doc's importance. Throughout the past century, Moscow has witnessed humanity's most toxic pathologies on an extravagant scale beyond rational comprehension. Sites of mass arrest, brutal executions and mundane betrayals lurk behind the city's recently shining facades at every turn.
Like the ghosts of Berlin, the troubled spirits of Moscow create a phantasmagorical substructure just as real to those who know it as any metro map or post-Soviet office tower. Teatr.doc's basement sits in the middle of one of Moscow's most scorching and otherworldly hot spots, located a block away from Patriarch's Ponds in one direction and a five-minute walk from the apartment of Soviet writer Mikhail Bulgakov in the other.
Kiev-born Bulgakov was trying to combine a medical career with writing as World War I broke out. Sent to the front with a medical unit, Bulgakov began using morphine. While he stopped using the painkiller after the war, his writing, beginning with an account of his own addiction, Morphine, became infused with a fantastical quality that eventually placed him at odds with the Stalinist regime.
After he relocated to Moscow following the Russian Civil War, his accounts of early Soviet life—including The White Guard, about a White Army officer's family in Kiev, and The Heart of a Dog, in which sensitive male organs are transplanted from a human to a dog, who is transformed into a pitiless commissar—challenged many of the Soviet government's fundamental precepts.
Working with the famous Moscow Art Theater, Bulgakov inevitably tangled with censors, leading him to turn directly to Stalin for permission to remain at the theater, a request that the Great Leader granted. Unable to publish, Bulgakov joined the Bolshoi Theatre staff for a while. During this period, Bulgakov began writing his best-known work,The Master and Margarita, which was published in 1966, 26 years after his death.
The Master and Margarita and the limited circulation of Bulgakov's other works made the writer a hero for generations of late-Soviet youth. His apartment, a walk-up in a courtyard just off the manic Garden Ring, became a site of pilgrimage for Moscow students. Impromptu stairway concerts and ubiquitous graffiti turned the otherwise ordinary building into a makeshift shrine subject to constant skirmishes between authorities and disaffected youth.
Searching for an explanation for the absurdities of Soviet life, young Muscovites embraced and celebrated Bulgakov's anti-rationalism. Now cleaned up and converted into a small museum for Moscow denizens of a certain age, Bulgakov's apartment is one of the city's most potent spiritual monuments.
Bulgakov set the opening of The Master and Margarita at Patriarch's Ponds Park just around the corner. This is where his fictional literary editor Mikhail Berlioz and young poet Ivan Ponyrev (whose pen name is "Homeless") encounter the Devil in the form of a foreign tourist. Their chance meeting famously ends with a streetcar severing Berlioz's head, which rolls down the cobblestoned street before the knowing eyes of a giant black cat, Behemoth. The remainder of the novel tracks the Devil's course around Moscow, with Behemoth coming to represent an evil that has descended on an unknowing city.
For contemporary expatriates living in Moscow, Patriarch's Ponds is a charmingly gentrified neighborhood that has climbed to the apex of the city's outrageously expensive real estate market. For knowing Muscovites, however, Patriarch's Ponds is where the Devil arrived in town, with every stray football seemingly becoming Berlioz's head and every black cat growing to gigantic size.
For those Muscovites, Teatr.doc, located more or less halfway between Bulgakov's apartment and Patriarch's Ponds, sits in the center of a quarter that exists in a mythical fifth dimension. Within this local urban context, Teatr.doc is a living link in an ongoing confrontation between art and power. By forcing the company to relocate to the opposite side of central Moscow, the authorities have shown that they too appreciate the theater's symbolism.
The police assault on Teatr.doc the night before New Year's Eve is about far more than a small basement stage unknown to 17 million or 18 million Muscovites. Teatr.doc represents a commitment to truth and beauty leavened with international respectability and local consequence in the face of a rapacious and vicious regime.
Political scientists heatedly debate the nature of Putin's Russia. Is it a throwback to the Soviet era? An authoritarian nationalist regime? A kleptocracy engaged in little more than racketeering on a large scale?
Yet Russia often offends a rationalist mind bent on categorization. Walking to a performance at Teatr.doc in winter's darkness prompts other thoughts much more connected to the neighborhood's streets. Bulgakov's colossal malevolent black cat Behemoth is loping across the Moscow cityscape yet again.
Blair A. Ruble is vice president for programs; director, urban sustainability laboratory; and senior advisor, Kennan Institute, at the Woodrow Wilson International Center for Scholars. This article first appeared on the Woodrow Wilson Center's website.