Putin's Tender Moment with China's First Lady Suppressed by Chinese State Censors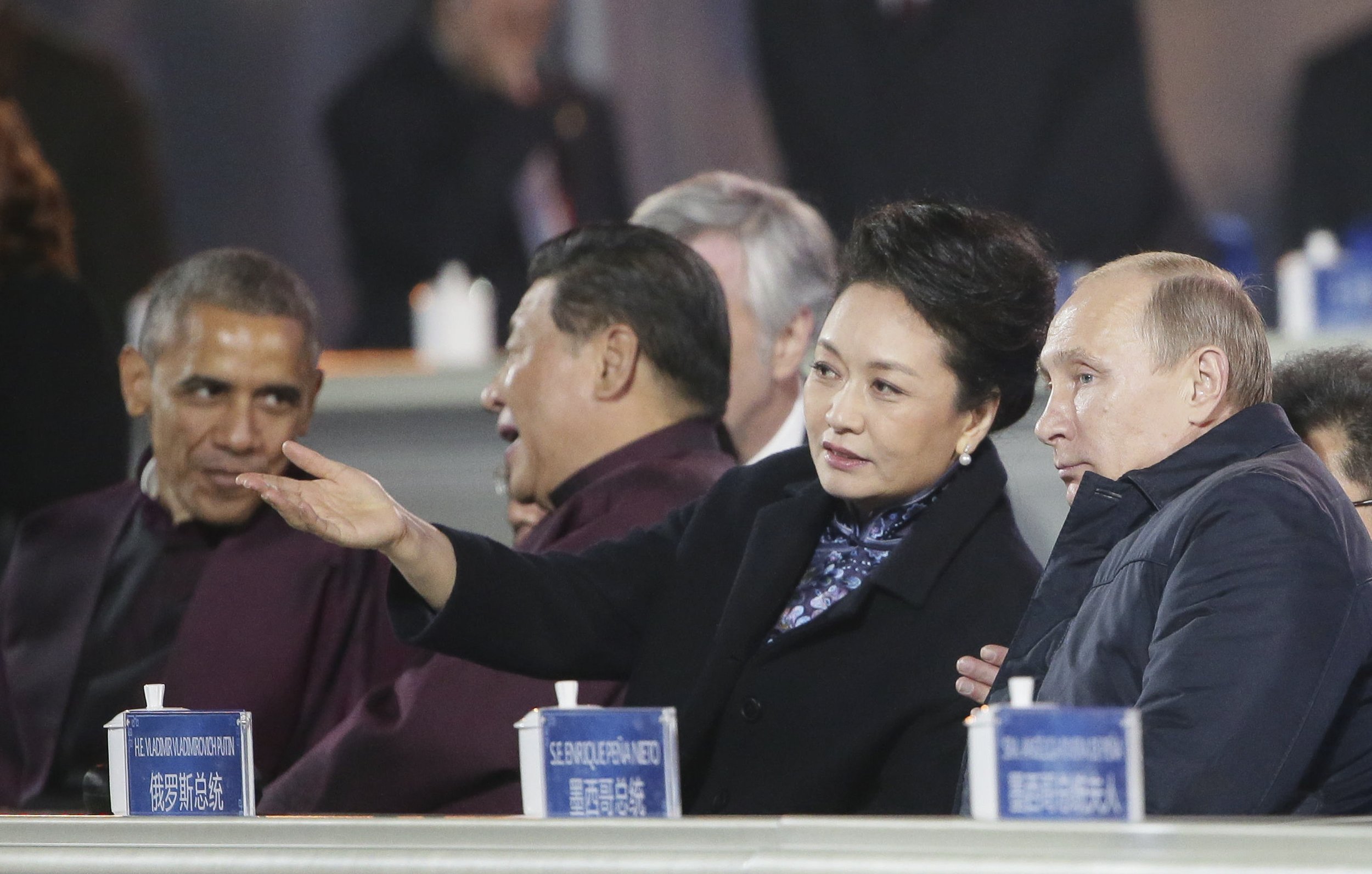 Chinese censors have been working to erase footage of Vladimir Putin wrapping his coat around Peng Liyuan, the shivering wife of Chinese President Xi Jinping, from state television channels and social media.
The newly single Russian president, in an apparent act of chivalry, draped his coat around Peng, as they sat down for a fireworks display during the Asia-Pacific Economic Cooperation (Apec) summit in Beijing yesterday evening. At the time her husband was seated a few seats down, apparently in deep conversation with US President Barack Obama.
Although Peng smiled and appeared to thank Mr Putin, she surreptitiously removed the coat from her shoulders seconds later, handing it to an attendant.
Footage of the exchange, aired on Chinese state broadcaster China Central Television (CCTV), immediately went viral as major news outlets posted the clip and it began to circulate on Chinese social media. The hashtag "Putin Gives Peng Liyuan His Coat" trended for a while on Weibo, a Chinese microblogging site akin to Twitter and Facebook.
However, within hours of posting the video, Chinese news agencies began removing the clip from their websites, with censors also attempting to erase the footage from social media sites.
Some have viewed the state's move to cover up the exchange between Putin and Peng as an attempt to conform to societal perceptions of the couple. Chinese propaganda officials have worked to cultivate an image of Xi as a protective, caring husband, and the pair as a loving couple. On one memorable occasion, Xi disembarked from the presidential plane, taking care to shield his wife from rain during a state visit to Trinidad and Tobago.
Beijing-based historian and independent commentator Zhang Lifan told the Associated Press,
"China is traditionally conservative on public interaction between unrelated men and women, and the public show of consideration by Putin may provide fodder for jokes, which the big boss [Xi] probably does not like."