Putin's Ukraine Adventure Is Starting to Grate on Russia's Most Profitable Industry | Opinion
Energy exports are the lifeblood of the Russian economy, encompassing roughly 45 percent of the Russian government budget. Last year, crude oil and other oil product exports netted Moscow over $178 billion, a nice chunk of change for a country nursing a 3 percent economic contraction in 2020 courtesy of the coronavirus pandemic.
In a normal year, oil sales would be a reliable source of income for Russian President Vladimir Putin, revenue he could use to pay pensions to his supporters, build up Russia's foreign reserves, fund the next generation of Russian weapons and take some of the sting out of the multi-year decline in disposable incomes. And, of course, the more oil Moscow sells abroad, the more money it has to finance its 10 week-old war in Ukraine.
It was thus inevitable that the European Union (EU) would eventually propose a ban on one of Russia's biggest money-makers. The goal: squeeze the Russian economy by shutting down Moscow's largest oil market (in 2020, the EU received 138 million tons, or 53 percent, of Russia's total crude exports). Addressing EU lawmakers on May 4, EU Commission President Ursula von der Leyen proposed a sixth sanctions package against Russia for its invasion of Ukraine, including an oil import prohibition which would kick in after a six month transition period.
Assuming all EU member states sign onto the package (unanimity is required to put the oil ban into effect), the Kremlin will have to search for alternative markets to recoup lost profits. Putin admitted as much during a cabinet meeting with his top economic advisers on April 14. Sensing it was only a matter of time before Europe followed Washington with its own embargo on Russian crude, Putin was direct: "We must diversify exports." Since the West is not interested in purchasing Russian oil, Moscow needs to explore other opportunities in Asia. The only other alternative for Russia would be losing market share.
In an ideal world, Russia would be able to use the West's oil sanctions to its own advantage. The irony of oil sanctions is that they tend to raise global prices, which means producers like Russia could theoretically net the same profits even if export volumes were lower. Yet the EU's proposed import ban could complicate the formula.
First, those countries still willing to buy Russian oil will seek to exploit Moscow's questionable financial and geopolitical position for the best deal possible. While it's true that India has scooped up millions of barrels of Russian crude since Putin ordered his self-professed "special military operation" in Ukraine—New Delhi has agreed to buy more Russian crude from March-June than it did for all of last year. It's also true that Indian refiners are demanding steep discounts. Instead of paying close to $110 for every barrel as stipulated in the global marketplace, India is demanding a price of less than $70 per barrel—a 36 percent reduction from the original benchmark price. Sure, Russia would still be making money from the deal, but the deal itself would be far less profitable than under normal circumstances.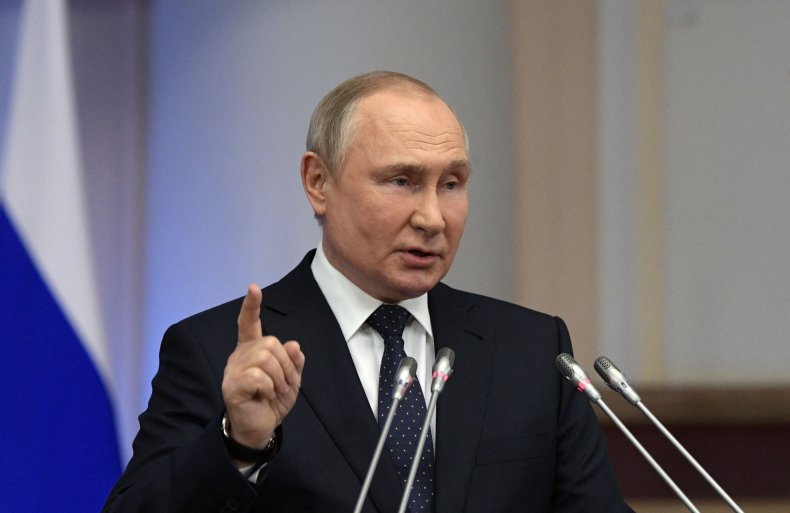 Putin may believe he can use China as fail-safe against the West. Russia and China have established a strategic relationship, driven in large part over their mutual animosity against the United States. Putin and Chinese President Xi Jinping have met dozens of times since 2013. Xi referred to Putin as his "best friend" during a 2019 summit in Moscow, and the two countries reaffirmed their bonds during the China-hosted Olympic Games this February by declaring a "no limits" friendship.
But China is ultimately a self-interested actor. While it doesn't want to see the Putin government fall, China has refused to condemn Moscow for ravaging its neighbor and denounces U.S. and EU sanctions as illegitimate. It's also hard to believe the Chinese Communist Party (CCP) will provide its Russian neighbor with a no-strings-attached economic lifeline. In fact, China's imports of Russian crude declined by 14 percent in March. China's state oil refiners are avoiding new Russian oil contracts over fear of getting into the crosshairs of U.S. banking sanctions. The CCP's harsh lockdowns in major cities like Beijing and Shanghai could begin to affect how much oil Asia's economic superpower buys. After all, when work stops and buildings shut down, the less demand there is for fossil fuels.
Even if Russia is able to reroute Europe-bound oil shipments to Asia, the process won't be easy. The world may be in need for cheap energy sources, but the sanctions Washington and Brussels have levied on the Russian economy over the past two months are causing tanker fleets and insurance companies to raise their rates or stop dealing with Russian oil altogether. The EU proposal unveiled this week, if enacted, would prohibit any shipping or insurance company under EU jurisdiction from involvement in the Russian oil trade. Moscow will have to search for non-EU tankers to carry their loads—and those tankers will now have to travel much longer distances (India, after all, is a lot farther away from Russia's Baltic ports than the Netherlands), translating into higher shipping costs. Ordinarily those costs would be passed to the customer, but with Russia's desperation increasing, the Kremlin may need to eat those costs to keep itself competitive.
The West's energy sanctions on Russia are designed to accomplish a policy objective: compel Moscow to stop its military operations and ideally withdraw from Ukraine. With Putin's 20-year legacy now tied up with the war, the Russian strongman may calculate that buckling to Western pressure is not an option.
Whatever Putin decides, Russia will be weaker and less wealthy as a result.
Daniel R. DePetris is a fellow at Defense Priorities and a foreign affairs columnist at Newsweek.
The views expressed in this article are the writer's own.