Putin's Ukraine War Crimes Merit Global Arrest Warrant: Ex-UN Prosecutor
Carla Del Ponte, who formerly served as prosecutor of United Nations war crimes tribunals, called Russian President Vladimir Putin a "war criminal" and called for an international arrest warrant for him in an interview on Saturday.
Her comments came in a story published by Le Temps, a Swiss newspaper, according to the Associated Press.
Del Ponte previously served as chief prosecutor of the International Criminal Tribunals for the former Yugoslavia and Rwanda. The AP reported that in interviews with Swiss media, Del Ponte has pointed to attacks on civilians and the destruction of villages as war crimes in Ukraine. She also blasted the use of mass graves in Ukraine.
"I hoped never to see mass graves again," Del Ponte told the newspaper Blick, according to the AP. "These dead people have loved ones who don't even know what's become of them. That is unacceptable."
Last week, an official with United Nations' Human Rights Office said there is "increasing information" on mass graves being used in Mariupol, Reuters reported. Mariupol is a Ukrainian port city that Russians have targeted in recent weeks.
The International Criminal Court (ICC) announced it had opened an investigation into alleged war crimes in Ukraine on February 28, days after Russia's invasion of Ukraine began. Karim Khan, the court's top prosecutor, wrote at the time that he was "satisfied that there is a reasonable basis to believe that both alleged war crimes and crimes against humanity have been committed in Ukraine in relation to the events already assessed during the preliminary examination by the Office."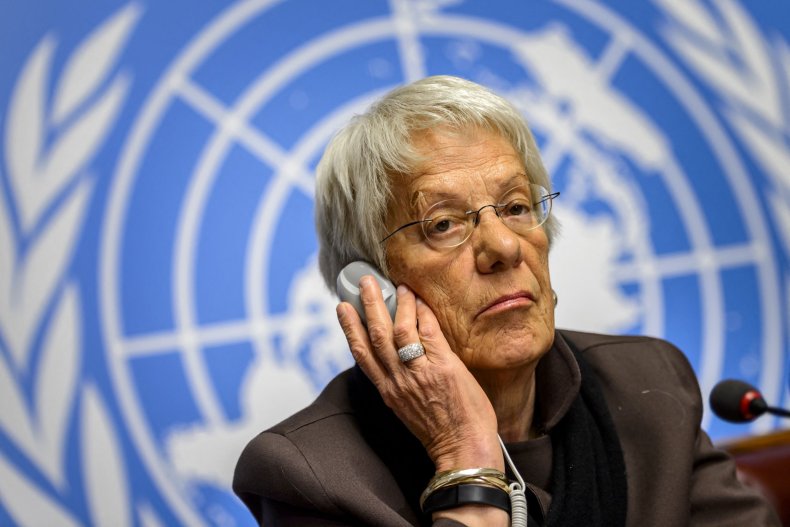 If the ICC finds proof of war crimes, Del Ponte said it "must go up the chain of command until you reach those who took the decisions," the AP reported.
She also noted that probes into potential war crimes should be done for Russia and Ukraine, pointing to reports that Ukrainian forces have allegedly tortured Russian prisoners. This week, a Ukrainian military leader dismissed footage of soldiers allegedly torturing Russian prisoners of war as propaganda.
Newsweek attempted to reach Putin's office for comment, but did not receive a response before publication on Saturday afternoon. Newsweek also reached out to Ukraine's Foreign Ministry for comment, but did not immediately hear back.
Late last month, the U.S. formally accused Russia's military of committing war crimes.
"The U.S. government will continue to track reports of war crimes and will share information we gather with allies, partners, and international institutions and organizations, as appropriate. We are committed to pursuing accountability using every tool available, including criminal prosecutions," U.S. Secretary of State Antony Blinken wrote in a statement.