Putin's War on Ukraine Puts Biden in Precarious Spot Ahead of Midterms
Russian President Vladimir Putin's ambitions for Ukraine pose another headache for Democrats as U.S. President Joe Biden fights low approval ratings at home and a struggling economy ahead of the 2022 midterms.
Putin sent troops to Ukraine after recognizing two breakaway regions as independent, prompting sanctions from the U.S. Biden vowed "swift and severe" consequences for Russia, but Americans aren't confident of his foreign policy handling according to recent polling. And with few options to stop rising gas prices, the president faces potentially significant losses in upcoming congressional races.
"President Joe Biden is in an incredibly precarious position," Matt Klink, a Republican strategist, told Newsweek. "The Russia-Ukraine crisis has the potential to reinforce the public's overall perception of a failing president and will make 2022 even more of a landslide."
Less than 40 percent of Americans approve of how Biden's handling the situation with Russia, according to a Gallup poll released on Monday. While that is being dragged down by extremely low approval ratings from Republicans, the president doesn't have overwhelming support from Democrats and only 35 percent of independents approve of his strategy, so far.
Klink noted that no single issue is "make or break" for a president. But he said the Biden-Harris administration has come off as "unprepared and unable" to resolve both domestic and international issues.
Early into his presidency, Biden faced his first foreign policy test with the withdrawal of U.S. troops from Afghanistan last year. He defended the decision to leave, arguing that the result wouldn't have been different if troops remained for five or 10 years more. However, the U.S. was left scrambling to remove troops and citizens as the Taliban swiftly reclaimed power.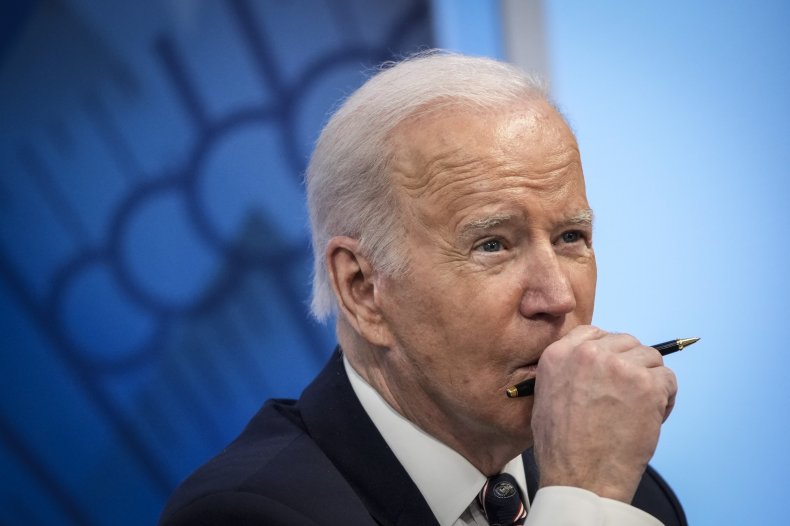 That marked the beginning of a downward slide in Biden's polling numbers. And along with economic issues at home, the president has been unable to rally voters around his agenda.
The opportunity for Biden to capitalize on the Russia-Ukraine conflict has passed, according to Ethan Zorfas, a GOP strategist at Axiom Strategies, a national Republican consulting firm. Had Biden wanted to "turn the tables" on public opinion, Zorfas believes the president had to show "decisive action" weeks before Russia moved into Ukraine.
The White House announced sanctions against Russia on Tuesday after Putin said he was recognizing the independence of the Donetsk People's Republic and Luhansk People's Republic. While the goal is to target Russia's economy, the sanctions are expected to impact America's economy as Biden told Americans that "defending freedom will have costs."
He pledged to use "every tool at our disposal" to limit the impact the sanctions have on gas prices, but Americans are likely to see rising prices. The economy is generally a top issue in every election and if gas prices remain elevated come the midterms, it could give Republicans an edge in retaking control of Congress.
Lonna Atkeson, director of the LeRoy Collins Institute at Florida State University, expects Democrats to see a "huge dropoff" in voter turnout in the midterm elections, partially because of disillusionment with their party's performance after Biden's 2020 win.
It won't be solely because of the Russia-Ukraine conflict, according to Atkeson, but the frustrations with the ongoing pandemic, Biden's handling of Afghanistan, and the economy all "sum up" the impression as to whether Biden's presidency–and by extension, the Democratic Party–has succeeded or failed.
Then-President George W. Bush benefited from the "rally around the flag" effect after the September 11 terrorist attacks, and Mike Hopkins, a Democratic strategist, believes Biden has a similar opportunity now. The White House, said Hopkins, needs to hammer home that the issue isn't about Ukraine, specifically, but rather Putin's Cold War ambitions and democracy fighting against communism.
Just as former President Donald Trump latches onto a phrase and hammers it into people's minds through repetition, Hopkins said that's what Democrats need to do with Russia. The message should be that "Russia is an existential threat" and Putin's desire to expand Russia's power to Poland and the Baltic states.
Although Biden wants Americans on board with the need to protect freedom around the world, in December, he drew the line at putting American troops on the ground in Ukraine. Hopkins called it one of the "biggest mistakes" the administration has made in the current crisis and an "unnecessary comment."
If Putin engages in a violent invasion of Ukraine, America's inability to defend Ukraine sends the message we're "not the country we said we are," according to Hopkins. If Biden does send troops, he "looks like a weak president."