Putin's Women's Day Message Has One Stark Difference to Last Year
Russian President Vladimir Putin has praised female support given to his forces fighting in Ukraine in a message on International Women's Day one year on from a promise not to mobilize the population.
Putin praised those women who were ready to "protect the people and the very future of our state," during an event at the Kremlin in which he presented medals and flowers to female doctors and medical workers who had served in the eastern Ukrainian region of Donbas during the ongoing conflict.
"In this hall there are women who honorably fulfil their military, official and professional duty," Putin said.
"Faced with direct threats to its security and sovereignty, we see many examples of courage and determination, courage, readiness to stand up for the truth," he added.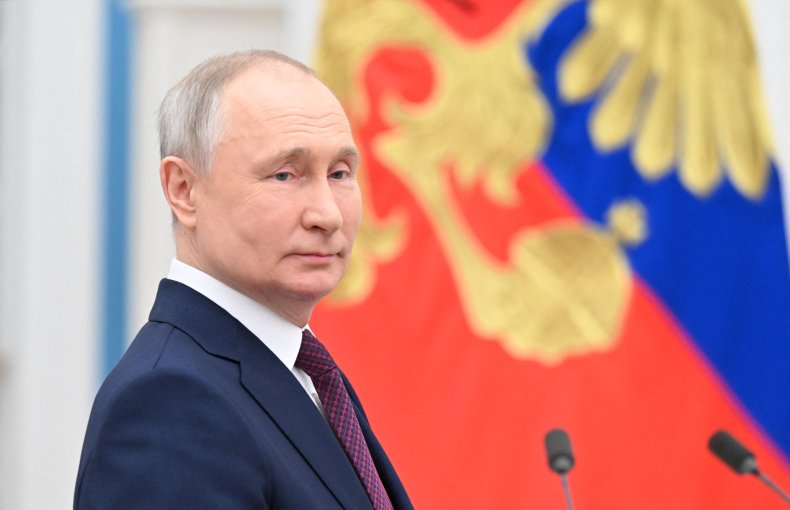 Independent Russian-language news outlet Meduza compared Putin's message on Wednesday with what he said at the same event last year.
On March 8, 2022, he tried to reassure "the mothers, wives, sisters, brides and girlfriends of our soldiers and officers who are now in battle" and the loved ones of conscripts.
"Let me emphasize that soldiers who are doing military service do not and will not participate in hostilities," he said one year ago. "There will be no additional call-up of reservists."
He said only "professional military personnel" would take part in what the Kremlin calls its "special military operation" in Ukraine.
He added: "I am confident that they will reliably ensure security and peace for the people of Russia."
Faced by huge losses in Ukraine, Putin subsequently announced what was termed a partial mobilization in September, which has not been formally rescinded.
Criticism of how the draft was conducted permeated social media and even mainstream media outlets, amid stories of infirm and older reservists being illegally mobilized, a lack of equipment and training being given and problems with payment.
In February, Russia's Prosecutor General Igor Krasnov told Putin in televised remarks how the mobilization had been beset with "a lot of significant problems, which have acted as a lesson for many."
British defense officials said last month that Russia was likely to be keeping the option of another round of call-ups under the "partial mobilization" order.
This would allow Putin to recruit high numbers of personnel for a future offensive while minimizing domestic dissent for the decree, which has proved very unpopular.
On Wednesday, the General Staff of Ukraine's Armed Forces said that Russia had lost 155,530 troops in Ukraine since the start of the war, although Western estimates are much lower.