Putting Matisse on the Clock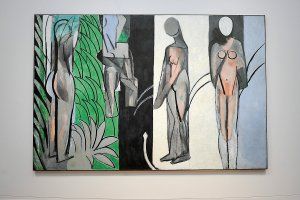 The beginning is usually a very good place to start (Julie Andrews said it, so it must be true). So why is it that a new exhibition of works by the French modernist master Henri Matisse in meticulously chronological order feels like such an outlier in the museum world?
Matisse: Radical Invention, 1913–1917, which opens this Sunday at the Museum of Modern Art in New York, focuses—in sometimes literal microscopic detail—on more than 100 paintings, sculptures, and prints produced at a pivotal moment in the artist's career. Between 1913 and 1917, Matisse's work evolved considerably as the artist adopted what he called "the methods of modern construction"—a vocabulary for depicting weights, volumes, and colors derived largely from cubism. The show's curators trace Matisse's progress in developing these "methods" in a careful narrative, closely examining how the artist's approach developed from work to work. Presenting Matisse's innovations during this crucial time period in chronological order might seem like the obvious way to go—if chronology weren't so very out of vogue among curators these days.
Since 2000, the dominant approach to displaying modern art around the world has been thematic. That's when the Tate Modern opened in London, and one of its hallmarks is that it does not hang its collections in stylistic groupings or single-artist focus rooms. Instead, it all but eliminates a sense of historical narrative, mixing together modernist and contemporary works in four thematic collections: "Material Gestures," "Poetry and Dream," "Energy and Process," and "States of Flux."
Tate Modern's exhibition philosophy is rooted in the sense that contemporary history cannot be told by a single narrative. The lessons of globalization and postcolonialism have taught us that modern life is defined by pluralities of experience. Channels of influence, we realize, rarely move in one direction.
This newfound distrust of chronology has seeped into museum displays at even the most conservative art institutions. Earlier this month, the Guggenheim Museum in New York—which has traditionally specialized in single-artist retrospectives—debuted an exhibition pairing Kazimir Malevich's early suprematist works of the 1910s with later 1920s paintings from Wassily Kandinsky's Bauhaus phase. Even MoMA toyed with thematic displays last fall, when it arranged its blockbuster Bauhaus show in a remarkably loose chronology, occasionally swinging back and forth between time periods to show the recurrence of themes.
Matisse: Radical Invention marks a sharp turn back toward old-school timeline display. The exhibit does depart from strict chronology in a few places—one wall grouping together portraits from different years, and another doing the same for prints. Even so, the show's organizers display a daring willingness to let dates trump themes. Matisse's Back series—massive bronze bas-reliefs from 1908, 1909, 1913, and 1916, plus a final sculpture from 1931 not seen in the current show—are traditionally displayed as a single suite. For years, students of art history have studied the sculptures in sequence, watching the female figure, seen from behind, become more and more abstract. Radical Invention separates the Backs, placing each sculpture in the appropriate slot in a timeline of Matisse's work. The only time that the four Backs in the show are grouped together is in a digital display in the final room of the exhibition.
This digital video is the show's highlight—a delicious dessert to what was already a big, fattening, multicourse French dinner. In preparing the exhibition, curators John Elderfield of MoMA and Stephanie d'Alessandro of the Art Institute of Chicago conducted a series of technical studies on a select group of Matisse's works, using new digital imaging techniques, laser scanning, and the rather ominous-sounding "energy dispersive X-ray spectroscopy." The digital presentation at the end of the show reveals the results of some of these studies. The evolution of Backs is shown in a series of animations that look like heat maps, with different colors indicating the areas that Matisse removed from or added on to plaster casts of the earlier Backs to create each successive version. The digital display also features a series of X-rays marked up with colorful lines to show the evolution of Matisse's masterpiece Bathers by a River, which the artist painted and repainted over the course of nearly a decade from 1909 to 1917.
In the Tate Modern approach to exhibition design, the curator is a kind of creative director, using his or her personal understanding of the artwork to create unusual combinations. When a Tate curator puts a Monet, a Pollock, and a Rothko in one room, he is essentially appropriating artworks to create a new work in their juxtaposition. Elderfield and d'Alessandro, on the other hand, are not so much artists as scholars and detectives.
By relying on the tools of history and science rather than creative interpretation, Elderfield and d'Alessandro shed new light on Matisse as a highly process-conscious artist, experimenting dramatically with pictorial technique in the years 1913 to 1917. Their study of Bathers by a River points the viewer's eye to clues exposing Matisse's methods: bits of rosy-colored paint just barely visible in the dense green vegetation, a speck of green residue next to one of the figure's necks. These out-of-place glimpses of color are left over from earlier versions of Bathers that Matisse subsequently painted over. It's almost as if Matisse left small traces of his process behind as winks to future art historians, encouraging them to uncover more evidence of the routes he traveled to reach a finished product.
Walking through Radical Invention, you can picture Matisse painting in his studio, tweaking the vase of flowers in The Blue Window (June–August 1913) here and there before trying his hand at a bolder, less controlled composition in Flowers and Ceramic Plate one month later. Matisse's artistic practice unfolded slowly, painting by painting, sculpture by sculpture, and occasionally he went back to work he had done before with a fresh eye, but always with a singular vision. "My destination is always the same, but I work out a different way to get there," Matisse said, in 1908. If the artist's hand worked through his oeuvre from past to future, why shouldn't our eyes trace its path the same way?