Reports: Puzder Withdraws Labor Secretary Bid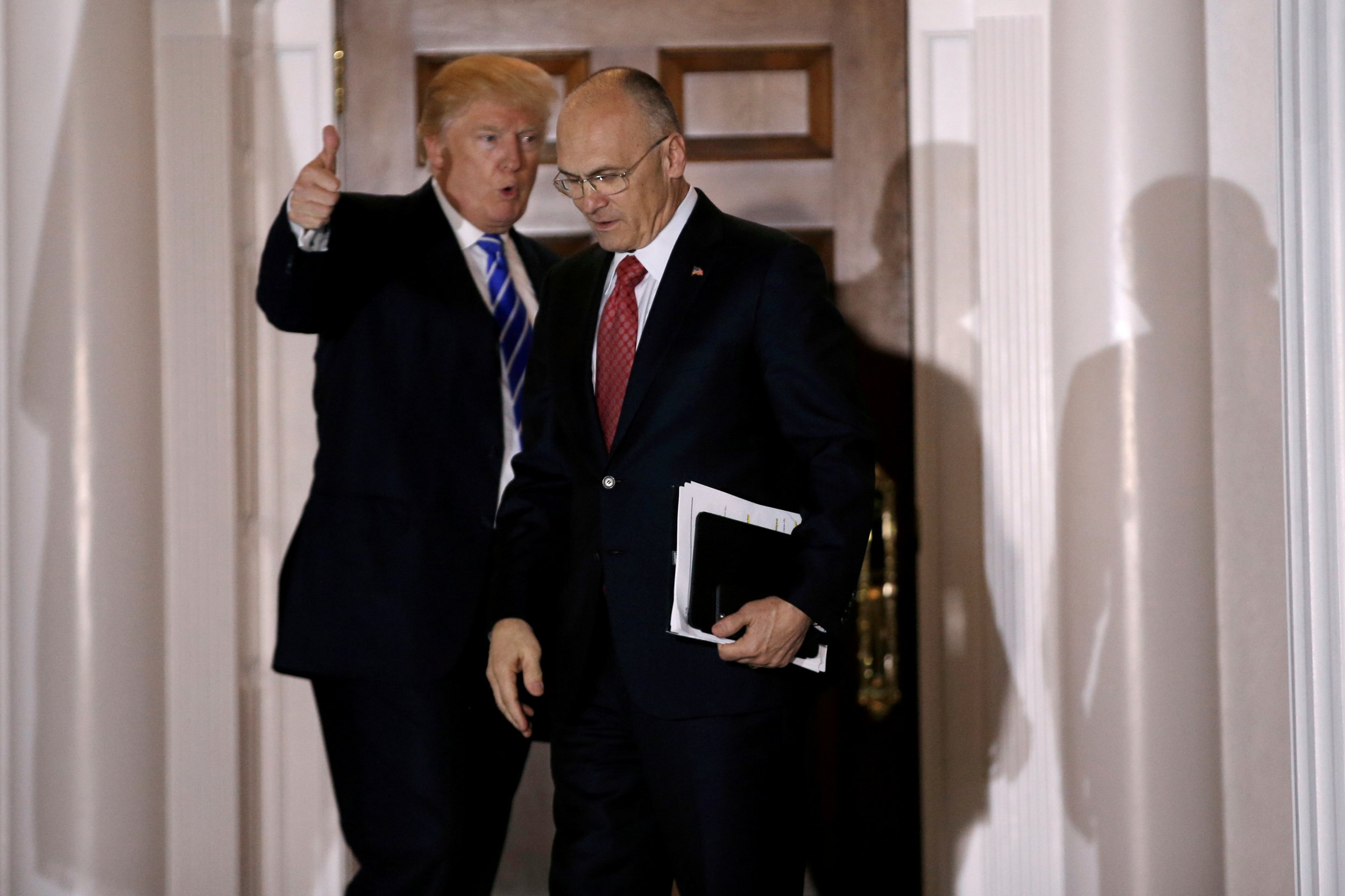 President Trump's embattled nominee for Labor Secretary has withdrawn his name from consideration, according to reports. Businessman Andy Puzder has been dogged by conflicts of interest issues, allegations of labor violations, news that he employed an undocumented immigrant as a housekeeper and claims that he physically abused his ex-wife. With support for his confirmation slipping in the Senate, the White House opted to pull Puzder's nomination. His confirmation hearing was scheduled for Thursday morning.
Four Republican senators on the Health, Education, Labor and Pensions Committee that was reviewing Puzder's nomination had expressed reservations about confirming the fast-food mogul. And the Washington Post reported Wednesday afternoon that a minimum of 12 Republicans were considering voting against Puzder. The allegations of domestic violence appear to have been the deciding factor for senators. A Missouri court ruled on Tuesday granted a watchdog group access to Puzder's divorce records, revealing more details. And on Wednesday, Politico published a report based on footage it obtained from an old 1990 episode of the Oprah Winfrey show, in which Puzder's ex-wife appeared in disguise to discuss the abuse. She later recanted those claims.
Labor unions and other liberal groups celebrated Puzder's withdrawal Wednesday, after spending months protesting his nomination. As CEO of CKE, which owns the Hardee's and Carl's Junior hamburger franchises, Puzder had an adversarial history with labor. Pointing to Puzder's opposition to minimum wage increase and his fast food chains' treatment of workers, critics argued his nomination was a betrayal to Trump's campaign commitments to working people. Senate Democratic Minority Leader Chuck Schumer called the news "a victory for the American worker."
It's also another blow to the Trump White House in what is amounting to a brutal week—and it's only Wednesday. The president's national security adviser, Gen. Michael Flynn, resigned Monday night amid a building scandal over his contacts with Russian officials before Trump was sworn into office. Flynn admitted to lying to Vice President Mike Pence about conversations he had with Russia's American ambassador about U.S sanctions. And questions are now being raised about other conversations Flynn and fellow Trump advisers may have had with Moscow even before the election. Multiple investigations are ongoing.
The president's pick for budget director, Congressman Mick Mulvaney, is facing some headwinds in the Senate this week, as well. John McCain of Arizona issued a statement saying he would vote against Mulvaney early Thursday morning, saying he worried Mulvaney might favor the large cuts to defense spending. It would only take two more Republican "nay" votes to break the 50-50 tie with Senate Democrats, sinking his nomination, as well.