'Python Cowboy' Wrestles and Kills Seventeen Foot Snake in Battle Caught on Video
Imagine an area heavily populated with giant pythons. You probably picture a secluded piece of land with a few giant snakes lurking in the brush. But how many, exactly, did you picture, two, ten? You may be shocked to learn there are an estimated 100,000 pythons in the Florida Everglades, and they're not welcome there.
A man just captured and euthanized a 17-foot long python in the wild, and it's all on video, CBS 58 reported.
Mike Kimmel, the Python Cowboy, just caught a giant Burmese python in the Everglades and killed it immediately. You might think this is cruel, but those who kill pythons in the Everglades actually get rewarded. The species is invasive and overtaking the natural wildlife of Florida's great outdoors. So people like Kimmel can profit while also helping to equalize the food chain.
Kimmel owns Martin County Trapping & Wildlife Rescue. And even though his job is trapping pesky animals, Kimmel was stunned at the giant python he captured this time. He estimated the snake was between 130 and 150 pounds, but the state of Florida will give official measurements to the catch.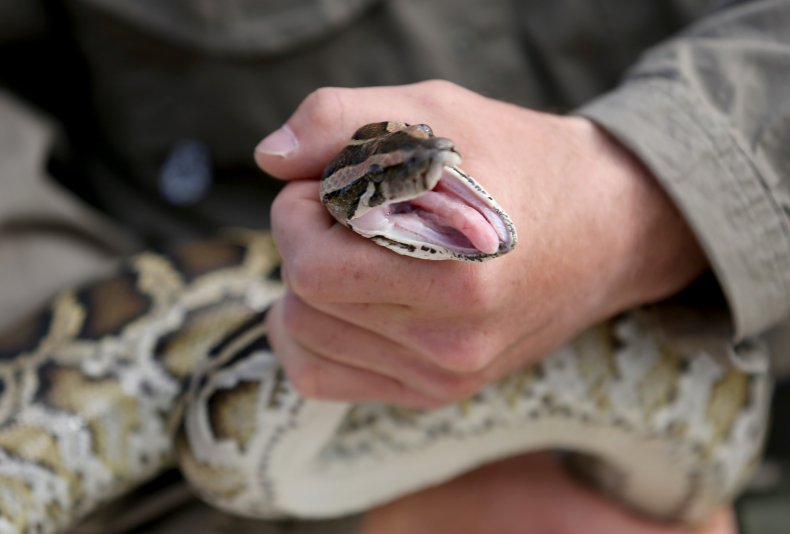 So how, exactly, did Kimmel catch this giant reptile? When he spotted the python slithering through a grassy area, he began yanking on its tail. This didn't dislodge the snake from the brush. Instead, it prompted the creature to slither toward him for confrontation.
While many people may be afraid of this exact thing, Kimmel says on the tape that this is exactly what he wanted. Kimmel does get bitten by the snake, so beware of a display of blood if you choose to watch the video. Kimmel fashions a tourniquet out of a t-shirt before he finishes the snake off. After the bite, he quickly grabs the snake by the head and eventually, euthanizes it.
Kimmel explained how he felt about the catch to CBS 58. "I was proud that I came out on top and I knew that I was going to get a good paycheck out of it," Kimmel explained. "But most of all, a snake that size can really get to anything, so I was thrilled to get this dangerous predator out of the ecosystem."
Burmese pythons are originally from Southeast Asia, and they're not native anywhere else. They infiltrated the Florida Everglades when people released them as unwanted pets, according to the Everglades website.
Burmese aren't the only invasive species taking over parts of Florida. The North African python and Common boa are also an ongoing problem. The website explains people can tell these apart from other native water snakes because all three out-of-towners have smooth scales. Native Florida snakes have rough skin that's adapted to the water.